India Joins Mangrove Alliance for Climate
India is home to one of the world's largest remaining areas of mangroves- the Sundarbans.
Union Minister for Environment, Forest, and Climate Change, Bhupender Yadav has said that India is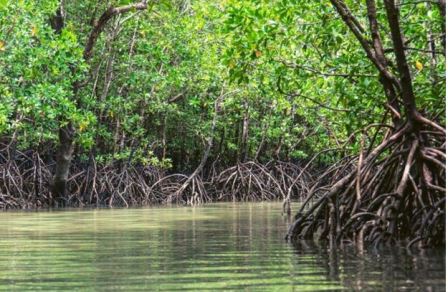 home to one of the world's largest remaining areas of mangroves- the Sundarbans, and has extensive experience in mangrove restoration that can be used to aid global measures. He spoke at the Mangrove Alliance for Climate (MAC) launch event, held on the sidelines of the ongoing COP 27 at Sharm El-Sheikh, Egypt.
MAC is an intergovernmental alliance that seeks to expand and hasten the progress toward the conservation and restoration of mangrove ecosystems. India is among the first five countries to join the MAC, other than Australia, Japan, Spain, and Sri Lanka. The action aims to scale up and accelerate the conservation and restoration of the mangrove forests.
India has adopted three strategies for managing mangrove forests; promotion, regulatory, and participatory. As per the 2021 India State of Forest Report, the states that show gain in mangrove cover are Odisha (8 sq. km) and Maharashtra (4 sq. km).
India has mangrove forests along more than 30% of its coastline. Nearly 50% of the country's mangrove forests are in the Sundarbans. This region is home to 58 species of mammals, 55 species of reptiles, and around 248 bird species, along with a human population of 12 million in the greater Sundarbans region.
These coastal trees (Mangroves) help mitigate damage from extreme storms like cyclones and monsoons. Mangrove forests can store ten times more carbon per hectare than terrestrial forests. Also, they can store carbon up to 400 per cent faster than land-based tropical rainforests.
Global Mangrove Alliance (GMA) reports when the mangroves are cut, the carbon stored in these plants gets released into the air. However, once the plants die, they take the stored carbon into the soil, called the "Blue Carbon".Therefore, it is essential to develop awareness among the people in the regions to preserve the trees and keep the carbon emissions levels low.
As part of the MAC, India's efforts are expected to increase in its natural regeneration and planned plantation activities. Steps adopted by individual states must be replicated by other states and regions globally to protect and regenerate mangroves.
The Ministry of Environment, Forest and Climate Change, Govt of India, has taken several steps to protect, sustain, conserve, and augment forests in the country through promotional and regulatory measures.
"India has committed in its NDC (Nationally DeterminedContribution) – to create an additional carbon sink of 2.5 to 3 billion tonnes of CO2 equivalent through additional forest and tree cover by 2030," Bhupender Yadav said.