India-US Relations Deepen During PM Modi's State Visit
PM Modi underlined the Indian diaspora's role in strengthening Indo-U.S. ties, acknowledging their influence and potential contributions to India's growth.
Prime Minister Shri Narendra Modi's state visit to the U.S. marks a landmark moment in Indo-U.S.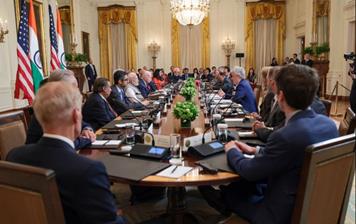 relations. This week's visit provides a platform to further strengthen ties between the two nations. Modi's meeting with President Joe Biden, attended by a significant gathering of Indian Americans, set the tone for the visit. The leaders focused on mutual trust, shared values, and expanding cooperation in sectors ranging from trade, defence, and energy to climate change.
The interaction between Modi and Biden spotlighted their shared commitment to combating climate change and fostering a sustainable future. They discussed promoting clean and renewable energy, a pressing issue on the global stage and an area where both countries can significantly contribute. The mutual aim to deepen their Comprehensive Global Strategic Partnership demonstrates the growing significance of Indo-U.S. ties, not just bilaterally but also in the global context.
A notable outcome was the emphasis on Critical and Emerging Technologies (iCET), underscoring a desire to elevate strategic technology collaborations and build resilient supply chains, especially in critical minerals and space sectors. This focus reflects the two nations' quest for technological advancement and security amid an increasingly digital and interconnected global economy.
Prime Minister Modi's interaction with the Indian diaspora and U.S.-based professionals was another significant facet of the visit. His emphasis on the role played by the Indian community in strengthening Indo-U.S. ties indicates a recognition of the diaspora's influence and potential contributions to India's growth during Amrit Kaal.
His meeting with high-profile business leaders, including Alphabet Inc. and Google CEO Sundar Pichai, Amazon CEO Andrew R. Jassy, and Boeing CEO David L. Calhoun, highlighted India's keenness to attract further foreign investment, particularly in the tech, e-commerce, and aviation sectors. Encouraging collaboration with Indian academic institutions and promoting the digitization of MSMEs reflect the government's ambitious tech and digital policy goals.
The India-U.S. Hi-Tech Handshake event was pivotal, featuring participation from several influential industry leaders. In the U.S., attendees included CEOs of major tech corporations such as Flex, OpenAI, FMC Corporation, AMD, Planet Labs, Microsoft, Google, General Catalyst, Tulco LLC, and renowned NASA Astronaut Sunita Williams. Indian business representatives included prominent figures from Mahindra Group, Reliance Industries, Zerodha & True Beacon, and 3rdiTech.
The event, moderated by U.S. Secretary of Commerce Gina Raimondo, emphasised the role of technology, specifically AI, in driving inclusive economic growth. Both leaders, together with attending CEOs, explored the potential of the India-U.S. Technology Partnership to impact citizens and the global community positively.
Overall, Prime Minister Modi's U.S. visit signifies a renewed focus on Indo-U.S. relations, reflecting the mutual desire to fortify a partnership that carries the potential for significant global impact. As both leaders anticipate the upcoming G20 Leaders' Summit in New Delhi in September, observers can expect a further deepening of this crucial bilateral relationship.