Churu, the second district in Rajasthan declared ODF: Rahul Kaswan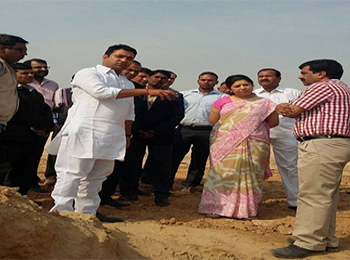 In an exclusive interview with Delhi Post, Rahul Kaswan, Hon'ble Member of Parliament, Churu Constituency, Rajasthan throws light on the projects that are being implemented in his constituency. He also speaks about the challenges that need to be overcome to achieve the dreams and hopes that he has seen for the overall development of Churu. The interview is part of #KnowMyConstituency series where Parliamentarians from across the parties will discuss their challenges and achievements. They will also become part of an interactive process which involves citizens bringing their grievances and suggestions to the elected representatives in an attempt to make governance truly inclusive.
Delhi Post: Churu has recently become an ODF district. Could you please tell us about the measures taken that led to the stupendous achievement?
Kaswan: Open Defecation Free Programme was launched by the Prime Minister on 2October, 2014. I thought my constituency should bein top ten constituencies in the country and first few in Rajasthan. My primary challenge was regarding water scarcity. SoI talked to officers, collectors, government staff, elected representatives- MLAs and Sarpanches and had a meeting with them. We sketched a plan detailing how the work has to be done which involved a couple of things. Firstly, infrastructure (for which government was providing funds for building toilets). Secondly, behavioral change which involved the youth. We went to villages with band baja to motivate people that government is building toilets and now you have to use it. We arranged programmes which involved youth of villages to educate old people to use toilets and informed them about its benefits. I tied up with UNICEF and participate din Wash Programme which motivated me and provided me material to give this message to people at large. At the end of the day, we achieved this goal. We are the second district in Rajasthan and among ten in the country to be declared as "ODF".
Delhi Post: Tell us about the practices adopted in Churu to make education more inclusive?
Kaswan: In Rajasthan, there is Shekhawati belt- belt of Churu, Jhunjhunu and Sikar. Education has been priority in these areas. There have been multiple problems relating to lack of infrastructure, fewer schools in the villages and that too are only up to VIII and X classes. Parents don't feel safe to send their children to far off places. Chief Minister Vasundhara Raje's flagship programmes were effective in creating schools in each and every Panchayat headquarter. This programme was close to my heart as it changed everything. The schools are now full of boys and girls.I had even gone to small villages to give awards to scholars. There, I came across a girl who had scored 90 percent in X class. As there were no schools, she left her studies and got married. But now the schools have a lot of girl students. The main problem is that of infrastructure; there are no rooms and toilets. To change that situation, I decided to devote 60 percent of my MPLADS fund to building rooms and toilets in these schools.
Delhi Post: What are the measures adopted to address water scarcity in Churu?
Kaswan: Churu doesn't have adequate water. There is no river and we are dependent on Indira Gandhi Canal System. There have been different projects in our constituency to address this problem. It started in late 1990s, Aapni Yojana which was funded by German Government. It was a wonderful project. Some other projects were launched by Vasundhara Raje in 2008. Now, we have 1100 projects going on in our constituency. With all these projects, every village is now getting potable water. But there are some pockets where there are technical problems and we are looking forward to solve them.
Delhi Post: What are your most ambitious projects before 2019 elections?
Kaswan: My ambitious projects are to create national highways, have good railway connectivity and to focus on sports and skills. We need skilled labour as we are near to Delhi which is a good market for it. We opened Pradhan Mantri Kaushal Kendra Centres which is the provider of skill education in Churu, in addition to a lot of sports centres. All these have given good results. 1000km of Highways are in the pipeline and works in 400 projects are ongoing. Electrification is my biggest project. Electrification of 700km of track is in the pipeline. We have achieved it to the extent of getting it for our constituency and the results will be positive for people at large.