Modi's foreign policy echoes
Modi leads his way through a slew of foreign policy advancements, notably the recent middle-east trip.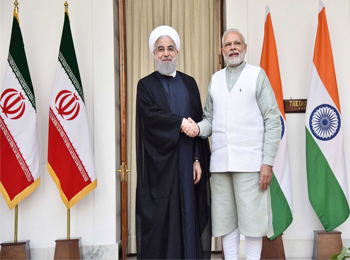 I
ndia, with its commitment towards sustainable development backed by its vibrant economy and a growing population, is on its way to achieve the ambitious socioeconomic goals set by the Modi government. The pro-government votaries cite India's participation at the High-Level Political Forum 2017, focusing on poverty alleviation and nation-building through infrastructure development and building diplomatic relations with leading nations of the world. At the same time, the government needs to adopt proactive policies in areas like economic growth, swift deliverance of justice and eradication of poverty and social injustices. Modi's tactics for such issues appear noticeably simple, if not overtly naive.
The mantra of government's war on poverty is intrinsically tied to its avowed goals to achieve rapid growth. Ambitious programmes like Make in India, Startup India, Digital India or Skill India push boundaries for contributing to Agenda 2030, especially in accordance with Articles 15, 27, 45 of its Declaration.
Former Prime Minister Manmohan Singh had negotiated some crucial deals that went unnoticed, only to resurface as policy strides made by Modi, which helped the nation secure global admiration and to be party to some historic strategy arbitrations. By establishing awesome camaraderie between some of the prominent global leaders, Modi was affirming India's pledge to affirming its commitment to forge long-lasting relations with the nations of the world.
The consequent deals can safely be termed by political commentators as being confirmative to the goals that would bolster India's appeal to the world as an active pursuant of Sustainable Development Goals (SDGs). The Indo-Japan deals on cooperation for peaceful nuclear energy utilization and environment protection (SDG 7, 13), Canadian memoranda on selective passport exemption, technology development (SDG 9, 17), or talks on defence and infrastructure with Australia (SDG 8, 16) – serve to further India's bid to the big league.
The West Asian strides
SDG 16 proposes "effective, accountable, and transparent institutions at all levels" to primarily minimize corruption. Arguably, opacity is a better description of Indian defence deals. Debatable arguments evaded national security concerns, in turn clouding armament policies. Critical information is kept out of the RTI mandate behind the palls of the Second Schedule. Modi's trips to West Asia and the Gulf region primarily concern SDG 16, followed by the usual commitments to longstanding traditions of partnerships in education and R&D. Oman and the UAE present opportunities to enhance India's trade base. While Oman is the most stable country in the otherwise politically active region, the UAE shares a robust companionship with India. Deals were signed on mutual in civil and commercial matters. The memoranda stand firmly for both the countries' growth processes, as they contribute to the Agenda 2030 in a salubrious sense of enterprise.
"The Gulf is an extended part of our neighborhood," says Dr. A.K. Pasha, professor at Centre for West Asian Studies, Jawaharlal Nehru University. On promoting diplomatic ties through the ministerial trips, he said: "Shared culture encourages sustainable development. In the wake of socioeconomic instability in the Middle East, resource crunch has taken the region by storm. India is now taking the lead in showcasing compassion and delivering agreements. Memoranda of understanding were signed in defence and infrastructure, displaying India's commitment to sustainable development goals"
First PMO visit to Palestine
Modi's inaugural trip to Ramallah was a first for any Indian Prime Minister. An apparent attempt to delink India's relationship with Israel and Palestine, it saw signing of six agreements on infrastructural development. The bonhomie between Modi and Netanyahu saw the two countries hailing each other as a strategic partner despite India's long-standing support for the Palestinian cause. Keeping Modi's personal fancy for Netanyahu aside, he has interacted with Mahmoud Abbas thrice: on the sidelines at the UNGA in 2015, the Paris Climate Summit later that year, and during Abbas' visit to India in 2017.
Other than furthering ululations of India's strength in international realpolitik, Modi's concentration on SDGs 9 and 11 fueled his Gulf trip this year. The Ministry of External Affairs has stated that the six GCC countries back almost 20% of the bilateral trade. This explains its influence on the Ministry's enthusiasm to expand the trade bases in the region. This trip, like all before, falls in line to achieve the two development goals: growth and infrastructure.