JNUSU elections: As it unfolded
Amidst rumour-mongering and a 15-hour delay in counting, United Left won even as ABVP emerged as the single largest party.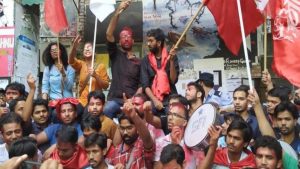 L ike every year, the Jawaharlal Nehru University Students Union (JNUSU) elections have been a talking point.
Akhil Bhartiya Vidyarthi Parishad (ABVP) alleged that the Election Committee (EC) tried to manipulate the polls. They claimed that EC started counting votes without informing ABVP representatives. This led to disruption of counting for around 15 hours. The counting resumed at 6:30 pm in the evening hours on Saturday.
Rumor had it that some ABVP students brought goons from Delhi University who came to JNU campus with 'lathis' and sticks. The JNU student community was told to be careful.
Another rumour doing the rounds was that some left wing parties and students brought goons from Jamia University and tried to manhandle the ABVP students.
'The Hindu' reported that ABVP activists entered the vote counting boots forcefully and tried to vandalise the ballot boxes. Counting remained postponed.
After a 15-hour long wait, the JNUSU election committee started counting the votes and the final result was declared.
"The Left unity (AISA+SFI+DSF+AISF) won all the central panel seats with N Sai Balaji as President, Sarika Choudhary as Vice president, Aejaz Ahmad Rather as General Secretary and Amutha Jayadeep as Joint Secretary."
Although United Left parties won all the seats in the central panel, ABVP emerged as the single largest party. Its presidential candidate Lalit Pandey secured 982 votes. Left Unity President N Sai Balaji secured 2,161 votes.
BAPSA emerged the third largest party after securing 675 votes for its presidential candidate Thallapelli Praveen.
This year, Rashtriya Janata Dal (RJD) entered in the student politics arena with its independent presidential candidate Jayant Kumar who secured 540 votes. The NSUI position was far behind BAPSA and RJD.
"There were four independent candidates for the President post including Nidhi Mishra, Saib Bilawal and Vikash Yadav who secured 59, 125, and 402 votes respectively."
In 2001, now BJP senior leader, Sandeep Mahapatra contested JNUSU elections for the post of President with ABVP ticket and was selected as the president of JNUSU. In 2015, after 14 years, an ABVP candidate Saurabh Kumar Sharma won the seat of Joint secretary.
"The vote share of ABVP has been increasing given the elections of 2015, 2017 and now 2018."
An ABVP leader told Delhi Post that ABVP has emerged as the single largest party in this year elections, and "it will again emerge as the largest party in the coming years" which could leave all the United Left parties behind.