Justin Trudeau visit: The Indian Cold Shoulder
PM Modi has expressed concerns that despite dialogues, Canada is not fully committed to Indian unity.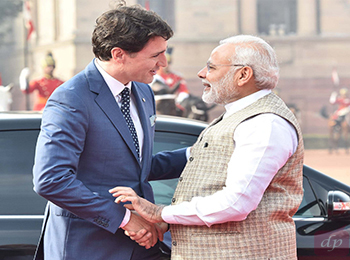 The Canadian Prime Minister Justin Trudeau's recent visit to India received a cold reception and studied silence from his Indian counterpart. Coming as a prelude to the 2019 federal elections, this was a not-so-subtle bid at shoring up the Liberal Party's support with Indo-Canadians, a section that decisively helped Liberals win a majority in 2015. Justin Trudeau has been dealing with a slew of controversies, ranging from Khalistani separatism to human rights abuse at home. While some issues grow too significant to not address, some remain in the dark of Canadian administration. For instance, two Indian migrant temple sculptors filed complaints with the Ontario's Labour Ministry.
They alleged squalid lifestyle, bad food and torturous work atmosphere over five months. Human rights abuses often go unreported. With institutional support from the broader community in the area, one can act to exert rights for justice and dignity.
The Atwal Conundrum
Trudeau has been under pressure throughout his tour answering Indian concerns about Sikh separatism in Canada. Canada has been facing nationals of questionable actions like Talwinder Parmar (the 1985 Air India bomb plot leader) and Jaspal Atwal. Atwal was a former member of the terrorist outfit International Sikh Youth Federation. He was convicted of the attempted murder of Indian cabinet minister Malkiat Singh Sidhu on Vancouver Island in 1986. He was also charged in an automobile fraud case, and, in a 1985 near-fatal attack on Ujjal Dosanjh, an opponent of the Sikh separatist movement who later became premier of British Columbia. Trudeau faced criticism over Atwal's formal dinner invitation by the Canadian High Commissioner. Trudeau justified Canada's stand for a United India with a condemnation and rescinding the invitation. India's stance here remains in solidarity with Trudeau's annulment of Atwal's involvement in the former's India trip. India had refused to renew Atwal's passport after its expiry in 2007, until last year. Atwal's presence might be labeled as engineering by the Indian government to distance the country from Ottawa. Atwal's presence in Trudeau's entourage for the India trip will surely have undermined it. A deliberate attempt at listing his name as a delegate serves as a ploy to prevent Prime Minister Modi from cozying up to the Canadian Government that undermines separatist undercurrents. Modi has frequently expressed concerns that despite dialogues, Canada is not fully committed to Indian unity.
The Question of Khalistan
Amongst others, Trudeau's entourage was manned by four of the Sikh cabinet members: Harjit Sajjan, Navdeep Bains, Amarjeet Sohi and Bardish Chagger. Trudeau's host and Punjab Chief Minister, Captain Amrinder Singh, had publicly snubbed Sajjan on sympathizing with the Khalistani movement. Singh stands as a dogged opponent of Sikh separatism to found a nation called Khalistan. Canada's stance on separatism is more stringent than its acknowledgment of Indo-Canadian murder convicts. Citing non-involvement in Sikh nationalism and the exercise of the political right to expression, Trudeau seems to remain unwilling to curb extremity in this issue. Trudeau met Amarinder Singh in the presence of Sajjan in Amritsar. In their rendezvous, signs were evident that Singh wished to reduce tensions. While Sajjan dismissed nationalistic claims by voicing support for a United India, the Canadian side acknowledged that the issue is foundationally more convoluted. Trudeau has reportedly discussed Canada's pledge to freedom of expression and the importance of dialogue to establish concord and congruity. This socio-political ploy was practiced even by his predecessor Stephen Harper (2012). 'Freedom of expression' has been continually used to oppose Indian pressure to crack down on Sikh separatism in Canada. Amarinder Singh has frequently raised the question of Khalistan in the Canadian Sikh diaspora. He cited Canadian Diaspora's constant sponsoring of Punjab separatist movements.
"This is one ball both the countries are playing," claims Dr. Abdul Nafey. The JNU professor with the Centre for Canadian, US and Latin American Studies shoots down theses against the Canadian Defence Minister siding with Khalistani separatists. "While Trudeau wants the Sikh votes, Indian particularly Punjab politicians try to fish in the turban waters. Why else would the Punjab chief minister accuse a man like Harjit Sajjan, who has served in Afghanistan three times, of sympathizing with a terrorist call?" he asks.
The Sikh Factor
The stakes for Trudeau are high. Out of the giant Indian community based in Canada, some have even made it to his cabinet. His visit is deep-set in political galvanization, and his need to address separatism claims is imperative now more than ever. His Liberal Party has made strides with vivacity in Greater Toronto and Vancouver, where South Asians, particularly Punjabis, are predominant. Sikh candidates such as Raj Grewal and Sukh Dhaliwali prevailed over progressive conservatives in places like Surrey-Newton and Brampton East. Brampton East additionally runs a risk against Trudeau in the form of an NDP contender – Indo-Canadian Sikh Jagmeet Singh. He is likely to upset giants like Liberals and Conservatives in such heavily Indo-Canadian constituencies. Punjabi speakers form the concentration of any Indo-Aryan language speakers in Canada, while Urdu, Hindi, Bengali and Gujarati populations form the rest. Modi has always considered the Indian diaspora as a means to exert India's soft power. Trudeau's visit and Modi's cold shoulder in a critical time like 2018 brews controversy; we have to wait and watch the outcomes.