TN Politics: Will the 'great show-down' of super stars make an impact?
MGR had significant ideological background like no other actor-turned politician has till date.
Actor Kamal Hasan has named his political platform as 'Nalai Namadhe' (Tomorrow is ours). While it can be termed a meteoric entry, it wasn't an unexpected move as Kamal, followed by Rajinikant, has been showing signs of political proclivity in the recent past.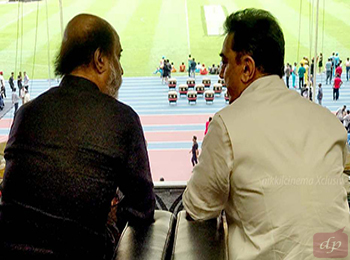 Tamil Nadu has witnessed the meteoric rise and melancholic fall of stars in the past. It may be recalled that yesteryear film star Vijayanthimala Bali struck political fortunes after retiring from filmdom. She won from the South Chennai Lok Sabha constituency in 1984 and retained it 1989 general elections. Another such success was that of actor-cum-director Ramarajan who won Ramanathapuram Lok Sabha constituency in 1998. There are plenty Rajya Sabha film personalities who represented the state and it is notable that the AIADMK leader J Jayalalithaa launched her journey as a member of the Upper House. Sivaji Ganesan who was an ardent follower of Kamaraj never entered into the state legislature.
He was nominated to Rajya Sabha by virtue of his career as a film personality.
There are others who represented both parliament and legislature of the state at various occasions. Similarly several Andhra Pradesh cine stalwarts entered politics, though NT Rama Rao and very few others like Krishna, Jamuna were successful. NTR's son Balakrishna and actor Roja are contemporaries. Chiranjeevi and his sibling Pavan Kalyan too entered politics, but with restricted success. Neighbouring states of Karnataka and Kerala rejected two of their popular tinsel world faces, Raj Kumar and Prem Nazir, respectively, when they tried their luck in politics.
The success and failure of film stars in politics depend on a range of factors such as circumstances, social barriers, party affiliation, and local acceptance to electoral strategies of money, muscle power. Popularity alone could not bring success as was evident from the case of Sivaji Ganesan and Bhagyaraj, who were once considered as heir-apparent to MGR!
Popularity Vs Governance
The issue of governance does matter a lot to the mass because policies of the state determine their livelihood. Often, people look for alternative options – new faces – due to their resentment over the failures of political masters in delivering their duties. Actors who are well connected to the masses try to cash in on their popularity and call for political change. Even though they lack knowledge in politics or governance their portrayals in films give them a make-believe aura. There are, however, a few exceptions. Actors like MGR had significant ideological background and had long-lasting experience as law maker and held senior level positions in the party. He demonstrated remarkable facility in governance. In fact, no other actor-turned politician has been as successful as MGR till date.
When communal riots broke out in Mumbai in the early 1990's, Kamal questioned the then PM Narasimha Rao for his negligence as the chief executive of the nation in stemming the violence. In his filmy avatar, he was a strong critique on politics and governance through films like Kadamai, Kaaniyam, Kattuppaadu (duty, dignity and discipline) Sathya and Unnal Mudiyum Thambi, to name a few. Besides, he is well known conscious keeper when it comes to several public issues in the past. Rajini entered into politics by strongly criticising the Jayalalithaa government during mid-1990's.
For actors political victories may come second; initiating a civil society platform may be the real wish, though they may not express it openly. So, there is a question. If that is the motive why should they launch political parties instead of going ahead with forums? It may be to gather huge masses, because forums may fizzle out or might be seen as another sort of fans' association.
What the state needs today?
 It is said that the Tamil Nadu is currently witnessing a political vacuum with the exit of two prominent personalities, Jayalalithaa and Karunanidhi. Still, Dravidian parties hold the ground. Current regime is plagued with internal strife after the unexpected death of their chief's death. They have lost a by-poll as well. However, they hold the power together against the challenger TTV Dinakaran, nephew of VK Sasikala.
Tamil Nadu is one among the developed states in India as is evident from the recent economic survey which indicates its economic clout. However, the state also is grappling with several socio-economic issues including poverty, digital divide, unemployment and migration. Several innovative schemes have been introduced and executed well. The Dravidian parties counter the allegation that they have flourished a culture of freebies in the state by claiming that they had a positive impact among the public. For example, free laptop distribution has certainly created more computer literates in the state. As the governance becomes more digital, it certainly needs skilled population for execution. So the remaining issues are corruption and cost of living and urbanization, which need long-term vision. Therefore, a role for a political party is just to accommodate public demand within such policy prescriptions to resolve the issues.
Actors who don the garb of politicians first need to emerge out their glass towers by shaking off their self-delusional stardom and be one among the masses. Then only they can address the issues concerning the people.