Kerala Floods: It is time to rethink about the Gadgil report says MLA Hibi Eden
Elected at the age of 27 years, in 2011, as Member of the Kerala Legislative Assembly from Ernakulam Constituency, 35-year-old Hibi Eden made his entry into parliamentary politics when he defeated the Left Democratic Front candidate, Dr. Sebastian Paul with a margin of 32,437 votes which is the highest ever majority in the Assembly elections of the constituency. A member of the Indian National Congress, Eden, in an interview with Delhi Post, talks about the relief operations during the Kerala floods calamity, contemplates its aftermath, keeping in mind Government accountability and environmental protection, and speaks fondly of the never dying spirit of Keralites.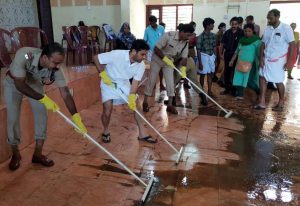 Delhi Post: Do you think Kerala was prepared for such a massive disaster?
Hibi Eden: Kerala Floods have been a huge challenge because it has been a first-time experience for all of us – old, young, big and small. The previous floods have been reported to have happened in 1924, when most of us were not even born. So, there was a moment of despair and panic. Mentally and physically, we were in doubt because we did not know what to do.
Firstly, the people who are called subject experts like the collectors etc did not have an initial disaster management plan because they were ill-informed about the magnitude of the disaster.
Secondly, the sole job of Dam Safety Management Authority is to monitor the levels of water every day to understand the safety situations of the dams. And it is not in one day or one week that the rains lashed Kerala and they had to open the dams. Every day, they were required to check and take measures. There was a time when the electricity minister said that they have to slightly open the shutters of the dam, and phase by phase, water would be released. Out of 39 reservoir dams, 35 were opened at a stretch which colluded with the disaster. The State is now looking at spends of over 20,000 Crores as per the initial assessment of the floods.
Thirdly, Government of Kerala very proudly says that fishermen are the Kerala Army, and they had arranged them in huge numbers and fishing boats in huge quantities. But, it is factually not true. It was only after the third day that fishermen came in large numbers but they were still unorganised. Some boats did not have diesel, kerosene and such essentials. If the fishermen army was arranged in advance and if there were proper arrangements for them, at least, we could have made the rescue operations easier.
Delhi Post: Brief us about the rescue and relief operations on ground.
Hibi Eden: My colleagues from Aluva and Perumbavoor were not accessible on phone because they were also stuck in small islands when the water rose. I managed to receive communication because I was comparatively in a safer zone. One of my Panchayats, Cheranalloor Panchayat got flooded. All the relief camps, around 10 in number, in the Panchayat had to move to the safer parts of the district.
Many of the small islands also got flooded. Kadamakudi is a Panchayat adjacent to mine where there are nine islands. All the people, around 15,000-20,000 people had to come to the city to stay in camps in colleges and schools.
What I did personally was to make sure that the people are rescued and brought to the relief camps but ensure that they are not rescued on a war-footing basis. Most of the people were naturally hesitant to come to the relief camps because they felt that they won't be affected. But all of them had to be eventually rescued.
Once the relief camps were on track, we had to make sure that there wasn't an epidemic outbreak. Preventive medicine for fever was supplied from the General Hospital in my constituency. We had a huge field for the medicine kits to be air-dropped and we had call centres through which we came to know about the need for doctors. As an MLA, I had called for region-wise medical camps so that there was clarity.
Then, when water began to subside, we assisted the other constituencies for the rescue operations. It has since then been the cleaning and rehabilitation process. We had volunteers from many places, individuals and house owners themselves who started cleaning. The demand for cleaning mops, bleaching powder and phenyl was huge. In fact, I had never before seen a fight for bleaching powder and phenyl. So, I made sure to order these items in huge quantities from Coimbatore and Erode. We also started a Clean House Challenge whereby we challenged people on Facebook and made sure that many others took up the Challenge.
Delhi Post: Many instances of bravery and relentless efforts of the Indian Armed Forces have emerged. The youth and various organisations have also shown courage.
Hibi Eden: Absolutely! The Air Force, Army and the Navy did an excellent job. In the first few days itself, we, the Opposition had requested the Army to take over because Kerala has never faced such a drastic situation before.
All the MLAs were on ground on a war-footing manner. I would say that not only the fishermen made the rescue possible with all their limitations, there were college students, youngsters and people from various organisations who came together to run the relief camps.
All the social media interventions made a huge difference. I do not know from where these people came, I don't know who they were but they came, gave rice, pulses, food, pillows, mattresses and so on. In fact, I am coming from a Gurudwara where Sikh Brothers from Amritsar's Golden Temple have brought relief materials. In such times of adversity, the support has been incredible.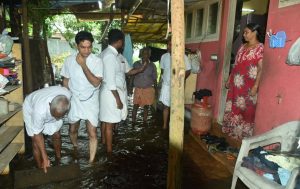 Delhi Post: Ecologist Madhav Gadgil has argued that had suggestions from the 2011 report on Western Ghats been implemented, the situation would not have been this bad…
Hibi Eden: Gadgil report was discussed quite earlier. That was a political decision that every party was asked about. I think now people of our society should understand the importance of these reports. And this is something which we have been voicing for some time. So, wherever sustainable development should happen, it should be done keeping in mind the environment. It is time to rethink the Gadgil Report. A lot of opposition is but natural because of the stakeholders involved. The Leader of Opposition would make a statement on this. I think a review should be done by the Congress Party and people's representatives.
Delhi Post: The State Government announced that an aid of Rs 700 Crore was being given by the UAE Government without any official confirmation which was denied by the Central Government stating that foreign government aid would not be accepted. Do you see this affecting the Centre-State Relationship?
Hibi Eden: Literally, UAE has been built by Keralites. We survive on NRI returns. I don't see why UAE helping us should be any kind of hindrance. There is no need for conflict between Centre and State. Though the Centre has given an aid of Rs 600 Crores, those are just peanuts.
Delhi Post: Reportedly Kerala has not contributed to any of the relief efforts including Uttarakhand Floods of 2013 and Tamil Nadu Floods of 2015. Reversely, many of the States including Uttarakhand (10 Crore) and Tamil Nadu (5 Crore) have come forward to contribute.
Hibi Eden: Kerala is a very small state. We are a consumerist state rather than a production-based state. We depend on aid from NRIs and revenue from tourism. I feel this is not the time to be mudslinging Kerala. It is not that Kerala did not donate. Many of the youth organisations donated towards Uttarakhand floods.
Delhi Post: The future course?
Hibi Eden: There is a lot of mental stress, ambiguity and tension in the air as life savings have been destroyed in the calamity. People have lost a lot. All we need is a positive attitude that Keralites are always known to show. Till date, Keralites have fought bravely and have stood united without any sort of discrimination or barriers including political and religious ones. We need to start afresh, a new chapter, with positivity and enthusiasm.
Now that contributions have been received as part of Chief Minister Disaster Relief Fund, nothing should stop the Kerala Government from rebuilding Kerala. Also, a proper survey has to be done by the Government to make sure that the compensation is fair. And we have taken efforts towards this now.
Delhi Post: Do you see the floods having any impact on tourism in 'God's Own Country'?
Hibi Eden: Tourism would not be affected. We will make sure that tourists come and comfortably stay in God's Own Country. The Kochi Airport has already started functioning. The tourist hubs will be opened soon. We will welcome them with open arms. That is a given.