Kudumbashree in Kerala: Telling Women Empowerment Stories
Jasmine Kudumbashree in Kochi is one amongst the many women neighbourhood groups in Kerala, empowering their members to enjoy economic freedom and self-esteem in the society.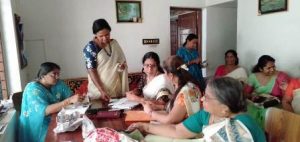 A second Onam not very far from home:16th September was nothing short of this for the 19 women behind Jasmine Kudumbashree, at Ayyaapankavu in Kochi. While forming the ayalkootam (neighbourhood group or NHG) under Kudumbashree (prosperity of the family) five years ago, little did these women know that they would be able to bring a huge difference to the lives of its members. What began with just INR 700 and 15 members has now grown into over INR 1 lakh and 4 more to the lot.
16th September witnessed the coming together of the whole family, not for the first time but with a difference. Monday mornings are scheduled meeting days for Jasmine Kudumbashree; Monday the 16th was a meeting too. The meeting was attended not only by the 19 members but also their family members. The day began as usual with a prayer followed by discussions on financial matters. The ladies later sat down to sing their favourite Onam songs, clapping and enjoying each line. They all shared not just the spirit of Onam but the traditional onasadhya complete with paaladapaayasam and happiness, above all. Celebrations earlier were backed up by funds pooled in by all the members. This time, though, they had earned enough to put up a celebration.
---
---
Over the years, Jasmine Kudumbashree has evolved well enough to make its members proud.Each member contributes an amount less than or equal to INR 100 and is eligible for loans up to INR 30,000. Jasmine Kudumbashree involves a five-member committee comprising a president, secretary, finance volunteer, health-education volunteer and a basic amenities volunteer. It operates under the guidelines laid down for Kudumbashree under the Government of Kerala.
The NHG has made each of its member independent and more than just a 'housewife'. Julie C.S, its current president, says, 'I have resumed my studies. I am preparing for Class 10 now. All the members have helped me a lot'.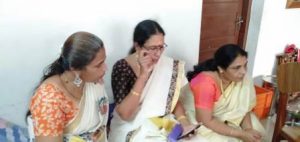 Most of the members now drive at least a two-wheeler. Jayasree's blue pleasure is like a bike taxi. She goes around either alone or with members, getting work done for the group. Jayasree L., the Secretary of Jasmine Kudumbashree since its beginning in 2014, remembers how her tailoring teacher told her about the collective that was about to be formed and asked her to join the same. Jayasree, who was not interested and almost refused the invitation, was later convinced by her teacher who told her that she just had to 'sit' through the meetings. Five years later, Jayasree does not regret the decision even a bit. 'I do more than just sit through the meetings. From recording minutes of the meetings to taking care of bank-related work, Jasmine Kudumbashree keeps me engaged. I feel more confident of myself', she says.
The official website of Kudumbashree tags it as the 'State Poverty Eradication Mission, Government of Kerala'. The Kudumbashree programme in Kerala came into being formally in 1998 as a community-driven initiative aimed at encouraging women to save for the future. The Kudumbashree idea evolved through the community mobilization experiments in Alappuzha and Malappuram, also drawing in from the various civil society initiatives in community mobilization for different purposes. After the project was formally registered in 1998 by the then Communist government, it spread to many districts. The programme has about 50,000 activities spread across various sectors including production, livelihood and service. Its success has led to other state governments in the country seeking advice from the Government of Kerala to implement a Kudumbashree-like model for the empowerment of women. Unlike the schemes in other states, Kudumbashree is not a self-help group;it is instead a neighbourhood group that differs from the former. The idea is that a woman is more likely to get support from another woman in the same neighbourhood than any other random women. Kudumbashree means a lot of things to a lot of people—the poverty eradication mission of the Government of Kerala, women engaged in social work, women collecting waste from households and more.
Jasmine Kudumbashree means a lot more, especially to these 19 women who have dedicated their time, effort and passion towards the mission. The group has changed their ways of life as well as ways of thinking.
---
---
The women are moreover provided with a platform to discuss the issues around them and come up with solutions in the meetings. This makes eachof them aware of their surroundings and contributes to their knowledge. And like they say, when you educate a woman, you educate a family. NHGs like Jasmine Kudumbashree is the need of the hour. Only when women are encouraged to step out of the household and participate in such groups will the world become a better place to live in.