Lavender Festival at Bhaderwah, Doda
Lavender cultivation has employed about 5000 farmers and young entrepreneurs in the geographically remote areas of J&K.
Lavender festival is set to begin in J& K. CSIR-Indian Institute of Integrative Medicine (CSIR-IIIM)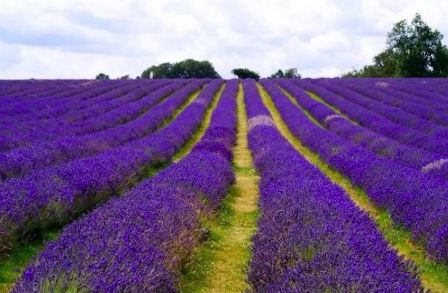 will organise a two-day Lavender Festival-2022 under CSIR-Aroma Mission, at Bhaderwah, in Doda district, on May 25-26.
An industry-academia-farmers meet would be held on the first day of the event, focusing on Lavender. Dignitaries would be taken to visit Lavender fields, followed by a live distillation demonstration of Lavender oil. Special cultural programs by local Badarwahi artists would be another highlight of the day.
Union Minister of State (Independent Charge) Science & Technology; Minister of State (Independent Charge) Earth Sciences; Minister of State PMO, Personnel, Public Grievances, Pensions, Atomic Energy and Space, Dr Jitendra Singh, will grace the festival at Higher Secondary School Ground, Bhaderwah, on 26th May.
The Union Minister will be releasing purple air balloons and signing the Memorandum of Understanding (MoU) under CSIR-Aroma Mission.
Occasionally, Lavender Farmers and start-ups would also be felicitated, followed by interaction with farmers' and agri-entrepreneurs. Dr Jitendra Singh would visit the distillation unit, lavender nursery and fields at Drudhu.
CSIR-AROMA Mission aims to develop and disseminate the aroma-related S&T developments to reach the end users/clients of CSIR-the farmers, the industry and society, leading to business opportunities, rural development, and life quality enhancement.
The mission aims to bring the additional area under captive cultivation of aromatic cash crops, mainly targeting rain-fed and degraded land across the country, besides providing technical and infrastructural support for distillation and value additions to farmers and growers all over the country.
 Mission also aims to enable effective buy-back mechanisms to assure remunerative prices to the farmers and growers besides achieving value-addition to essential oils and aroma ingredients for their integration into global trade and economy.
About Purple Revolution in J&K:
Over many decades of scientific interventions, the CSIR-IIIM Jammu has developed an elite variety (RRL12) and agro-technology of Lavender. This variety of Lavender is highly suitable for cultivation in the rain-fed regions of the temperate areas of India, including the Kashmir valley and the temperate areas of the Jammu division.
Under CSIR- Aroma Mission, CSIR-IIIM introduced Lavender to the farmers of different districts of J&K like Doda, Rama, Kishtwar, Kathua, Udhampur, Rajouri, Pulwama, Anantnag, Kupwara ad Bandipora. Under CSIR-Aroma Mission, CSIR-IIIM Jammu provided free quality planting material (QPM) and an end-to-end technology package for farmers' cultivation, processing, value addition and marketing of the Lavender crop.
To support farmers in processing their produce, CSIR-IIIM installed 50 distillation units (45 fixed, five mobiles) at different locations across J&K under CSIR-Aroma Mission.
Lavender cultivation has employed about 5000 farmers and young entrepreneurs in the geographically remote areas of J&K, while more than 1000 farming families in the J&K are currently cultivating Lavender on more than 200 acres in different parts of UT.
Lavender cultivation has significantly contributed to women's empowerment by increasing their income. Many young female entrepreneurs have started small-scale businesses through the value addition of lavender oil, hydrosol, and flowers.
CSIR-IIIM has conducted several skill developments program under CSIR-Aroma Mission and trained more than 2500 farmers and young entrepreneurs from J&K on the cultivation, processing, value addition, and marketing of Lavender.