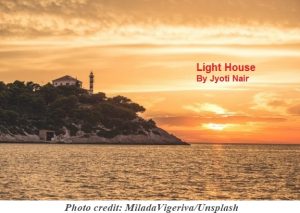 His fingers quiver, they touch
Folds worn by her nape.
Gaze sits, stirring impish glances
Into a doppelganger,
A rigid tonic called caution,
Gobbled at brusque bends.
When glints of a pole star fell,
Ripples of her heart affirmed,
It's not run of the mill.
Bosoms giggle frivolously,
Still gasping, brimming tenors nudge
Parched noon air.
That space undresses,
Greys and black, the oblivion drinks.
Passion glued in sweat wax,
Flickers swirling, their mahogany unabashed.
Beneath their choked quilts,
Staggered valleys,
Walk briskly into a light house.