Mizoram: The Nightingale of India
Mizoram is one of the peaceful states of India. The folks are peace-loving and welcoming in nature. Climate is feasible throughout the year, however, from October to April is the best period to visit Mizoram.
Mizoram, a tiny state, located in northeast India, is also known as the eastern extension of the Himalayas. It is called the land of rolling hills, the land of highlanders, and the nightingale of India.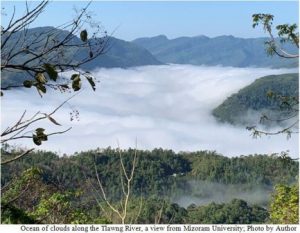 Mizoram has spectacular landscape – hills, river valleys, and flood plains; forest landscape – tropical, subtropical, and montane evergreen forests; agricultural landscape – Jhumlands and wet rice fields; and diversified cultural landscape. During sunny days, the valleys remain covered by clouds at mourning time, which visualise as the 'ocean of clouds. The climate is feasible throughout the year with a high environmental sustainability index. Mizoram provides a suitable base for natural tourism, wildlife and park tourism, farm tourism, and peace tourism. Rich culture, traditional and nutritious food, and beverages further support tourism.
Aizawl (average 900 m), a densely populated capital city, has a spectacular landscape. It is known as the City of Churches. Aizawl possesses about 26 per cent of the total population of the state (1.19 million). The cityscape has a rough, rugged, and precipitous slope, dividing the watershed of the Tlawng River in the west and Tuirial River in the east. Aizawl has many places of tourist interest lies in and its surroundings. Some of the beautiful places are the zoological park, the state museum on Macdonald's hill, Science Park, theosophical college, and Mizoram University. It has several star hotels and many other range hotels. Aizawl is the only city of Mizoram, which is connected by airways from Kolkata, Guwahati and Delhi. It is also connected by road with Silcher, Assam. Aizawl has an ideal location. It is connected with all parts of Mizoram. Tourists need two days to stay in Aizawl for sightseeing.
There are many tourist routes situated in Mizoram, which can be approached from Aizawl. One of the beautiful tourist routes is Aizawl to Blue Mountain. The route is about 300 km long. Tourists need to hire a private vehicle. Tata Suma is the best vehicle because the road is narrow and undulating. Black Man Mountain (1400 m) is situated on the midway between Aizawl and Hmuifang, has a steep slope. There is a viewpoint and tourists can see the beautiful landscape. Hmuifang (1450 m) is a small settlement, situated on the hill/ridge with a serene environment about 50 km from Aizawl. Most of it has pastureland surrounded by lush green evergreen montane forests. It makes a spectacular landscape. The climate remains feasible throughout the year, except for the two months of winter when it is very cold. During summer, the cloud touches the land and Hmuifang remains cloudy. Tourists can stay for a night.
A tourist rest house and some private tourist lodges are available with sufficient rooms and traditional food and beverages.
---
---
About 15 km distance, a village Sialsuk (1400 m) lies, which has a panoramic landscape. A lake and a beautiful hill slope lie in the village. Tourists from nearby states of northeast India visit this village. In the surrounding of the village, vast Jhumlands are situated, which can be developed for farm tourism. The village has three guest houses, which accommodate tourists.
About 30 km from Sialsuk, a small town Thenzawl (783 m),is situated in the Mat River Valley. The inhabitation in Thenzawl is recent, which was a dense forest area earlier.It has a deer park, water sports campus, a waterfall, and a newly constructed golf course.
A road bifurcates from Thenzawl and about 15 km distance, a beautiful waterfall 'Vantawng' is situated on the Vanva River. The river is seasonal whereas, during the eight-month of summer, it has enough water volume, which enhances the beauty of the waterfall. The waterfall has a cascade shape with 227 min height. The waterfall is surrounded by lush green tropical forests. Dense bamboo forests can be seen between Thenzawl and Vantawng. A viewing tower has been constructed in quite a distance to see the waterfall, facing it. The ideal months to visit the fall are from September to January. After coming back from Vantawng waterfall, the main road goes to Lunglei (1300 m average), which is the second-largest city of Mizoram both in area and population, and situated on an undulating ridge, with a steep slope on one side and a gentle slope another side. It is about 90 km from Thenzawl. Few star hotels and many range hotels are available along with traditional food and beverages. From Aizawl, helicopter services are available to Lunglei City. The last tourist destination in this route is the Blue Mountain, situated in the Lawngtlai district, bordered with Myanmar.
Phawngpui (2157 m) is the highest peak of Blue Mountain. Sangau village (Lawngtlai District) is a base camp for trekking Phawngpui.
---
---
Lunglei to Sangau through Hnahthial is about 110 km, which takes about 5 hours. It is a metalled road. From Sangau, a jeep road (unmetalled) bifurcates to Farpark, which is about 7 km, however, it takes 1 hour because of the narrow and undulating road/terrain. Finally, a 7 km trek leads to Phawngpui peak through a dense montane forest with high faunal diversity. The trek has a moderate to a steep slope. Blue pine forests are found in the higher altitude after 1400 m, make the forest landscape panoramic. A day-long visit (from morning to evening) is enough. Tourist lodge is available in Sangau village with the traditional kitchen where a two-night stay is enough. The total distance from Aizawl to Blue Mountain is about 300 km, which takes about five days to cover the entire route.
Besides the beautiful natural landscape of the places of tourist interest, the entire route has a rich cultural landscape. The fairs and festivals, of different tribal communities, are celebrated throughout the year. Traditional food and beverages are nutritious and unique. Mizoram is one of the peaceful states of India. The folks are peace-loving and welcoming in nature. Climate is feasible throughout the year, however, from October to April is the best period to visit Mizoram. During the monsoon period, heavy rainfalls lead to occurrences of landslides and roadblocks.
(Slider Image: Village Sialsuk is located on the way to Lunglei from Aizawl, Photo by Author)