New Geospatial Policy will Boost Innovation: DST Secretary
Liberalization of geospatial policies, announced a few days ago by the Government of India, will help to boost innovation in the sector and create a level playing field for the public as well as the private sector, said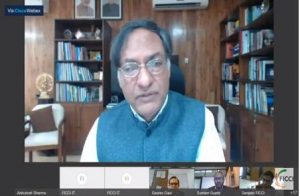 Secretary, Department of Science & Technology (DST) Prof Ashutosh Sharma, at the National Geospatial Awards Felicitation Ceremony recently.
The Guidelines for acquiring and producing Geo-Spatial Data and Geo-Spatial Data Services, including Maps, was recently released to facilitate access to such data across sectors.
---
---
"We aim to utilize the power of geospatial technology to revive various sectors of the Indian economy," said Prof Sharma, speaking via webinar at the online felicitation ceremony organized by the Federation of Indian Chambers of Commerce & Industry (FICCI).
National Informatics Centre (NIC) received the Geospatial Excellence in Governance award for project Creation of Multi-Layer GIS for E-governance & Planning- Bharat Maps. The Geospatial Technology Innovation award was given to Agriculture Farmers Welfare & Co-Operation Department, Govt. of Gujarat for project Crop Area Estimation & Loss Assessment using Remote Sensing & Geospatial Technologies for the State of Gujarat and idea Forge Technology for project Integration of Drones in Various Processes of NTPC Limited and Geospatial Excellence in Business Application award was given to ML Info map for project Geospatial Technology for Efficient and Safe Movement of LPG and L&T Construction for project Implementation of Aerial LiDAR Solution in Engineering Design for Mega Irrigation Projects.
Prof Sharma appealed to all stakeholders to share recommendations, insights and advice about various aspects of geospatial data and how to bring the entire ecosystem in place to give it full muscle for strengthening the policy. (India Science Wire)