Non-physician health workers must for interventional mental healthcare
Non-physician health workers in villages and remote parts of the country remain the backbone of providing mental healthcare services in the face of lack of quality psychiatrists and psychologists, depicts a pilot study of a mental health randomised control trial.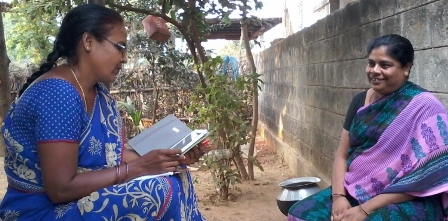 "Training non-specialists is the key", opined Dr. Alok Mathur, Additional Deputy Director General in the Directorate General of Health Services on the miniscule number of trained and skilled psychiatrists, psychologists and psychiatric nursing specialists indicating the need to train non-specialists for mental health services.
He said that there is a need to accumulate all resources including community participation and NGOs so as to bring together maximum results through optimum resources.
"Till date, 25 existing mental health hospitals/institutes/medical colleges was taken up to start/strengthen courses in psychiatry, clinical psychology, psychiatric social work and psychiatric nursing and financial support of up to Rs. 33.70 crore was provided to each centre, which included support for capital work, equipments, faculty induction and retention during the plan period," said Dr. Mathur.
Alluding to Dr. Mathur, David Peiris, Professor at the Faculty of Medicine, University of New South Wales Sydney, Australia told Delhi Post that access to healthcare is a major issue in areas where resources are limited and reliance on the traditional model of doctors for bridging the access gap is non-pragmatic.
"There simply aren't enough (specialised doctors) which is a prominent issue in many parts of the world which is where looking at the possibility of task-sharing with health workers who are in abundant supply and can deliver care closer to people's home is significant," he said.  
---
---
Notably, the gaps in seeking adequate healthcare for common mental disorders (CMDs) is around 75-80 per cent in resource-limited settings such as India, as compared to 40-50 per cent in developed countries.
"Mental health is integral part of physical health but huge gap is there as per various studies. Stigma, discrimination, limited awareness, belief systems and/or helplessness, misconceptions and infrastructural inadequacies are some of the prominent reasons for this treatment gap," Dr. Rajesh Sagar from AIIMS, New Delhi told Delhi Post.
Dr. Peiris who is also the Director, Health Systems Science, Office of the Chief Scientist, The George Institute for Global Health (TGI) is one of the principal investigators (PI) of a Randomised Control Trial named 'The Systematic Medical Appraisal, Referral and Treatment (SMART) Mental Health', which is conceived as an implementation trial for improvement of mental health services in India, especially through primary care system.
The intervention package involves a community-based anti-stigma campaign and a mobile device based decision support system to improve management of adults at high risk of common mental disorders. "The aim is to evaluate clinical effectiveness and cost-effectiveness of a multi-faceted primary healthcare worker intervention in 44 PHCs in Haryana and/or Telangana," said Dr. Pallab Maulik, Deputy Director and Director of Research, TGI, India and the CO-PI of the trial.
Depression, Anxiety, stress and associated risk of suicide are some of the CMDs such that around 150 million people are affected with mental disorders in India.
As per TGI India, it conducted a large-scale three-month pilot study in the West Godavari region of Andhra Pradesh and found depression rates of around 12 per cent, with more than 40 per cent of those with moderate to severe depression and/or anxiety having suicidal thoughts.
"The results of intervention from the pilot study were very positive and there was a significant reduction in the depression and anxiety scores between start and end of the intervention among those who had screened positive at the beginning. Stigma and mental health awareness in the broader community improved during the project. There was an increase in the service utilisation to almost 80 per cent after the implementation of this project," explained Dr. Maulik at 'The National Policy Symposium on Mental Health'.
The symposium held at the India International Centre Annexe in New Delhi discussed the trial's enhancement to add to the Government of India's National Mental Health Programme for strengthening mental health care delivery models.
According to TGI, randomised control trial would provide stabilised results which can be shared with the Government.
"There is a need for the effectiveness of the intervention to be demonstrated using more robust randomised controlled trials, while addressing the issues identified that will facilitate scale up. The Smart Mental Health-cluster randomised trial tries to answer these questions," Dr. Maulik further stated.
---
---
While the anti-stigma campaign comprised of "extensive and continuous" engagements with communities at the grassroots through audio and visual aids, theatre performances and posters and pamphlets in their local languages, the tablet-technology with Accredited Social Health Activists (ASHAs) enabled clinical decision support system (through simple questionnaires and collection of data) which aided the doctors as well as the patients/users in the remote villages.
"It is the need of the hour to develop innovative strategies to increase access to a basic standard of mental healthcare," said Dr. Maulik detailing that three components of creating awareness, screening programme by community health workers and mental health counselling by specialists forms the backbone of the trial.
All individuals included in both the high and non-high risk cohorts (prone to CMDs) will have a follow-up detailed assessment by trained interviewers where they will be asked questions about their socio-demographic and health characteristics, mental health awareness and stigma, social support, stressors, treatment history and past history by independent trained interviewers.
"Following the "baseline data collection, randomisation will be conducted at the level of the PHC" and will be randomised to Intervention and Enhanced Usual care group."
"We were very encouraged by the early results. But the second part of the research is to make it scalable and sustainable where the technology component comes into it because if you rely on traditional ways of training workforces, then it becomes hard to upscale. Technology enabling component to link care providers and patients and simple rules, algorithms and decision-support that we provide to the health workers enables them and also provides higher level of decision-support to doctors that tries to bring best practices off the shelf and into the field," expressed Prof. Peiris to Delhi Post.