Out of Sight, Out of Mind: Transgender Community and COVID-19
Transgender people haven't received even a single second time on any prominent national news channel blabbering about the plight and politics of COVID-19.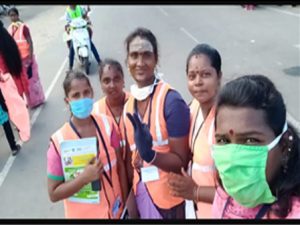 Transgender people have always been behind the scene and never on stage. They rarely cross our minds and conscience of media. They have definite purposes set by society, outside of which they fail to get the attention for their needs and other essentials. A category of 'others' was added in India's Census of 2011, wherein transgender men and women can register the details of their employment, literacy and caste. As per the data available, the total population of transgender in the country is around 4.88 lakh. However, according to activists working with transgender people, this is a conservative estimate as many of them might have failed to come out in public.
COVID-19 Challenge
COVID-19 has disabled the whole world physically, socially and economically. In conditions such as these, transgender men and women are under greater threat due to poverty, nature of their jobs and health disparities. The community was ostracised before the pandemic hit the country. With the introduction of new norms and worsening conditions of poor, transgender men and women are finding it difficult even to get the basic essentials like food, water, housing and access to healthcare. Most of them work as daily wagers, which include giving blessings in auspicious religious ceremonies, begging and prostitution. The lockdown has snatched away the only source of income for them, as functions and ceremonies were banned along with a restriction on the movement of people. They currently don't have the daily earning from blessing ceremonies and begging. COVID-19 has sparked fear of spreading of virus and thus earning from prostitution has also gone out as one of their options. Apart from these, social distancing norms are making it more difficult for them to earn a living. Many of them are surviving on the charities distributing food and other essentials, but the stigma never goes away.
---
---
The bleak condition of transgender community has turned the situation worse for receiving assistance from government schemes. Many of them didn't have the required documents and identity cards before the pandemic. Now as the government is trying to help the poor by launching new schemes and reaching out through financial means, they remain empty-handed. A great number of them don't have bank accounts to get the financial assistance given to the poor. They are not listed under any scheme for poor and nothing specific has been announced for them.
Many of them face troubles in getting a home to stay in due to the stigma dogging them. They thus live in cramped spaces sharing the accommodation and the rent. In such scenarios, social distancing and sanitation become utopian concepts. Due to lack of proof of residence, many are unable to get the ration cards which could have helped them survive the pandemic.
Everyone has lost the direct prioritised access to healthcare in times of the pandemic. The condition gets complicated for the transgender people as many of them contact HIV due to their involvement in sex work.
The lockdown has rendered them helpless in getting the free medicines provided by the government. Scores of them have opted for sex reassignment operations or hormone therapies which requires regular medical attention. Numerous hospitals and private clinics have stopped the OPD functions in the wake of COVID-19 spread, which has left transgender people in great danger. They are also stigmatised and badly treated with when they try to get basic essentials in shops and medicine stores.
Assistance Available, But Too Little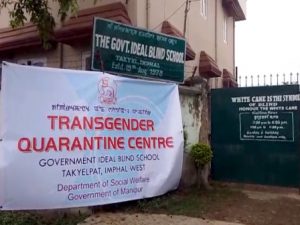 In April 2020, more than 2000 trangenders in New Delhi wrote to the Union Ministries of Home, Finance and Justice demanding special package. They demanded that the government should provide them with an assured subsistence of Rs 3000 per month until they are able to restart their work. They have pointed out that less than 1 per cent of them have received the sum of Rs 1500 from the National Institute of Social Defence (NISD). Since the risk of the people from the community is higher to contact the virus due to the nature of their jobs, and thus they are also demanding separate facilities for them to be treated.
The Ministry of Social Justice and Empowerment, Government of India, is giving Rs 1500 to 6000 transgender people who have bank accounts. The ones without bank accounts are being given the amount directly through the district administration. The Karnataka government announced that the transgender people will receive their two months' salaries in advance in April to help them sail through the difficult times. It also announced that free medicines will be provided for them. The Government of Kerala has distributed ration kits to 1000 transgender people in the state. Each kit contains 5 kg quality rice, 1 kg green gram, 500 mL coconut oil, 1 kg sugar, 1 kg wheat flour and 500 gm tea powder. Manipur's Social Welfare Department has opened the first transgender-dedicated quarantine centre to accommodate those arriving from other states. It stated the need for emotional security during the current pandemic as a reason for the step.
The NISD has provided a Google document link to the people from the transgender community who have Aadhaar cards and a bank account and who hasn't. They have been asked to contact in case they don't have access to essentials like food and medicines along with seeking monetary help if required.
Many NGOs working for the welfare of the community like Keshav Suri Foundation, TWEET, Dostana Safar, etc. are trying to help as many as possible.
---
---
Keshav Suri Foundation is providing mental health counselling and organising workshops for the transgenders people to acquire new skills through social media channels. They are also providing the NGOs essentials to be distributed among the needy in the community. The foundation has also started 'Queering Quarantine', an online series of talks, interactions and workshops to help people cope with this lockdown and utilise their time in learning and exploring new areas.
Fighting the Stigma
Some transgender people were shocked to find transphobic posters saying that if people talk to transgender, they will get coronavirus in Hyderabad in March. The posters were stuck in multiple public places. Activists have filed a complaint with police demanding strict action against the ones responsible.
Those living with their families are forced to stay indoors and the resentments are growing among the family members of transgender people. Many of them are ridiculed and harassed even in their homes and lockdown has rendered them in a grave position. The national media, which have been upfront and emotional about the plight of those stuck in other countries and migrant workers, have failed to even acknowledge the people from the transgender community. They haven't received a single second time on any prominent national news channel blabbering about the plight and politics of COVID-19.
The monetary assistance provided by the government is clearly not enough. The government machinery is already overburdened and thus those in the community are further pushed in the back of the line when it comes to getting the essential services. Many of them lack the identity proofs and other required documents, which haven't been prioritised as pandemic continues to spread its wings. In such scenarios, assistance from NGOs and individual donations remain the only hope for those who have to fight to exist for society, citizens and nation.
(Slider Image credit: Perry Grone/@perrygrone)