Pandemic, Lockdown and the Homeless: Miseries Untold
Instead of addressing homeless as 'trash', the government should credit them as "CityMakers", and ensure them with stay facility, guaranteed income support, minimum salary and above all protect human values and dignity.
Homeless people are sadly seen as 'trash' in the cities and the COVID-19 pandemic has further worsened their situation. The major problem of homeless population is shelter,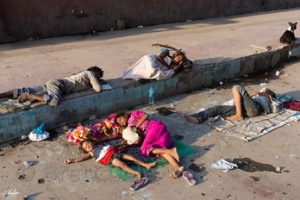 apart from the multiple levels of discrimination. It is surprising to note that the various government notifications collected from 29 states in India show that 16 states do not have any mention about homeless population with regard to the major indicators of basic minimum needs of people—food, sanitation, social security. State like Bihar mentions 'shelter less' which brings in another debate between 'homeless' and 'shelter less'!
"The livelihoods of the homeless community have been completely destroyed. They are prone to diseases because of the place they stay and food they ate", said Sonu P. Yadav, who works with Indo-Global Social Service Society (IGSSS) on issues of homelessness in five states. He was speaking at the webinar organised by Praxis and IGSSS to bring out the voices of the homeless community to the forefront and engage in a dialogue with people, who are working with them directly or indirectly on welfare measures and advocating their cause at state as well as national levels. The webinar also had on board many homeless people from across the country. Sharing the findings of the study conducted, Sonu said "Most homeless people are engaged in construction sector followed by beggary. With respect to government interventions in the pandemic times, Andhra Pradesh has been doing better by providing food, soap and mask to the homeless. The state government has converted some of the buildings as shelters". "However, the problem is that not only homeless people are accessing shelter; people who were evacuated from rented places are coming in to these shelters making the places crowded", Sonu added.
Appreciating the combined efforts of the government and the civil societies in addressing the acute health emergency of untold proportions, Indu Prakash Singh, CityMakers Mission International, said, "Civil society organisations have come forward in big support. Union government, which once berated civil society also realised the importance of bringing the civil society together, otherwise they would have never been able to do things they have done." Suggesting a way forward he implored that the issues related to destitution or mental health need to be catered separately even after lockdown gets over. As the pandemic has brought in the livelihood of people to a pause, the government must strategise a livelihood plan for the informal sector post the lockdown to regain from the economic downturn.
Meanwhile, all state governments should also have a long-term provision of free food for the homeless people till the economic activities start functioning on a regular pace.
---
---
Apart from that, PM-Cares fund needs to be opened for people. "Supreme Court is completely missing from the scene while they could have given some fantastic orders. It is a time of complete violation of human rights because people are being beaten up by police even when they are moving out to access food. Poverty has reached 80 per cent of the population including the middle class. It's a mess that we have created and it's the time for lessons to be learnt", he asserted.
In the views of John Peter Nelson, Executive Director, IGSSS, the pandemic has completely exposed feudalistic culture of the country, caste-class divide is getting manifested, exclusions and reinforcement of marginalisation are visible today. It is high time that fellow citizens show sensitivity and respect towards each other. The government too needs to effectively work towards safeguarding the needs of the homeless people. Instead of addressing them as 'trash', the government should credit them as "CityMakers", and ensure them with stay facility, guaranteed income support, minimum salary and above all protect human values and dignity.
There were also discussions around distribution of ration, but the issue was that people who did not have ration cards were unable to access the same. Jairam Kale, living with 35 other families under the bridge in Pune and working as a head loader at construction sites, was the first to voice his dilemma. He shared that the major challenge during the lockdown was to arrange food. "Somehow, we managed to access the ration with the help of school authority and the police also provided us with rice and pulses, but everything is now finished. We have children at home and there's nothing to feed them", he said. Gudiya, a domestic help in Patna, who used to live in a slum which was demolished just at the beginning of the nationwide lockdown also had a hard time with no work and no place to live. "I feel unsafe living in an open space as people passing by always give us a stare", she said with a concern. Neelavathy, a domestic help from Chennai, shared that even the basic sanitation requirement of a toilet was denied to them. The police refrained the use public toilets for all, including the senior citizens and children, which forced them to opt for open defecation. For menstruating women the situation got even worse.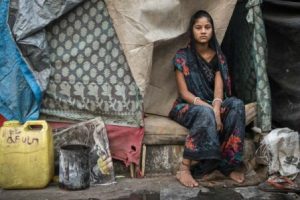 Sarasa, the third in generation of her family living on the roadsides of Parry's Corner, Chennai, along with her children often went empty stomachs for days in a stretch. If loss of their daily wages which they received by selling flowers and doing cooli work was not enough the outbreak of corona made the situation worse for them. Even the low quality ration that they received at a nominal price was not enough to feed the entire family. A similar case was of Ramachandra Reddy who hailed from Kurnool and worked in a catering company in Guntur. With a big family of eight members, all dependent on his sole income made it difficult for them to make ends meet. Access to a full three-time meal and medication became an unaffordable luxury for them after Ramachandra lost his job due to the lockdown. With no hopes of going back to their hometown, the future seemed bleak for them.
Fed up of the discrimination he faced because of his disability, Nandlal, a 50-year old man hailing from Devaria district of Uttar Pradesh, moved to Delhi to escape the taunts by family members and neighbours.
Even though he lived on the footpath near India Gate, he worked with several NGOs for the rights of homeless persons, especially becoming a voice for those among them with have a disability. Sadly he too faced lot of problems with respect to food and shelter.
---
---
"Many people were dependent on the religious places for their survival. After these places have been shut down, they are now abandoned. The government should have given at least a week long time before announcing the lockdown. The sudden lockdown has created lot of issues; the centres are so crowded that people are unable to get in there. If the lockdown would have been planned in a better way, these issues would have not come", he shared.
Talking about the elderly and disabled who were left abandoned by their families, Tarique Mohammad Quereshi, assistant professor at the Tata Institute of Social Sciences with specialisation in criminology and correctional behaviour, asserted the need of their registration to access support. Relief is being provided to homeless people, but this section has been completely left out. People who cannot go anywhere to receive any kind of relief, what will happen to them, especially those with mental ailments? We need to understand the gap, even within the homeless population. The reach of NGOs is also very limited to this section of society", he said.