PM Modi's US Visit: Strategic Partnerships Forged Across Fields, Strengthening India-US Ties
On his first US State visit, PM Narendra Modi fostered strategic partnerships across health, economy, digital innovation, and academia, reinforcing India-US ties.
Prime Minister Shri Narendra Modi cemented India's bilateral relationship with the US in a sweeping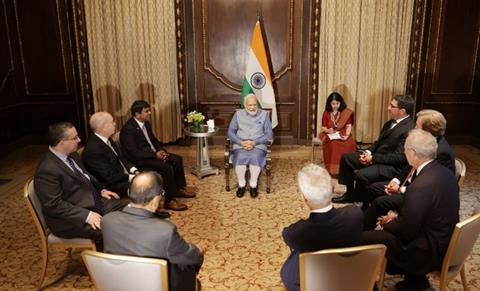 tour of the United States, underscoring a strategic partnership that the White House claims will span decades.
The Prime Minister's meetings, peppered with academics, business magnates, thinkers, eminent American citizens, and cultural and religious leaders, portrayed a compelling image of India's global ambition. "Our discussions have been comprehensive and will pave the way for further collaboration," said the Prime Minister in a press release.
In an intriguing encounter, Modi met Grammy award-winning Indian-American singer and composer Ms. Falguni Shah. The Prime Minister praised Shah's song 'Abundance in Millets,' which spotlights millets' environmental and health benefits. Modi extolled Shah's music for its ability to weave together Indian and American cultures.
During his visit, Modi met a cadre of US health experts to discuss digital health technologies, integrative medicine, and healthcare preparedness. This meeting marked a significant stride towards strengthening health infrastructure and bolstering health-tech innovation in India.
A meeting with Nobel laureate Prof. Paul Romer explored India's digital journey, including the Aadhaar identity system and innovative tools like DigiLocker. Their discourse covered India's strides in urban development and the digital sphere.
Broadening the gamut of discussions, the Prime Minister met eminent US academics from diverse fields, opening avenues for increasing research collaborations under India's New Education Policy. The academics echoed the spirit of collaboration, sharing insights from their areas of expertise.
Think tank experts joined Modi to discuss various developmental and geopolitical issues. The Prime Minister invited these experts to increase their involvement in India as the nation embarks on its transformation during the 'Amritkaal,' a term symbolising India's transformative journey.
Science and technology were also in focus during Modi's meeting with renowned American astrophysicist Neil deGrasse Tyson. They brainstormed on nurturing a scientific temperament among Indian youth. They explored India's progress in the space sector, including the private sector's potential and academic collaborations under India's National Space Policy.
An interaction with Ray Dalio, co-founder of Bridgewater Associates, highlighted the government's initiatives to promote economic growth, while a meeting with Buddhist scholar Prof. Robert Thurman shed light on the relevance of Buddhist values in resolving global challenges.
The Prime Minister's meeting with renowned statistician Prof. Nicholas Taleb encompassed the spirit of India's risk-taking young entrepreneurs, indicating a promising future for India's burgeoning startup ecosystem.
Wrapping up the series of meetings was a rendezvous with Elon Musk, CEO of Tesla Inc. and SpaceX. Modi appreciated Musk's efforts in democratising technology and extended an invitation to explore investment opportunities in India's booming electric mobility and commercial space sectors.
The strategic partnership marks a decisive shift in the India-US relationship, carving a path of global leadership for both nations. With the Prime Minister's initiative, a tapestry of conversations unfolded, fostering cross-border dialogues that promise to shape the future of India's socio-economic landscape.