Priyanka Gandhi – The Other Scion?
Post May 23, in a scenario where the NDA is short of numbers and the fractured Mahagathbandhan gets a near-majority, projecting Priyanka Vadra Gandhi in lieu of Mayawati as the Prime Ministerial candidate among the opposition parties could prove to be a game changer.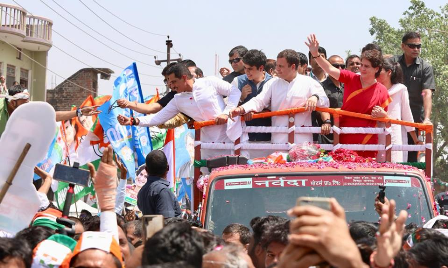 When the Grand Old Party was waiting for a political messiah to uplift them, Priyanka Vadra Gandhi, scion of Nehru-Indira family was considered suitable to play the part. But the party's tryst with destiny rescinded the opportunity, as she became Priyanka Robert Vadra and distanced herself from active politics. It was instead her mother, who took it upon herself to run the party. Proving to be a partial success, the party won two consecutive terms in the LokSabha since 2004.
The Alliance in Troubled Waters
The INC had to face a rough weather in its second term, as the 2G and other scams rocked the parliament. In eventuality, the party lost the stake in power and ended up with dismal performance of just 44 seats. It was unable to get even secure recognition as the primary opposition party after failing to garner the requisite 10 per cent seats in the Lok Sabha. At present, the party has been trying immensely hard to regain the power it has lost to the BJP. As a step in this direction, it has involved PriyankaVadra Gandhi to conduct campaigns, and has appointed her directly as the General Secretary. She is now in charge of UP (East), where many crucialpolitical battlegrounds are located, including PM Modi's constituency of Varanasi. In fact, Priyanka's campaign through river banks and land has even created a sort of sensation among the public. Nearly a replica of Indira Gandhi in physical appearance, her charismatic identity seems to be nothing but an initial political investment to woo the masses.
In the 2014 elections, the RSS backed party, the BJP romped home with magical figure of 272 on its own, for the first time in history. This was a kind of success that even stalwarts like Vajpayee and Advani weren't able to achieve. It is clear that there is no second in line for Modi. He is the brand, and the man at the helm of affairs. Similarly, Priyanka is not the second in line in case Rahul does not deliver the expected results. Speculatively, in a situation that favors the opposition to reach the power, the kind of space would be provided to the INC is unclear.
---
---
In the event that no opposition party is ready to accept Rahul Gandhi as the PM candidate of unified opposition, where would they be headed?
The Priyanka Factor
Brand Priyanka, though late, shall create a mass support base for the party to retain power. However, indecisive political stands similar to the Varanasi fiasco could reverse the fortune. Given the number of legal battles and controversies her husband is embroiled in, it is imperative for Priyanka to prove her determination. This very determination was seen in Indira's rare, shrewd character- and it was what floated her back to the PM's chair in 1980. Indira was a witness to the Indian Independence struggle. She acquired the perceived 'Deshbhakt' qualities through that experience. Priyanka, on the other hand, is a distant contender to possess such qualities.
Since the country has not yet fully recovered from socio-economic turmoil that it inherited from the Raj, there is bigger hope for the GOP to revive its lost pride. Rahul's proposal of providing Rs 72,000/- for BPL families has been considered as one such initiative in continuation of the age old policies of the party. Indira's Garibi Hatao is a longstanding slogan that still needs to be accomplished. Priyanka, who has an aspiration towards active politics, including contesting in polls might use such mass touching salvos to address the 'uncertain' voters.
The Number Game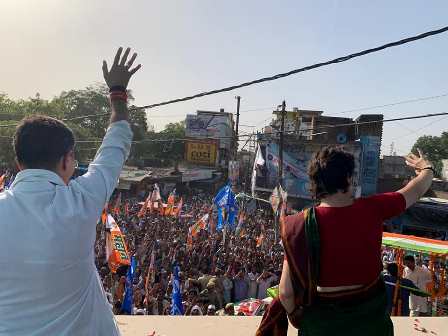 In a situation that the INC gains 150+ seats in the ensuing elections, what role would Priyanka play? She has not ruled out any official positions till now. Moreover, projecting Priyanka in lieu of Mayawati as a prominent personality among the opposition parties could prove to be a game changer. Since Mamata Banerjee would not insist for any pivotal post, it would be an easy grab for Priyanka. It is noteworthy that women have turned out at a large scale to exercise their democratic rights. Women politicians across parties have worked hard to collect support for their respective parties among the women voters. The absence of women centric electoral promises might interfere with their commitment to vote.
Priyanka has an ample opportunity to focus more on such endeavors in near future to harvest more popularity. Besides, among the 90 crore odd voters in India, women make up for nearly half of the total. Hence, parties who manage to address their needs would certainly benefit through favorable mandates.
For a relatively younger candidate like Priyanka, this could be the perfect pitch. Instead of selective appearances during polls, the time seems right for her to participate wholeheartedly in active politics.
A Dilemma or plain Indecisiveness?
If Priyanka doesn't contest the polls, it'll only have an adverse effect on her credibility as a candidate, in fact, her distancing herself from Varanasi has already weakened her position. As opposed to contesting in one of the traditional bastions inUP, she could work towards carving out her own niche political stronghold in a new constituency. Speculations are rife that she would contest from one of Rahul's proven seats, that is, either Amethi or Wayanad, in a by-poll. Following in the footsteps of her brother because of her late entry may be a cautious move; but would it not make her dependent on Rahul's influence? Is it desirable to strut behind him, at the risk of losing her own personality? Is it wise to not use her striking resemblance to Indira by shadowing her brother, who is yet to win his own battle? These are questions that haven't been effectively addressed so far.
---
---
Would the Wait and Watch Approach Help?
It is not certain whether Priyanka's wait and watch game would benefit her or the INC. Given the narrow margin of victory in the three states of Rajasthan, M.P. and Chhattisgarh, Priyanka, while hovering in the background should be more concerned about preventing the loss of the slight edge which helped INC trump the BJP in these states, instead of adding new people to her voter base, provided her minuscule role. It is also important that she enters ground-level politics before Mayawati or another female leader get the kind of prominence that could deny Priyanka her own political overdue. Come May 23, the results would nudge Priyanka towards making a final decision.