Punjab's abandoned brides
A story of Indian women's mockery by NRI men and government's complacence.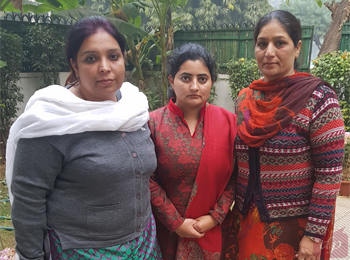 Baljeet Kaur, a 37-year old emotionally devastated woman, tries to smile when asked about events that drove her to Parliament to meet External Affairs Minister Sushma Swaraj. "My husband abandoned me in 2014 and hasn't spoken to me since then. I am here for justice. I have heard that Sushma Madam is very sensitive and empathetic in her approach. She is my last hope," Kaur said. Dr Dharam Vira Gandhi MP from Patiala, Punjab met the Minister Sushama Swaraj along with the delegation of such women victims abandoned by the NRI husbands to bring the issue to the Minister. Married in 2014 to a California-based NRI, Baljeet Kaur was abandoned by her husband one month after the wedding who returned to California promising his distraught wife that he would make arrangements for her journey to the US.
Baljeet Kaur lived with a hope of moving to the US, based on her husband's assurances, only to realize later that she had been deceived by her husband and his family. Her husband had sent his brother from the United States to sell all the property and return with the money following which, there was no contact from her husband or his family.
A heartbroken Baljeet Kaur, a constable herself had to run from pillar to post at the Police Station to even get the Police to file an FIR. In the absence of laws in the legal system that hold absconding husbands accountable, Baljeet Kaur has relinquished all hopes getting justice. Adding to her vagaries, is the stigma she faces in the society where her status as a woman remains undefined and stories of women living as Pariahs in their own family are heard every day.
Another such abandoned bride, an engineer by profession, 36-year old Manpreet Kaur, married Tejveer Singh, a Michigan resident in January 2016. After the massive wedding, she was informed that her husband suffered from impotency problems and was not mentally well and thus, he left for Michigan alone, promising to send visa for Manpreet later. Subsequent months made it evident that he took negligible interest in the marriage. Manpreet then received the news that her husband had filed for divorce in Michigan while she couldn't even get her FIR registered in India. Currently, the status quo is that the accused has obtained divorce in Michigan and Manpreet has just about managed to file an FIR.
The number of unreported cases could be much worse and this practice has taken the form of an organized crime against women from Punjab.
There are about 25000 such (reported) cases in Punjab, going by the last record. The number of unreported cases could be much worse and this practice has taken the form of an organized crime against women from Punjab. This is not an unprecedented practice in Punjab where NRIs make complete mockery of Indian women, exploit them mentally, physically, emotionally, sexually and financially and then desert them. It has been going on for decades and though Punjab government has taken namesake steps to prevent it, nothing substantial has been done.
When Baljeet was asked about why they did not approach the government, she responded that the Government has only indulged in victim blaming and dodging responsibility. State government says that it is Central government's responsibility and Central government is least bothered about deserted married women. Even at the National Commission for Women (NCW), the cries of these women fell on deaf ears and no respite was offered.
But there is a lingering question of why so many women in Punjab marry outside of India (though the rest of India does too but there is a stark difference in numbers) which remains unanswered.
"A special NRI Commission has been set up in Punjab to deal with problems such as these, but currently there are limitations to the commission. However, prioritising these cases, the commission helps people in need to get legal aids and counselling."
Dr. Dharam Vira Gandhi, MP, Lok Sabha
Steps like confiscating passports of such NRI men and mandatory registration of marriages have been taken by the government but these compensatory steps have done little to prevent this fraudulent practice. The need of the hour is to take drastic measures, involving counselling provisions by High Commissions, attachment of property till the dispute is resolved with wife and requesting authorities in other countries for extradition of the accused, to name a few.