Relief and Livelihood with Dignity: Priorities for Delhi's CityMakers
COVID-19 and the lockdown have resulted in the economic displacement of a large section of the population across the country. At the time of crisis, mapping of resources against needs, a convergence of efforts and integration of schemes would be the need of the hour.
A survey conducted by interviewing 3121 households across 50 plus cities of the country from 7 to
17 May 2020 brought out important insights on the life of CityMakers (homeless residents in cities). Findings from the survey in Delhi revealed an average of more than three members per room in a household, and close to four members per room in the city's non-notified slums. Over 90 per cent of respondents reported 'out-of-pocket' expenditure for financing healthcare. While 1 out of every 2 respondents (49 per cent) was engaged in Casual Labour, 3 out of 4 (75 per cent) respondents reported unemployment due to the lockdown, with close to 9 out of 10 (85 per cent) of Casual Labourers reporting the same.
In the survey, free food, cash transfers, livelihood opportunities and access to affordable healthcare facilities were the forms of assistance perceived to be required by more than half of the respondents. The significance of these results for Delhi was explained and also situated in the national context by the presenters, Prof Balwant Singh Mehta, Research Director, Impact Policy Research Institute (IMPRI), Delhi, Dr Soumyadip Chattopadhyay, Senior Fellow, IMPRI and Dr Arjun Kumar (Director, IMPRI).
Sanjeev Jha (Member of Legislative Assembly, Burari Constituency, Delhi) mentioned the measures taken by the Government of Delhi during the lockdown period, including setting up of night shelters for migrant workers, cash transfers, provision of ration and cooked meals, and advance pension. He pointed out that ration was also made available to those without ration cards and around 3.5 lakh people were benefited with free ration in Delhi.
Jha highlighted the paucity of beds and medical supplies in hospitals, and informed that Delhi Government representatives would be present in each hospital for better monitoring and timely and accurate updates on the Delhi Corona app.
He acknowledged the challenges in the system of online education during the lockdown, and suggested that the Government of Delhi would try to work towards a comprehensive and accessible system for the same, and attempt to move towards better governance, overall.
---
---
Dr Rashmi Singh (Additional Commissioner, North Delhi Municipal Corporation) emphasised the need for adaptability, flexibility, and resilience in institutions. She highlighted the need to innovate and harness technology to avoid disruptions in systems in times of crisis. She mentioned that sustained efforts would be needed in ensuring health, sanitation and hygiene, and active collaborations between academia, researchers and policymakers would be crucial in channelling efforts towards a long-term effect. Mapping of resources against needs, a convergence of efforts and an integration of schemes would be the need of the hour, she said.
Dr B.K. Sharma (Advisor, Department of Planning, Government of NCTDelhi) raised concerns about the resource crunch, whereas "the problems are known, and the solutions are known". He highlighted issues in the informal sector where he said the workers were excluded from records and had not received wages for the past three months, and also pointed out the problem in social distancing and self-isolation in colonies with an average of over 3 members per room.
Prof. Shipra Maitra (Professor (under Delhi Chair), Institute for Human Development) stated that "Delhi is a prisoner of its own prosperity", to highlight that the city attracts migrant labour, but lacks the infrastructure to provide a dignified quality of life. She emphasised that the focus should be on reducing the inequalities that coexist with prosperity. Prof Maitra suggested data generation on health and migration at various levels and pointed to the role of local bodies in doing so. She also brought up the need for decentralisation of economic activities away from a few centres of the country, and simultaneous economic growth in multiple centres. She also raised the issues of deficiencies in the health infrastructure and pushed for long-term engagement of the 'Invisible India' in the form of human capital, that had come to the fore due to the current crisis.
Dr Indu Prakash Singh (Facilitator, CityMakers Mission International, and Civil Society Activist) stated that it is only due to the COVID-19 crisis that society has realised the plight of the CityMakers. He spoke of on-ground experiences with relief work, and the challenges in delivering ration to the affected CityMakers. He further expressed his anxieties about the insufficiency of ration provided as relief, and also advocated for provision of food with increased nutrition. He drew attention to the issues faced by sex workers and rickshaw pullers in the city, and by agricultural labourers in rural areas. He emphasised the need to move away from "politics" and focus on alleviating the suffering of the CityMakers, and that different groups from the Government would have to come together for the same.
COVID-19 and the lockdown has resulted in economic displacement in Delhi, where a large segment of the population of CityMakers is engaged in small businesses and services.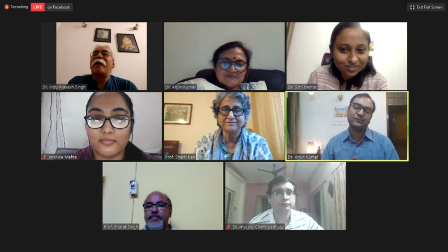 The greater impact of the crisis has been on women. Prof Shakti Kak (Chairperson, Centre for Work and Welfare, IMPRI, and Retired Professor, Jamia Millia Islamia) emphasised the need for 'work for all', 'income for all', and 'food for all'.
Dr Bharat Singh, Associate Professor, Satyawati College, University of Delhi, highlighted the issues in the functioning of Micro, Medium and Small Enterprises (MSMEs) in the current scenario and suggested expanding the scope of IMPRI's study to examine the same. He also emphasised the need for collection of data on migrant workers and patients during COVID-19.
---
---
Moderator for the event "Cities Edition Web Policy Talk", Dr Simi Mehta, CEO and Editorial Director, IMPRI, and Ms Anshula Mehta, Senior Research Assistant, IMPRI, remarked that the discussion brought together a plethora of perspectives, and could set the stage for collaborations between practitioners, academia, civil society, and policymakers, for moving towards better governance which is evidence based and data driven as well, and visualising both short term and long term action in ensuring relief and livelihoods in a dignified manner to Delhi's CityMakers. Faculty, civil society, bureaucrats, policymakers, and students from Delhi and across India and other countries participated in the Cities Edition Web Policy Talk, which was conducted by IMPRI.
(Slider Photo: IMPRI & CityMakers Survey team members)