Revisiting a Murder and What it Takes
A Book Review of Anu Kumar's It Takes a Murder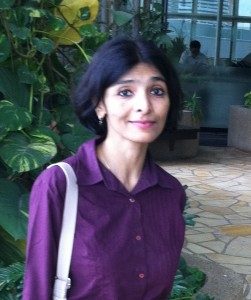 I t seems like years, since I first read Anu Kumar's "It Takes a Murder". In reality, it has only been five. A recent news item reminded me of her book — the book has been long listed in this year's MAMI (Mumbai Academy of Moving Image) Words to Screen Awards. This certainly is interesting. It also goes to show that reposeful books have lives of their own. I remembered that I had enjoyed it as it is a literary, ruminative narrative, and lyrical prose.
Now, spending the summer in the unlikeliest of places, a city which everybody tries to get away from during this season, I thought of browsing through it, re-reading parts with care while glossing over other bits. At the end of it, I found unsurprisingly, my original reactions had remained the same, except for a heightened awareness of Kumar's prose. It felt like walking down a place I had visited before, and the second time round noticing more details. It reiterates my feeling of the quiet timelessness of Kumar's "It Takes a Murder."
The book involves a murder (obvious from the title), that of a prominent resident of Brookes Town. But Kumar's book is no ordinary murder mystery.
"It is not a literary thriller or a suspense story, but a dark literary novel with layered characters that demand closer scrutiny, events that need to be re-looked against a larger historical backdrop."
The narrative, innocuous like a sluggish river, is nevertheless punctuated with suspenseful and held-breath passages, even as it deals with the most basic of all human relations – love. The story is narrated in flashback by an unreliable witness, one who keeps the reader guessing about everything, including the true inclination of her heart. She keeps feeding morsels of information in every chapter, just enough to whet the appetite, and sometimes a little more. Finally, towards the end of the novel, she reels the reader in, and actually confides, laying bare the whole web of intricacies.
A classic children's story that involves a spider and her farm friends, bears the name "Charlotte's Web." There were times during my reading, when I felt that perhaps this would have made a good title for Kumar's book as well, regardless of the entirely different and sinister connotation in this case. As far as names and books go, 'Hyde' was the alter ego of RL Stevenson's protagonist in his classic Dr Jekyll and Mr Hyde.
"While Kumar's protagonist doesn't change so drastically, there is certainly something of a shape-shifter in her personality. She is the witness, this woman named Charlotte Hyde, and is also the protagonist and the narrator."
 Charlotte Hyde begins her story with a phone call. It's a call that she receives at night from Maddy, her estranged daughter, now grown up and living in a faraway city. Maddy's parentage is a story that she – Charlotte – believes she has successfully hidden from everyone. As the novel progresses, we find that telephones and telephone-calls are harbingers in the book. These phones are old black instruments, placed sometimes on table tops, and sometimes held within telephone booths that are now almost extinct in India. But then, the main body of the story is set at a time when the Maruti 800 was new on India's roads. The prospect of Khalistan, a very real threat and the era of Indira Gandhi's assassination. The events occurring at a hill station somewhere in the Northern parts of the country, however, begin before Independence and end right before the beginning of the cell phone revolution in India.
There are others too: the boulder where Charlotte finds the man who was supposed to have left Brookes Town long ago. The river that meanders around the town. A tramp, a woman in rags, who is not what she seems. A shadowy person who raids Charlotte's refrigerator. The railway station, the post office and the rain. Anu Kumar's prose turns them all into portents. The effect is visual, and I can well understand why "It Takes a Murder" reached the long list. This would make for a great surreal movie.
The mystery thickens like the mist that shrouds the town, turning ordinary things sinister, even as the real danger stays hidden. And it does not help that Charlotte Hyde prefers to play hide and seek, forcing her reader to take in the story as she chooses to present it. Charlotte has a reason for doing what she does though.
"As the story unfurls, I realise that there is no other way to tell it. This is the route map as Charlotte takes me inside her mind."
All the actions take place inside Charlotte Hyde's head. She pulls me by the hand and takes me tumbling down the warren of her memories, now forward, now backward. Everything turns into flashback, and at times, flashbacks within flashbacks. Every event presented is a re-lived memory, as and when and how it had eddied and flowed in her head. In that sense, there is neither a time lapse nor any linear movement of time. Nevertheless sequence is maintained by dates in the chapter headings, even if there is seemingly no beginning. (This is one of the novel's strengths.)
The chapters are further divided into sections, undated and untitled, each separated by a symbol, providing visual breaks in the narrative flow.
Charlotte Hyde begins her story with Maddy's phone call, but immediately plunges twenty five years back into the past, when she is cycling to school with Maddy, and a man sitting on a boulder distracts her.
She writes, "The empty boulder now simmered like a blank menace, and I (Charlotte) had reached that stage in my life when easy answers were fast disappearing," as if forewarning the reader with a riddle.
After that she goes on to say what pretty much sets the tone of the book, that "it would be the last summer that I would belong to any place, be someone, my own person. Because from now on, there is always a blip in the rush of my memories, like I am flipping over fast and quick through a familiar photo album, turning the pages over, letting the pictures fall back in place in their plastic casing but somehow they never return in the same order as when I first found them."
Charlotte's admission of her own unreliability right at the beginning allows for a seed of sympathy to take root. Maybe, it is another of her ploys, but it works in her favour. And I grapple with her memories just as they, like the matador bearing slogan-shouting men in the aftermath of Indira Gandhi's assassination, "metamorphosed into a many–headed, many-limbed creature that thrust its hands out in desperation…"
But a murder had been committed for a fact, in the quiet town of Brookes Town, "where even a lone leaf stirs and falls with great reluctance".
Gautam Singh Dogra, whose "phone hello was like a slow dozing road roller grazing over a difficult road," and who is the man with a past, is found murdered in his study. The police had not found the murder weapon, a long handled knife, but found the murderer, nevertheless.
The murderer according to Commissioner Parida and the rest of the police is the rickshaw puller Daya who used to ferry Dogra's daughter to school and back, whether they believed in his crime or not. Then there were other things that vanished as well, like a key from a bunch of keys, and nobody, least of all Lawrence Kerketta, Charlotte's old and trusted retainer, and the owner of the bunch, seemed to comprehend the loss. A couple of people vanished too. But they were like small details in a larger picture, unless of course you connected the dots, and nobody except for Charlotte seemed to want to do that.
"But then, this is Charlotte's story after all. However, that brings in a shade of incongruity to the book; as if something doesn't seem to add up."
Charlotte who sees everything, and knows about Gautam Dogra, from his Kashmir days, when Pakistan attacked and Kashmir became a part of India, and Dogra lost more than his wife. She, who is a close friend of Dogra's daughter, Asha, and yet grudges her the intimacy she shares with her own daughter, Maddy.
"Those seeking the thrill of a straightforward detective fiction or murder mystery would be flipping through the wrong book. A murder being at the heart of the plot does not make a murder mystery."
Even though there is love, lust, heart break, anger and hate, and all the things that create murder motives in "It Takes a Murder," this is a literary novel, full of darkling thoughts and things.
Hercule Poirot would say, 'it's about the human psychology.' This book is that indeed. But above all there is a sense of grief and longing, meandering around like Brookes Town's river. As one of Kumar's characters in the book, Daya, says during his interrogation, "because all my thoughts begin from other thoughts and I am still trying to understand those." Then again, perhaps Kumar's book is best left not too well understood. There is beauty in that too.
(It Takes a Murder, Author: Anu Kumar; Publishers: Hatchette India 2013 Paperback, 288 pages, Price: 305)
(This book review has originally been published in Kitaab)