Sonagachi in Her Embellished Red Silk
'Sonagachi' is indeed a golden tree for very few people, but for the other thousands of women and children, it is a place of utter hardship and turmoil.
A news rounded up either in NDTV or CNN sometime ago. It was about how sexual workers, including their families in India's red streets are pushed to privation due to COVID-19 lockdown. The news was broadcasted with the visuals of Asia's biggest Red-Light District in Kolkata–Sonagachi – located to the north of the city of Kolkata. The locales of Sonagachi, including its women, children and senior citizens go through a plight of life that is worse than the residents in the country's largest of ghettoes. Sonagachi is situated right next to the exquisite bungalow called Marble Palace, which was built by the richest man in Bengal, and is still a column of pride to the whole city of Kolkata. Sona Bazar, the sprawling market of Kolkata too, is located nearby Sonagachi. Sonagachi is thus set in the heart of Kolkata. One can reach there by boarding train at the Shobha Bazar metro station.
The Howrah bridge links Kolkata with the city of Howrah. The Ganges, meandering both Howrah and Kolkata, called the Hooghly River, stops these cities from merging into one. In Vayalar Ramavarma's poesy, the Hooghly would be a girdle to the celestial nymph of Kolkata. Howrah railway station has the largest number of platforms in the country.
---
---
It is very rare to find a railway station like the Howrah station, with car parking facilities on railway platforms. One can get to any part of Kolkata from this station that stands as an example of the mastery of British architecture. There are huge ferry boats all set to take us through the Hooghly River for just five rupees. Similarly, there are hundreds of buses ready at the bus stand, over the Howrah Bridge – one of world's greatest engineering marvel – and near the Howrah railway station to take us to various parts of Kolkata.
Sonagachi is situated almost 3-4 km north-east to the Howrah railway station.What is Sonagachi in candid? The word 'Sonagachi' means 'the golden tree' in Bengali. It is indeed a golden tree for very few people, but for the other thousands of women and children, it is a place of utter hardship and turmoil.
Kolkata is one of the oldest aristocratic cities of India. It was the capital of India under the British Empire until 1912. It has the same buildings that were built by the British East India Company that still stands as the pillar of pride in this city. Sonagachi was a place where the old wealthy zamindars and the feudal lords brought and kept many devadasis. Zamindars gleaned joy and pleasure in watching their theatrics, dancing, and sleeping with them. They brought these women dancers from Lucknow and other parts of the country to Sonagachi as a scale to weigh their own wealth and honour. It was a sign of distinction and privilege for the devadasis to be transported to Sonagachi.
With time the honour and respect for devadasis deteriorated and the next generations of dancers had to take up prostitution and sex trade to meet both the ends.
In modern India, the sex trafficking in Sonagachi was shifted to large mafia groups and they incurred huge investments out of this flesh trade. It is the consequence of decades of evolution that has made Sonagachi the largest sex-market in Asia.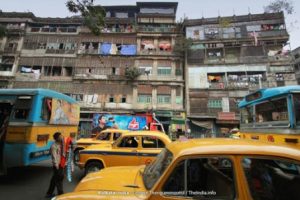 I used to board at Sonagachi in the evening via metro train, or public bus while I was alone in Kolkata.  Later I would take a stroll through the narrow lanes of Sonagachi gulping in a cheek full of Kolkata-style milk tea for four rupees, like an onlooker at the raw lives of these dwellers. It is obvious that one retains a wound unhealed as he walks past not discrediting, and scorning the women and children who invites a crowd of men with a bit of skin and whistles in front of the oldest multi-storeyed buildings, and one-roomed cabins. The gates of Sonagachi are open to men day and night. Young girls and little kids in denims and shirts, middle-aged women in sarees with a tint on their lips will blossom with an appeasing smile at the sideways of Sonagachi without any sleep or rest, that too day in and day out.
---
---
Sonagachi is a place with thousands of intricate, narrow alleyways. This is a large area with thousands of buildings, including ten-storeyed ancient apartments, standing close, without any order or organisation. These buildings are under the ownership of high-key proprietors. They have rented these properties to the sex-traders in Sonagachi and moves on with their daily lives as decent gentlemen. There are many entry gates to Sonagachi. If one is unfamiliar to the place, it will be difficult to get out of the same way one entered inside. I have gone astray and reached other parts of the city many times. Each of these small alleyways reach and join to different junctions. Sometimes hundreds of them….On both sides of each of these lanes are old buildings, the junctions are lined of small-scale shops. One can spot thousands of women waving at men from the open doors and windows of these old apartments lining the streets. Many of them hail from different states of India, others belong to countries like Nepal and Bangladesh. A large group of devadasi women from Andhra Pradesh, Karnataka, and Odisha spend their days in hardship and austerity within the walls of these old buildings. Since the abolition of the barbaric practice of Sati, many widows have been forced into the dark rooms of Sonagachi. One can see here the pitiful sight of children born to sons and fathers of huge landlords living in utter penury. What is it, other than an absolute irony? 
The helpless sight of boys born to these wealthy statesmen change to middle men for their own mothers and sisters, and the horrifying image of girls take up the same job of their mothers by a certain age is not new to the streets of Sonagachi. There are mothers who grew up their daughters perseverant to not leave them to adultery is now despondent by the fate of their own daughters being destroyed by the beasts who visit Sonagachi. It will be a wonder if the kids in these houses, without the aid of elementary education, separate themselves from the dirty memories of their mothers and daughters selling flesh and lead a life of morals. But, NGOs like 'New Light' strive to teach and uplift many of these children born to the women of Sonagachi. It is my belief that if people like us can support them, we will soon see the birth of a new society.
There is a misconception among many of us that Sonagachi in Kolkata, Kamathipura in Mumbai and GB Road in Delhi are legal settlements.
Prostitution is legal nowhere in India. There is always a need in the huge metropolitan cities to sacrifice the life of thousands of these people so that both the middle-class and upper-class population can rest and move freely within the urban comforts. This might as well be a historical consequence. The men who rule these red streets are indeed big-shots in terms of their crowd force, capital, and political supremacy.
We should be able to form a collective resistance against them. It will be extremely difficult to separate a group of women who are addicted to drugs and liquor from these dwellings. Once, even though Karunanidhi had intervened and rescued many Tamil women from Kamathipura in Mumbai and brought them back to Madras, about half of them returned to the old streets of Mumbai again. The main reason for this going back was the attitude of the civilised society, including myself, to them. We can only hope for a change in this system if the society grows up to the reality that sex workers are also human beings and not simply visual objects. Kalighat, another Sonagachi, is situated right next to where the 'Lady Lion of Bengal' Mamta Banerjee lives. There are hundreds of such little Sonagachis all over the city of Kolkata. During the current time of Corona pandemic, it is my only wish that some NGOs or individuals reach afront willing to alleviate the destitution of these poor women and their innocent children in a city like Kolkata that has the footsteps of Sri Ramakrishna Paramahamsa, Raja Rammohan Roy, Tagore, Swami Vivekananda, Mother Teresa, Satyajit Ray. Let they also reach out further in many other big cities all over the country.
(Translated from Malayalam to English by Malavika S Udayan, IIT, Madras. Slider Image: Kolkata Mural honours the sex workers of Sonagachi – St+ ArtIndia/Aravani Art Project).