Survival Getting to a Halt
Development and infrastructure are crucial for any city to grow and as they progress, it not only brings employment opportunities for the residents of the city but this development also leaves many weaker sections of the society unemployed.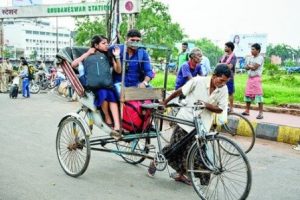 There has been much development when it comes to mobility within and between the cities and that is the reason why the trend of Ola, Uber and vehicle rental services got into the market. Apart from the partially expensive private cabs, these companies have started providing on-demand bike, e-rickshaw, auto-rickshaw and bicycles. Hence, it has made moving from one location to another very easy. But, at the same time, it has made some sections of the society partially unemployed and they are facing problems in terms of sustaining in this era, where competition is fierce and price of everything is touching the sky. Amongst the categories, there can be many people who are just working to get their daily bread out of it but the section of the society which has been most affected by it are the rickshaw pullers. In this regard, the situation of smart city Bhubaneswar has reached to a level that these rickshaw pullers are on the verge of extinction and the ones that are left are not able to fulfil their basic needs out of it.
Srinath Nayak, a 51-year-old rickshaw puller, explains his difficulties in survival in the growing city of Bhubaneswar. Here's what he has to say:
---
---
'I earn rupees 200 a day and that is even limited to the days when I get some goods to transport from one location to another. Sometimes, I don't even earn anything as passengers don't prefer rickshaw anymore. I have a family of 3 members and it is very much difficult to manage the expenses of the family and much difficult to give education to my single boy child. I have been pulling rickshaw for 30 years but this was not the situation earlier.
Today, the scenario is such that somedays, I have to think, how I will feed my family as there is no earning. People prefer faster modes of travel and we are facing trouble'.
When asked why he doesn't opt for some other source of earning, he said:
'I don't know how to drive so I can't go for auto rickshaw driving and I don't even have money to rent an auto-rickshaw as it costs a lot and we are not getting any favours from the government. I visit my village occasionally to do part-time farming work so that I can make a living and at least feed my family. Ashok Nagar is an old area, so I earn something here but new Bhubaneswar has got nothing for us'.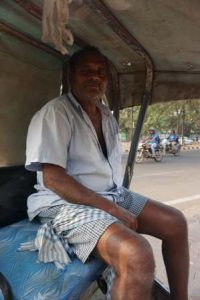 Generations after generations have preserved the family occupation of rickshaw pulling but now they are not willing to do it but, at the same time, they are worried because they are not earning much out of it. Also, they can't find an alternative source of employment because of several limitations like finance, driving skills, etc.
When one travels from one end of the city to another end, they can easily see auto-rickshaws, cart pullers, Ola, Uber, buses but hardly will they notice any rickshaw pullers on the streets.
They are now confined to certain specific locations (the few those who are surviving) like Market Building, Ashok Nagar, Master Canteen and Kalpana Square, and the reason for this is that these are the places with the most crowd in Bhubaneswar where railway station, local markets and temples are situated. This might seem that these are a lot of places but that is not the thing! In these places, you will not get to see rickshaws very often; they are visible after huge time gaps.
The reason for the unpopularity or the low number of rickshaw pullers as asked from Saurabh Banka, a city dweller, says:
'First of all, it is very time taking when it comes to mobility from one location of the city to another and the other reason is that it cannot be taken for a longer route because with the route being longer, the time to reach the destination increases. Also, there are so many alternatives present in cheap rates like rental bikes, auto-rickshaws, e-rickshaws, buses, etc. to travel locally and for luxury there are cabs and they are available just through an app. So, most of us, prefer that and that is the reason that rickshaw pullers are on the verge of extinction in capital city of Odisha'.
---
---
Another rickshaw puller Dhurbo Rath explains his hardships in survival in the capital city as:
'I am 45 years old and have been pulling rickshaw since I was 20 years old as there was no trend of education back then and I was the only child of my parents. I pull rickshaw near Railway Station and earn rupees 400 a day and sometimes it narrows down to rupees 200 but each day, some income is fixed as I don't depend upon the passengers but I have tied up with local shop owners to transfer goodies to their shops from godown, but now, I think that this work of rickshaw pulling will no longer last and I am worried about my child's education as I am facing difficulties in search of new job. I think the only job left for me is to become a construction labourer'.
Unlike the old days, no parents send their kids to schools on cycle rickshaws because of several reasons starting from time-consuming to better facilities, etc. One and a half decades back, rickshaw had been the most popular cost-effective mode of public transportation in cities and towns including Bhubaneswar. Today, they are hardly visible in the city streets of Bhubaneswar. But what about the rickshaw pullers, whose only source of income was the three-wheeled vehicle. They are left unnoticed!
But, here the question is that will these rickshaw pullers survive in this growing city? If yes, how? If no, then what will they do as an alternative source of primary income and who will help them realize that what they are capable of and who will give them a hand in this hour of need?