MO BUS: The Way Odisha Moves
Mo Bus (My Bus) in Odisha provides the cosy connectivity within the Capital Region and between the Capital City of Bhubaneswar and other cities.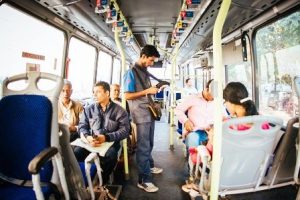 A lot of things change when a state goes international in hosting an event and the 2018 Men's Hockey World Cup, which was organized in Odisha, paved the way for a lot of significant transformations in the state, especially in cities like Bhubaneswar, Puri, Cuttack and Khurda. One amongst those transformations were the launch of MO BUSES within the city—Mo Bus is an urban public transport bus service run in Bhubaneswar, Odisha. The Capital Region Urban Transport (CRUT), a special purpose vehicle, formed under the Housing and Urban Development Department of the Government of Odisha operates buses to and fro the capital.
Mo bus which means 'My bus' was launched on 6November 2018, just a couple of weeks before the start of the Hockey world cup has got a good response from the city dwellers. People find these buses convenient and easy to use and they are even happy with the government that it has launched both AC and non-AC buses. The buses are equipped with Wi-Fi, closed-circuit television cameras, online ticketing systems and a smartphone application. The Mo Bus and its operations are managed by CRUT (Capital Region Urban Transport) and the app (Mo Bus) has been launched since November 2016 for people to track the buses or to find the routes. Moreover, the buses have connected Bhubaneswar, Cuttack and Khurda through 20 routes and the twenty-first route from Master Canteen to Lingaraj Temple was totally off track since the launch of Mo bus. The government recognized the route as per the demand from travellers and has then launched the same on the occasion of International Tourism Day on 27 September 2019. Also, within a month, there will be regular buses which will connect Puri, said CRUT spokesperson to Delhi Post.
---
---
The public transport also saw a major downfall in the ridership of Mo buses after the Cyclone Fani had hit the state.
Ever since May, the ridership has gone down to 60–65k per day travellers. Commenting on this, Ms Dipti Mohapatra, GM at CRUT said, 'Since the time of cyclone, we have been witnessing low ridership and this was a matter of concern for us but in the past four months, we have made good progress. Because as of 8th September, there was the highest number of travellers and that is 97,000 travellers per day and by 15October 2019, we are targeting one lakh travellers and it has been named as 'Mo Bus Mo Lakshya'. In order to increase ridership after Fani, we have launched several customer-centric initiatives like newspapers, discounts, etc'.
Mr Prasantha Nayak, a daily traveller said that 'The Mo bus has made our travelling easier and less expensive but it has launched newspapers in AC buses only, not in non-AC buses, which is discrimination. Moreover, the newspapers that are available in AC ones are of the English language, while most of the travellers are natives of Odia language'.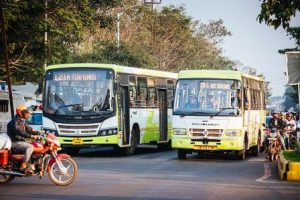 Commenting on this, a CRUT spokesperson said that 'Collaboration with Odia newspapers was becoming difficult for the team but the team has paved the path. From 2 October 2019 onwards, all the buses (AC and non-AC) will have free Odia newspapers and a 'Library on wheels' idea is also in process'.
A non-AC anonymous bus traveller said that 'I travel daily from Acharya Vihar to Infocity and many timesit has happened that I am standing in a Mo bus queue shelter and the bus did not stop there and went off directly. Another bus obviously comes after 15–20 minutes, so that has wasted a whole lot of time and because of that reason, I have been late for my work. It has happened four times since I started travelling in Mo bus and this is sad because we don't know where to complain about this'.
Upon asking about this, the CRUT spokesperson said that 'there are lots of encroachment and parking issues we are facing as common men and other private vehicle owners keep their vehicles to obstruct Mo bus, and for this reason, we have allotted encroachment officers along with the squads that keep the space free for Mo bus to stand. If there is any captain that does not stop at bus queue shelters, then they are penalized when reported after proper enquiry.
---
---
The speed is also monitored, and in case of over speed, they are penalized daily and complaints can be lodged through e-mail, Facebook, Twitter and above all the toll-free number'.
Overall, Mo bus has received a good response from the people of the capital because people usually prefer it over the private buses. Speaking about the development of local transport within and around the capital city, Member of Parliament from BJD, Dr Amar Patnaik told Delhi Post that 'Earlier there was public transport in the city but for better connectivity between Cuttack and Bhubaneswar, it was always necessary to launch something like Mo bus for the ease of people, and as a luxury facility, both AC and non-AC buses were launched. The number of buses that currently operate in the city is helping the citizens to get to every corner of this growing city and there would always be a mismatch but now it is connecting almost all the major areas in the city: Cuttack and between Cuttack and Bhubaneswar and the other problems and connectivity issues will always remain work in progress'.
For knowing the issues and concerns of urban public transport in the city from Mrs Aparajita Sarangi, Bhubaneswar, Lok Sabha MP and former Indian Administrative Officer (IAS) was also contacted through e-mail, calls and messages. However, there was no response from her side. We will update the information as soon as she responds to our queries.