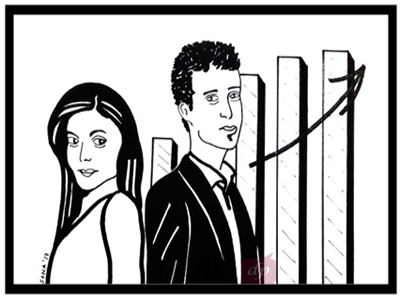 The competition between Lata and I had turned so intense that even Bernie, the VP who had once famously remarked that competition is a rude but effective incentive tool while installing the new scheme at work, began to doubt its true merit. Bernie believed that making the consultants compete among themselves for client assignments would bring out the best in them and help the firm win more work. The truth was, as later evidenced, that the competition brought out the worst in us.
It all started about six months ago. I was full of joy and glee when I landed the job of a consultant with Woodstock Consulting. I, little Tim, had leapfrogged from a council estate in Liverpool to the bold posh world of consulting in London.
Me (pouring myself a drink at the office party): It's such a privilege to be here. I've always dreamt of working in strategy consulting in London and here I am.
Bernie (gently clinking my glass with his): We're sure glad to have a bright young lad on board ourselves. And to motivate you, we are piloting a new scheme.
His white hair shone under the massive chandelier in the middle of the room. Nearing 50, Bernie was one of the senior partners of the firm and had the reputation of being as shrewd as a fox when it came to sussing out talent and winning business. Tales of his business acumen were legendary, but that in itself could be a subject of another story or several other stories.
Me (my curiosity piqued): What is this new scheme?
Bernie: For every client assignment, we would require the two consultants to individually prepare a pitch for the firm partners detailing their methodology for assisting the client. The partners would then select the pitch that appealed to them the most.
Me: What happens to the consultant whose pitch had been turned down?
Bernie: The consultant who wins the pitch competition leads the client assignment, while the other assists in the delivery of the same.
Me (sipping my drink thoughtfully): That's an interesting arrangement
Bernie: We believe that this practice of competition will extract the best out of our staff. You'll be pitted against Lata.  Ah, well here she is.
Just then Lata joined us. She was tall, slender, Asian and exotic – a real Indian beauty. For a moment I felt distracted by her long hair. Too bad, that I would have play in the opposition team against her. I would rather have her by my side- close, very close – leading her into the sunset, hand in hand.
My initial feelings of infatuation quickly turned into despair when I ended up playing second fiddle to her. I had been up against her on 2 occasions and in both instances had been beaten by her superior pitch. We were having burgers at our desks one night while working late, when my frustration at working for her surfaced.
Me: Do you think you are really that smart?
Lata (startled by the question): Why do you ask?
Me: I've been working my arse off on this modelling worksheet and at the end of the day you'll be taking the credit for it
Lata: It's not just me, it's the team, remember?
Me: Don't you think that your exotic looks have given you an edge over a little hobbit like myself?
Lata (stopping mid-incision of her burger): That's just an insult.  My pitches were better than yours.  Accept that.
I instantly regretted the conversation but it was too late. A wedge had been placed  Lata and me and only I could be blamed for it.  Lata gathered her stuff and moved right to the other end of the table in a clear display of her displeasure over the comments.
But soon another opportunity to level up against her arrived.  Bernie stopped by our desks one late Thursday afternoon.
Bernie: You guys are on.  Iberia Energia, a Spanish company is looking to enter the UK renewables sector and require Woodstock's guidance with their market entry strategy. Clive and I would like to hear your pitches on Wednesday next. Get rolling and remember Iberia is a key client for us."
I immediately swung into action. I had to win this pitch competition.  My future progress in the company required me to play lead in the assignments and not simply assist. I reached out to my mates who were working in the renewable energy sector and got first-hand information about the trends and outlook for the industry from them. I combined those interview findings with internet research and developed my pitch. I labored over it for the next five days. Finally, I was satisfied with the effort.
I had my presentation up on the projector when Bernie, Clive and two other senior partners trooped into the conference room. Lata followed after them. After the pleasantries, I launched into my pitch. I detailed the market segments, the key trends, players and outlined the go-to-market strategy via an acquisition. I felt in command, my efforts over the course of one week were paying off as I smoothly negotiated the questions posed by partners at the conclusion of my pitch. I finally sat down, pleased to see that partners seemed visibly impressed by my speech and approach.  This could be 1-2 vs Lata now, I thought to myself. Then Lata stood up to give her pitch.  Let's see how she plans to top my effort, I chuckled.
"Senores, buenosdias.  Me gustariapresentar la estrategia de Woodstock", she started in Spanish to my total surprise and that of the rest of the room. She then unveiled her presentation which was also all in Spanish. We were all gobsmacked. As she progressed to her second slide, Clive interrupted her.
"Lata, this is excellent. Speaking to the Iberia company representatives in their language will certainly win us a lot of brownie points, given that their English is not that great. But out of curiosity, where did you pick up Spanish and learn to speak it so well?", asking a question that was on the mind of everyone in the room.
"I'm self-taught. I picked up the language over internet, using tools are that available for free online. I once came across the fact that Spanish is the world's second most widely spoken language and I thought that it would be handy to equip myself with this particular linguistic skill", Lata explained.
"Bravo, top marks for drive and passion for learning", Clive responded. "Please do carry on with your pitch".
The next half an hour or so was a complete torture for me. That I had lost the competition was a foregone conclusion. In addition, I felt terribly inadequate about the fact that I was mostly unilingual. I had a couple of years of high school French, but now I could barely go beyond "Bonjour".  I was very disappointed. I put on a brave face, congratulated Lata at the end of her pitch and offered her my full support in executing the assignment. But I had now turned desperate. Who was it that said desperate times call for desperate measures?
I invited Lata's assistant Megan for a drink with me after work.  We met at Topolski's round the corner from work.
Megan: Hey Tim, what's this drink really about?
Me (sensing an opportunity to take her into confidence): Megan, I need to win the next pitch competition.
Megan:  You really need to, isn't it?
Me: You can help.
Megan: In what way?
Me: Share Lata's approach with me prior to the pitch meeting
Megan: What's in it for me?
Me: A fast track to the Manager's role
Megan: Let me think over this.
The next day, Bernie summoned me to his office. His grim demeanour warned me that I was in for a reprimand.
Bernie: When we decided on introducing the competition scheme, we expected fair play from the participants.
Me: Sure
Bernie: I have heard that you tried to coax information out of Lata's assistant.
I felt a stream of hot blood shoot straight to my head. Oh, dear.  I had been so poor in reading Megan; she had turned out to be more loyal than ambitious.
Me (shaking my head in dismay): I was too eager to make a mark.
Bernie: We do not encourage this kind of behaviour in our workplace. Consider this a final warning.
I was too embarrassed to respond. My story graph at Woodstock had gone totally awry. I felt that there was only one honourable thing to do in this scenario – that would be to turn in my resignation.
Six weeks later, I started off on a new job in Reading, working in business development for an energy company. My stint at Woodstock had met with a tragic ending after a rather promising start. Of course, when I spoke to others about my experience there, I delivered a version full of embellishments. Perhaps, I should have been patient, given myself more time and not gotten my knickers in a complete twist, for two months later Lata too left the firm – for a completely different reason. Her parents had found a suitable groom for her in Delhi.