One can count the number of movies that tell the audience what it's going to feel like from the very beginning. And when the movie is clear about that from the beginning, you tend to see through the eyes of a character in the movie. October begins with a misty morning in Delhi, where the metro doesn't hurry. And like the passengers on that train, we too are set to move at a pace that is ruminant and patient. From that moment we become a part October's world.
The world is that of Dan and Shiuli who are colleagues at a five start hotel. Dan is an epitome of young and brash, but innocent, who doesn't seem to fit into the world he is in. While Shiuli, in contrast to Dan, is bright, lovely and ideal. Their lives are limited to their interaction as colleagues, with Dan bearing a slight distaste towards her. And that is all their relationship is. Until, tragedy meshes their life into a romance that is unlikely to be called romance.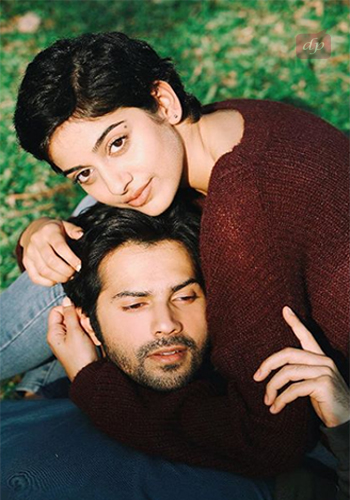 The movie then moves at the pace it began, which is the pace of life. And it takes us on a journey of maturity, hope, love, drama and emotions that encompasses life. The characters are tested by time and life together. They are made to face tragedy at its most brute form. And they engulf us into their fold as they all battle the aftermath of a tragedy. It is in such situations where saving grace is the humanity that lies in us. For Shiuli, and October, Dan is this saving grace.
Varun Dhawan excels as Dan, in a performance that is his career best. His performance is subtle, yet heavy as we live with Dan. Banita Sandhu speaks to us with her eyes. And Gitanjali Rao has etched class as a vulnerable, yet strong mother. Even the characters that are meant to be story props draw us into what life is for them at that moment.
The cinematography of Avik Mukhopadyay coupled with a thoughtful score by Shantanu Moitra is audio visual poetry. And unlike their previous ventures Shoojit Sircar and Juhi Chaturvedi have painstakingly crafted scenes that speak with silence and the sounds of it. They want every scene to evoke the emotions in the viewer to feel along with the characters.  In a beautiful moment you see the characters getting intimate in a manner which tells us that the purest form of love is an act of selflessness. That is writing at its finest.
In an industry rid with cinematic cliché, October is a breath of fresh air. It throws light on how cinema can be poetic and beautiful, not merely entertaining.  You don't come across a movie that echoes within once you have watched it everyday. And it isn't easy to describe that echo. It evokes a feeling in your heart that you can't grasp. But that echo lingers and you try to ponder over what it is trying to convey.  Here is one that will echo long after you have watched it.