The Great Worry of Hockey Wizard Dhyan Chand
The 1936 Berlin Olympics re-established Indian hockey's supremacy in the Olympics and Dhyan Chand, who was once deprived of the captaincy due to his inferior social status, had finished his Olympic campaign on a high and became the darling of the Western world.
The world is well aware of Dhyan Chand's magic work with the hockey stick. He is a third-time Olympic gold medallist, and the record holder of 400 international goals. We know him as an undisputed king of field hockey. However, the man of flesh and blood too had his share of worries. Despite being the champion of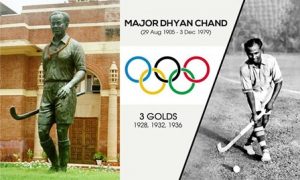 1928 and 1932 Olympics, India's supremacy in field hockey was still in doubt prior to the Berlin 1936 Olympic Games. Indian hockey team, which was unbeaten in the previous two Olympics, was suspicious about its invincibility in the grandest sporting event of the world, the Olympics. This was majorly due to two reasons. First of all, entire Europe and most of Asia stayed away from participating in the 1932 Los Angeles Olympics in the face of the Great Economic Depression. The second and most important factor was European hockey took giant strides in improving their quality during his time.
In the 1928 Amsterdam Olympics, India won the coveted Olympic gold without conceding any goal. India scored a whopping 29 goals in five matches to win their first ever Olympic gold. In 1932, India being the hockey superpower scored 44 goals in just three matches and defended their title. In the final match, India made a mockery of the Americans by handing them a crushing 24-1 defeat. Roop Singh scored 12 goals, Dhyan Chand 7, Gurmit Singh scored 3 and Jaffer and Penniger 1 each. The US captain's statement – "we were chasing the shadows" – after the match aptly summed up India's unconquerable control over the hockey.
However, days before the Berlin Olympics, the Indian team was worried. It was Indian hockey's first ever biggest challenge.
---
---
Although India won all of their 48 matches in New Zealand in 1935 scoring record 584 goals, Indian players were not complacent. The result proved that India was still the best hockey team in the world.
But a surprising defeat to Delhi Hockey XI in 1936 during India's homebound preparatory camps at various cities after the inter-province selection trails in Calcutta in January-February shook the confidence of Dhyan Chand and Co. The newly appointed Captain Dhyan Chand, who had already established himself as the greatest hockey player of the world with his magical stick work, was stunned and baffled after a 4-1 defeat to the Delhi Hockey XI on June 16. It was the same team that lost 0-12 to India's 1932 gold medal winning team after their return from Los Angeles. This shocking defeat at the hands of inexperienced junior players at Mori Gate ground in Delhi raised questions about the Indian team's invincibility. It must be told that only Dhyan Chand and Calcutta's Shaukat Ali were automatic choices for the 1936 Olympics, while rest of the players were selected based on their performances during the trials.
Worried by the defeat, Dhyan Chand wrote in his autobiography, Goal, published 16 years later, "The news of the defeat created adverse opinions about us, and while we were touring other centres before we finally sailed from Mumbai, this particular defeat kept worrying me. For the first time I was captaining the Olympic team; will India lose the title under my charge?"
Later generations would remember Dhyan Chand as an unbeatable hockey wizard. However, his thoughts after the Delhi defeat proved that even the greatest of the legends can have an off day. Dhyan Chand, who by 1936 had already become a recognised face in the world of sports because of his sheer goal scoring ability, was not given the captaincy role. In 1932, he was deprived of captaincy due to his lowly Subedar position in the Army and inferior social status.
However, Indian Hockey Federation (IHF) officials were forced to rethink about it by 1936, courtesy to Dhyan Chand's stature in world hockey. But the master of the game was not too complacent about the new role given to him. He was rather focused on the job of winning the third successive Olympic gold for the country and maintaining his legacy. He knew it very well that a defeat in the Berlin Olympics would dent his legacy and people of upper caste never wait to put the blame on him for the defeat. For Dhyan Chand, it was not only a battle to win the Olympic gold medal but also to win it to put himself above the class and cast barriers that had become unwarranted obstacles in his playing career.
But his obstacle didn't end there. With the World War II imminent Dhyan Chand was playing his last Olympics. Hence, it was his last chance to end his undaunted career on a high in front of Nazi Germany's Führer Adolf Hitler and the global community. But even before his team began the campaign, India lost against a German XI 1-4. Delhi defeat was still fresh in Dhyan Chand's mind. Now this defeat in the German land proved his fear right. He was caught unaware of the improvement of hockey in Europe, especially in Germany. The defeat handed to India by a blitzkrieg German team came as a wake-up call. For the first time, Indians knew that they were no more invincible.
This defeat forced Indian players to change their strategy and had to request IHF to send a few more players from India for particular positions. Otherwise, the gold medal would not come to India this time. In the run to the main draw, Indian players worked hard and retuned their strategy and made sure they don't lose any more game. The result was evident. India began their campaign with a 4-0 victory over Hungary. Ropp Singh scored a hat-trick and Mohamood Jaffer scored one goal. Dhyan Chand went goalless. A media report of that time wrote "Dhyan Chand is past his best days. He showed much skills with the stick and excellent judgement in combining with his brother but much of his wizardry has disappeared. He is now no better than any forward on the side. Indeed, it is doubtful whether Roop Singh, his younger brother, is not now the clever player."
---
---
In the second outing against the USA, India won by 7-0 margin. Roop Singh continuing his form scored twice, so did Jaffer. Dhyan Chand found the goalmouth for the first time and he scored twice. Cullen scored one. In the next game, India defeated Japan 9-0. Despite India's huge margin victory, Germany caught the eyes of everyone as the hosts emerged as India's challenge in the final. With zero goals conceded, India advanced to semi-final and defeated France 10-0.
India met Germany in the final and crushed Hitler's Aryan Supremacy theory with thumping victory.
India conceded one and scored eight to complete the hat-trick of Olympic hockey gold. Dhyan Chand, who was throughout the tournament was shadowed by his younger brother Roop Singh, came into his own in the final, his final moment in the Olympics. He had removed his stockings and spiked shoes and wore rubber sole shoes, which enabled him to move swiftly on soft grass turf. His speed increased manifold. He was once again in his old unstoppable form and scored six goals to hand Germany 8-1 defeat. The German newspapers, who were until now assured of a gold medal, were full praise of the Indians after the crushing defeat.
As the legends go about the golden age of Indian hockey, it is heard that fascinated by his game Hitler personally met Dhyan Chand and offered him an officer's position in the Wermacht if only he would play for Germany. But this incident has no documentation; even it has no mention in Dhyan Chand's autobiography, Goal. So, if it is true or false not known. But what 1936 Berlin Olympics actually did is it re-established Indian hockey's supremacy in the Olympics and Dhyan Chand, who was once deprived of the captaincy due to his inferior social status, had finished his Olympic campaign on a high and became the darling of the Western world. Dhyan Chand, nevertheless, indeed had a flawless international career. His legendary status is absolutely impeccable.