This prodigy is obsessed with the written word!
Rushali, a poet, an artist and an editor at a young age of 18 is currently studying in class 12th at Welham Girls' School in Dehradun. A regular writer and illustrator of her school's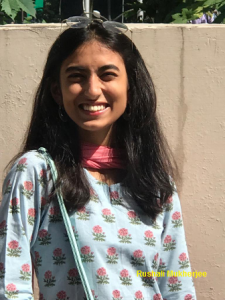 literary publications, she is on the editorial board of her annual school magazine and is currently heading the Poetry Appreciation Society for her school. She won multiple international honour medal awards in Creative Writing, social studies, debating, arts and champion scholar at World Scholars' Cup held at Yale University, USA after competing with over 2000 students globally. An avid reader and writer, she has been winning several accolades in her school for her essay writing, poetry and artistic skills.
We spoke to Rushali about her favourite books, her writing inspirations, what is it like to write as a teenager and so much more…
Tell us a bit about yourself.
I am Rushali Mukherjee, 18-year-old studying in Welham Girls' School, an all-girls boarding school in Dehradun. I am currently living with my parents in Haridwar.
Please share your early experiences with books.
I have been reading books for as long as I can remember. I began my habit of reading by starting with the abridged versions of classics such as 'Little Women' and 'The Wind in the Willows', along with books by Roald Dahl- 'The Witches" being my favourite.
How has your experience been with writing and publishing?
Bloomsbury said yes to publishing my book Moon Child at the end of 2019,  after which began the seemingly endless work of compiling my poetry and making the sketches, while coordinating everything with the editor. It was a tiresome experience but I learnt a lot of lessons along the way, and in the end, it was all worth it.
What is your daily routine?
Being a student, my daily routine usually consists of attending classes and completing my assignments. Due to the ongoing pandemic, I am not being able to engage in outdoor activities as such, so I am trying to use the time at home to engage in creative activities such as writing, drawing and of course, spend time with my family.
What are your hobbies?
My hobbies include writing poetry, sketching and reading books, all of which I try to engage in every day because it helps me collect my thoughts and brings me comfort.
What are the challenges you face as an artist?
One of the biggest challenges as an artist is facing an art block, where it gets very difficult to think creatively and one runs out of new ideas completely.  In such cases, taking a break almost helps to relax the mind, before you can engage in art again. One more challenge is when the artwork does not turn out as expected, it often leads to discouragement. However, I always try to give myself space to learn from my mistakes so that the next piece turns out better than the last one.
What does poetry mean to you?
Poetry is a beautiful form of writing which is the very embodiment of the poet's feelings and observations. It is the most personal form of writing and the reason why I say this is that one can know a lot about a person by reading their pieces.
Please give a message to the readers of your book.
If my readers felt that my words resonated with them in any way and inspired them to pick up a pen and write, then the aim of writing this book is fulfilled.
What are your plans for your future?
Apart from completing my higher studies, I do want to continue writing for as long as I can. I wish to get another collection of my poems published soon.
What is your favourite poetry from the book?
I wish to be invincible like
The first flower
That grows after a forest fire
The first sapling
That sprouts after a thunderstorm
The first leaf
That thaws the winter frost
And announces spring
Because,
There is strength in the softness
And bravery in being gentle
Nature always teaches us to be
Warriors who fight with kindness
From where do you draw inspiration?
I have a habit of observing all the little things around me and listening to the stories and experiences of people. I believe that there is a lot to learn from everyone, and is a big source of my inspiration for my poems.
Your favourite book or poet.
My favourite book is Kafka on the Shore by Haruki Murakami. I love his style of writing and the way he gives life to his characters with his detailed descriptions. My favourite poet is Sylvia Plath, whose simple yet dynamic poems are a pleasure to read.