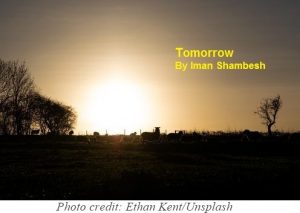 Tomorrow comes with another new day,
Happy with us to give us lots of joy,
Planting life with love and hope all the way,
It isn't always easy, be patient and enjoy.
Tomorrow's days will bring us together,
Together, together in goodness and peace,
We'll colour the universe with our gathers,
And our cheerful smiles will definitely increase.
Who says we can't change the face of the world?
Believe! At all the crossroads, the roads will smile for us.
Believe! Every dark cloud will pass, just like wiping a dust.
We only need faith despite the events that swirled.
Who says we can't reach the sun anymore?
By planting love, selflessness and friendship seeds,
Among all religions and every race and creed.
Hey! Awaken your conscious, we'll raise for sure!
Tomorrow, the sweet warm gathering will return,
And we'll plant the land with roses without concern.
Tomorrow is your day in all the countries, that is for sure!
We'll build a prospering future that'll be peaceful and secure.
Our dreams will keep us going ahead, no matter how far tomorrow seems.
Taking us towards the bright future, just open the door of hope by all means.
The wings of love await us, and the loud laughter tomorrow will bring us happiness.
We'll be better closer, and the night of darkness will go with its soreness.
Tomorrow will be a beautiful new day,
It will be the flute of love, let us all pray!