Trump's plans for US troops to be tweeted out of Syria are directionless
The political mainstream in the US maintains that the option to withdraw from foreign lands like Syria might not be in the favour of the US as adversaries like Iran and Russia could fill the vacuum.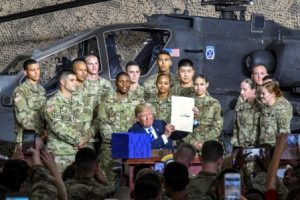 There is hardly been an event in the history of Trump administration that has not come under the fury of both the American public and the international community. Nor does President Trump ever implement a plan swiftly without causing much scrutiny and chaos in the media. When he made the announcement to slash 2,000 US troops in Syria two weeks ago, it appeared to be following the footprints of American adventures in Afghanistan where Pentagon could prepare a trajectory to withdraw 14,000 personnel and bring them home.
As days progressed, however, the pull-out plan from Syria seemed to be going haywire. According to Sen. Lindsey O. Graham (R- S.C.), who is counted as a President's key ally on Capitol Hill, there may not be a fixed timeline at all. Certainly, this could take longer than 120 days. Graham critically denounced the decision by issuing a statement as "an Obama-like mistake made by the Trump Administration". But in a much dramatic fashion, after a meeting at the White House, he had told reporters that the president "told me things I didn't know that made me feel a lot better about where we're headed in Syria." He had also said of the plan a "pause situation" than a withdrawal. So could this be seen as a plan to 'stay' in the war-torn country?
The Senator has also given the description of the plan in a series of tweets Sunday:
The President will make sure any withdrawal from Syria will be done in a fashion to ensure:

1) ISIS is permanently destroyed.

2) Iran doesn't fill in the back end, and

3) our Kurdish allies are protected.
— Lindsey Graham(@LindseyGrahamSC) December 30 , 2018
Going by these points taken into consideration by the administration, the plan to end military leverage of the US troops in Syria is not possible in the near future. Also what course the US foreign policy establishment takes from here has put leaders – Republican and Democrats in a confused state alike.
On Wednesday, President denied making claims about the fast withdrawal of American forces while also abandoning the 120-day timetable. Of Iran playing a pivotal role in Syria, he opposed Graham by adding, "They can do whatever they want."
The political mainstream in the US maintains that the option to withdraw from foreign lands like Syria might not be in the favour of the US as adversaries like Iran and Russia could fill the vacuum and it is because of military hard power that America's foreign policy uses it to its own advantage.
Trump's claims that the ISIS in essence defeated are false. Official US estimates state that there is still a strong presence of the extremist group, in tens of thousands, stretched between Iraq and Syria. He had shared via his twitter handle December 19, "We have defeated ISIS in Syria, my only reason for being there during the Trump Presidency." Not so surprisingly, he took an about turn in his tweet Monday, referring the group was "mostly gone".
If anybody but Donald Trump did what I did in Syria, which was an ISIS loaded mess when I became President, they would be a national hero. ISIS is mostly gone, we're slowly sending our troops back home to be with their families, while at the same time fighting ISIS remnants……

— Donald J. Trump(@realDonaldTrump) December 31 , 2018
Many key officials aware of the foreign policy in the US, including former CIA deputy director Michael Morell, believe the extremist movement of this nature could resurrect and pose a grave threat to the country's security.
While it is quite a task to defeat the Islamic state, notably it is also not easy to limit the influence of Iran in Syria. What remains a worry to many analysts is that in a post-war situation not only Iran could strengthen its hold over the government but also threaten Israel by bridging the gap between Tehran and the Mediterranean.
"Iran apart, the continuity to support Syrian Kurdish allies is also a question as it remains a source of unfavourable relations between Turkey and the US. Therefore, the presence of the US military is not only vital to Kurdish forces fighting ISIS but a strategy to contain Iran in the region."
The indefinite presence of American personnel in both Afghanistan and Syria does not go along well with Trump's rhetoric of troops deployment in war-ravaged states. He also shared similar thoughts Monday on twitter, "I campaigned against the NEVER ENDING WARS, remember!"
Going forward, contrasting statements from popular leaders keep the public thinking about America's strategic affairs in West Asia. President Trump needs to carry out his duties responsibly by coming out with a substantive strategy on the involvement of the US forces overseas. It is time to decide and act whether to fight the 'war on terror' by maintaining presence in alien states or giving another meaning to US foreign policy.