Two Australian Universities to Establish Campuses in the GIFT CITY of Gujarat
Power of education transforms nations as well as individual lives: Minister of Education for Australia, Jason Clare.
In New Delhi, the visiting Australian delegation, led by Education Minister Mr. Jason Clare, participated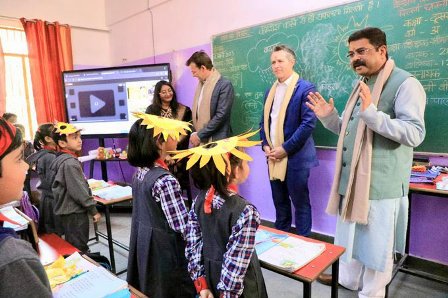 in student engagement programmes and held a high-level meeting with the Indian delegation, led by Union Minister of Education, Skill Development, and Entrepreneurship Shri Dharmendra Pradhan. Both parties had conversations about how to advance their relationship in the fields of secondary, postsecondary, and vocational education. They discussed strengthening ties with young empowerment in both nations and a more vibrant education and skills sector. By investigating the delivery of transnational education in the higher education, skills, and research sectors, the two Ministers underlined their commitment to enhancing institutional collaboration and two-way mobility. From February 28 to March 4, 2023, Mr. Jason Clare, the Australian Minister of Education, will be in India for five days to advance ties between the two countries in the education sector.
Participating in a session at Sri Venkateswara College, University of Delhi, entitled "Deepening Connections through Two-way Mobility", was attended by both Ministers. Among the other noteworthy guests were former international cricketer Mr. Adam Gilchrist, who also serves as the University of Wollongong's global brand ambassador, and Australian High Commissioner to India H.E. Barry O'Brien. The ceremony was also attended by a delegation made up of the vice-chancellors and provosts of 21 Australian universities.
In his speech, Shri Dharmendra Pradhan remarked that India and Australia are strengthening their relations through reciprocal travel to achieve their goals for the twenty-first century. He added that the secret to any transformation is education. Education is, therefore, the obvious "mother" of all transformation and collaborations. Shri Pradhan added that by fostering educational ties, students from both nations would have the chance to learn and experience new things in a variety of cultural contexts, genuinely upholding the principles of "Vasudhaiva Kutumbakam" or "One Earth, One Family, and One Future," which is also the theme of India's G20 Presidency. According to Shri Pradhan, two Australian institutions will soon open campuses in Gujarat's GIFT CITY. He reaffirmed India's commitment to working with Australia to increase access to and reduce the cost of high-quality education.
In his speech, Mr. Jason Clare stated that this high-powered delegation, which includes decision-makers in the field of education policy and university administration stakeholders, will open the door for cooperative relationships with India. The world may be changed by what occurs in universities because education can affect individual lives and entire countries. He claimed that many Australians who attended the University of Delhi for their education and who cared are now making their mark on the world. Australia has changed significantly over the past 50 years, which may be attributed to education. He said that the University of Delhi has agreements in place with the University of Wollongong, Macquarie University, and Melbourne University in Australia. Ten additional MOUs will be inked tomorrow, he said. According to the Australian Minister, these MoUs on education will make it possible to establish a system for the reciprocal recognition of professions.
Minister Clare also thanked Minister Pradhan for his gracious hospitality and welcome. He said he looked forward to their reunification at the Australia-India Education and Skills Council later this year.
Adam Gilchrist emphasised the importance of strengthening links between Australia and India in the area of education. He claimed that India's NEP might serve as the foundation for future global educational plans and policies. The young of today are living windows of that future because knowledge, education, and competence are mutually beneficial and because education is a shared passion between the two countries.
Prof. C. Sheela Reddy, the principal of Sri Venkateswara College, made the opening remarks. Sri Venkateswara College offers graduate, postgraduate, and certificate programmes in various subjects said Shri. Y.V. Subba Rao, Chairperson of Tirumala Tirupati Devasthanams.
Following the presentation, there was an interactive session in which students asked the education ministers of the two nations questions, to which they received in-depth responses from the dignitaries. They also saw a cultural performance that featured Indian dance styles from several Indian States and demonstrated the ethos of Ek Bharat Shrestha Bharat. At the Sri Venkateswara College, a friendly cricket match was also played, with Mr. Adam Gilchrist making a guest appearance.
The two Ministers visited Kendriya Vidyalaya No. 2 in Delhi Cantonment, where the Australian Minister spoke with kids and toured the school's facilities. A cultural programme included a dance performance with the theme "Ek Bharat Shrestha Bharat" and a yoga demonstration. The neophyte innovators and young students provided a peek at the activity-based, happy, and curiosity-driven learning that is being practised in classrooms and envisioned in the NEP 2020.
Mr. Jason Clare expressed his immense delight at the schoolchildren's original ingenuity, particularly at the fantastic models displayed at the Atal Tinkering lab, where the students showed off the models they had created.
A tour of a plantation on the school grounds marked the end of the visit.