Uber Launches Uber Green, Unveils EV Partnerships
By changing how people, food and things move through cities, Uber has opened up the world to new possibilities.
As part of the sustainability push, the mobility major and the global ride-sharing app, Uber, has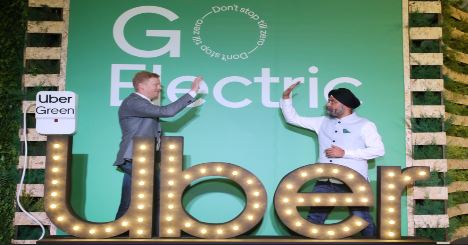 announced the rollout of Uber Green in Delhi, Mumbai and Bengaluru, starting June 2023. Teaming up with leading industry players to accelerate the transition to sustainable mobility, Uber has announced several partnerships to electrify its services in India at the special event held at Hotel Leela Palace, New Delhi.
Uber Green allows passengers to request an all-electric, zero tailpipe emission vehicle rather than a regular fossil-fuelled car, bringing India an on-demand EV experience with just a few taps on the app. It is the most widely available on-demand mobility solution for no or low-emission rides, present in 100+ cities in 15 countries worldwide. 
Commenting at the event, Andrew Macdonald, Senior Vice President, Mobility and Business Operations at Uber, said, "India's huge scale and electrification momentum makes the country a priority for Uber as we seek to meet our commitment to electrify every ride on our platform by 2040. Today, we are taking a major step toward that goal with the launch of Uber Green. We know that our impact goes beyond technology. We are determined to become allies of cities and governments as they seek to combat climate change and pollution through sustainable mobility."
Alongside the launch of Uber Green, Uber announced a series of new partnerships to sustain the EV momentum. Uber is expanding its network of fleet partners to unlock EV growth on its platform. Lithium Urban Technologies, India's largest B2B fleet service provider, Everest Fleet Private Limited, and Moove, Uber's global fleet partner, will deploy 25,000 electric vehicles across Uber's top seven cities, helping drivers go electric faster.
Uber is tying up with tech-enabled EV-as-a-service startup Zypp Electric to deploy 10,000 electric two-wheelers by 2024 to boost sustainable mobility in its fast-growing Uber Moto category. Over 1000 Zypp Electric two-wheelers are already deployed on Uber Moto in Delhi.
Uber and the Small Industries Development Bank of India (SIDBI) have signed an MoU to support purchasing cleaner fuel vehicles – EV and CNG. The partnership will help provide affordable loans of approximately Rs 1000 crore, thereby enabling the environment to shift from high-emission fuel vehicles to no or low-tailpipe-emission vehicles. 
Further, Uber is forging two significant partnerships in the field of charging infrastructure. It is bringing its global mobility agreement with bp pulse to India in collaboration with Jio-bp. This partnership will enable the drivers on the Uber platform to access their charging networks and promote new charging infra development. Uber has also signed an MoU with GMR Green Energy to create bespoke charging facilities. 
At the launch, Prabhjeet Singh, President of Uber India and South Asia, said, "Going all-electric is a challenge bigger than Uber. We can't do it alone. To be successful, the economic burden of making the transition to EVs should not fall on drivers. With these industry-leading partnerships, we match commitment with action to help drivers go electric faster and supercharge sustainable transition in India's ride-sharing industry." 
Uber has committed to becoming a zero-emissions mobility platform by 2030 in Europe, North America, and globally by 2040. On sustainability, Uber has more than tripled the number of electric vehicles on the platform and connected 31 million unique riders with a ride in an electric vehicle in 2022. The Science Based Targets Initiative has also approved Uber's near and long-term science-based emissions reduction targets, making it one of the first 30 US-based companies to support such targets. 
Uber is available across 125 cities in India, where people can book a ride on its app across two, three and four-wheel products designed for their intra and intercity travel needs. By changing how people, food and things move through cities, Uber has opened up the world to new possibilities.