Union Health Minister Inaugurates 8th International Conference on Pharma and Medical Device Sector
Dr Mansukh Mandaviya launched the National Medical Device Policy 2023 and the Export Promotion Council for Medical Devices.
The pharmaceutical sector in India is strong, adaptable, and responsive. Because of this, we were able to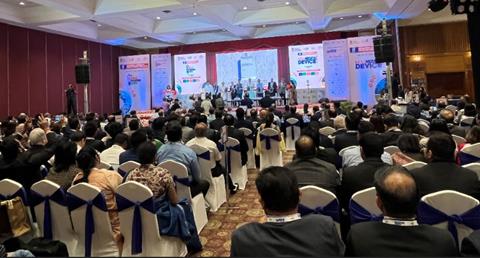 meet 150 other countries' needs for medicine and our own throughout the pandemic, said the Union Minister of Health and Family Welfare, Dr. Mansukh Mandaviya, as he was inaugurating the 8th International Conference on Pharma and Medical Device Sector today in New Delhi.
The inauguration was held in the presence of Shri Bhagwanth Khuba, Minister of State for Chemicals and Fertilizers, Ms. S Aparna, Secretary, Department of Pharmaceuticals, and Prof. Ajay Kumar Sood, Principal Scientific Advisor to the Government of India. This conference is organized by the Department of Pharmaceuticals in association with the Federation of Indian Chambers of Commerce and Industry (FICCI) for two days to promote India as a manufacturing hub of quality medical products in the pharmaceutical and Medical Device Sector.
Dr. Mandaviya recalled and reiterated the Prime Minister's vision of Atmanirbhar Bharat and the ethos of Vasudhaiva Kutumbakam, saying, "India played a phenomenal role in meeting the requirements of not just its domestic but needs of many others under unprecedented circumstances."
The National Medical Devices Policy, 2023, and the Export Promotion Council for Medical Devices were both introduced by Dr. Mandaviya. A programme called "Assistance for Medical Devices Clusters for Common Facilities (AMD-CF)" was also introduced by the Union Minister. This plan intends to increase testing facilities for medical devices and build and strengthen shared infrastructure facilities in the clusters of medical devices.
Dr. Mandaviya emphasised the enormous potential of this industry by saying, "India's pharmaceutical sector, known as the Pharmacy of the World, will be contributing more in the coming years for the domestic needs as well as to cater to global demand too." The Health Minister emphasised that this emerging manufacturing area, which has made incredible strides thanks to the implementation of production-linked incentive schemes and investments for medical drug parks, has been designated a sunrise industry. Our ability to compete on both price and quality gives us an advantage over other countries. "If we are to continue being the 'Pharmacy of the World,' there can be no laxity with the quality of our pharmaceutical products, and our products should also be competitively priced on the international market," he continued.
He emphasised that the government is committed to supporting the sector with investor- and industry-friendly policies. He continued by saying that "the government advocates a holistic approach for growth taking into account deep stakeholder consultations enabling a comprehensive, long-term policy ecosystem." In addition, Dr. Mandaviya concentrated on the investments made in R&D, the development of effective manufacturing capabilities, and the creation of numerous chances for innovation that support a thriving ecosystem for this industry.
The Minister of State emphasised the role of government in assisting the medical device industry, stating that "several initiatives, such as the Production Linked Scheme for Pharmaceuticals and Medical Devices, have served to catalyse growth and development in this sector and enable the industry to evolve in the value chain from being manufacturers of generics to high-value patented drugs, new technologies like cell and gene therapy, and precision medicine, among others." He emphasised that to realise this sector's potential, it is necessary to channel and support it with significant resources.
Shri Ajay Kumar Sood, Principal Scientific Advisor to the Government of India, emphasised that innovation is the key to success and that the medical device industry is transforming.
Following the opening session, Dr Mandaviya presided over a CEO roundtable where participants discussed ways to expand the sector on a national and worldwide scale and current problems. The Union Health Minister thoroughly conversed with the participants and encouraged them to generate suggestions on various fronts, including policy, economics, research, and innovation.
Dr. N Yuvaraj, Joint Secretary, Department of Pharmaceuticals; Dr. Srikar Reddy, Joint Secretary, Ministry of Commerce; Dr. Rajeev Raghuvanshi, DCGI; Kamlesh Pant, Chairman, NPPA; Shri Shailesh Pathak, Secretary General, FICCI; and numerous stakeholders from business and academia attended the conference.
The two-day event will feature two tracks: one on May 26th, 2023, focused on the Indian medical device industry with the theme "Sustainable MedTech 5.0: Scaling and Innovating Indian MedTech," and the other on May 27th, 2023, focused on the Indian pharmaceutical industry with the theme "Indian pharma industry: Delivering Value through Innovation."