Uttarakhand's NIT College students protest in Delhi
In 2009, the college was built in Srinagar (Garhwal) in Uttarakhand with a temporary campus. The students say that several promises were made by the state government and college administration regarding a permanent campus.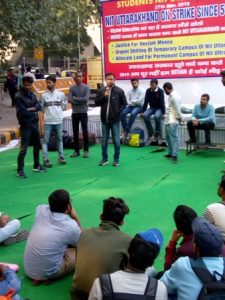 More than 150 students shouted slogans of 'We want Immediate shift' and 'Justice for Neelam' at New Delhi's Jantar Mantar recently. On a strike since 56 days, they were the students of National Institute of Technology, Uttarakhand. Demanding the temporary campus of NIT Uttarakhand to be shifted from Uttarakhand's Srinagar (Garhwal) to some safer place, the students look to again talk to MHRD.
In 2009, the NIT college was built in Srinagar (Garhwal) in Uttarakhand with a temporary campus. The students say that several promises were made by the state government and college administration regarding a permanent campus.
Students said that the college is being run at two places such that one area comprises the hostel and classes in a polytechnic college, and the other is 400 meters away from the college where the academic block and laboratories are situated. To reach the laboratory, students have to cross the National Highway 58, which is a very busy highway.
Recall that on October 3, this year, two students of NIT Uttarakhand, Neelam Meena and her friend were on their way to the laboratory. While crossing the highway, they met with an accident, in which Neelam sustained severe injuries and is now paralysed. The other girl is still recovering from her injuries. The incident was one of the reasns that led to the strike.
While the hostels made for students are not in a habitable condition such that in one small room, four students are staying, new students are forced to stay at a distance of seven km from the university. Further, M. Tech. students are not given any hostel facility. The students said that the girls' hostel has only one exit which makes it difficult for them to exit during emergencies like natural calamities. They contend that the administration has not taken proper measures for the safety of students.
---
---
The students stated that in cases of emergencies, for the lack of hospital facility in the temporary campus, the students need to go to Rishikesh which takes about five hours to reach.
Neelam's is not the only incident. On October 15, this year, the laboratory was on fire. Fortunately, there was no one hurt at the time of the fire.
Students from previous batches have also gone on strike but each year, the students alleged that MHRD gives them false promises and "nothing changes". While MHRD stated that the issue comes under state government, the state government hasn't responded positively to their situation.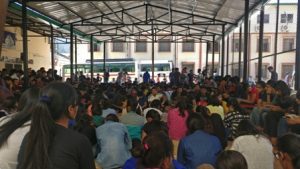 Back in 2017, when students approached MHRD for this issue, a land at a remote village named Sumari was allotted. But that land had a lot of landslide issues and was subsequently not taken up by the government. Though a building of IDPL (Indian Drugs & Pharmaceuticals Ltd) spread over 800 acres of land, lies vacant where the institution can be run, the state government has not taken it up, said the protesting students.
Meanwhile students at the protest said that the government is playing politics with them for votes in localities of Srinagar and is not listening to them. "Politicians have made the people believe that if NIT's temporary campus stays there, then the place will develop. And because of this, the students are facing problems because in Srinagar, there is no suitable land for college," said a student Kamal Kumar.
Mayank Raj Purohit, co-ordinator of Training and Placement cell told Delhi Post that whenever student body plans to organise some workshop for students, people deny due to remoteness of the place.
He further said that whenever they try to contact companies for university placements, the response from them is that the university is situated very far and does not have facilities. Even teachers refuse to go there for non-availability of a good environment.
"In this regard, we have even spoken to Dr. Sukhbir Singh Sandhu, Assistant Secretary of Department of Higher Education on video conferencing. In the conversation, Dr. Sandhu said that the campus would not be shifted, come what may," stated Purohit.
NIT श्रीनगर से शिफ्ट नहीं किया जाएगा। NIT के स्थाई कैंपस के लिए सुमाड़ी में 122 एकड़ भूमि तलाश ली गई है। आचार संहिता खत्म होने के बाद कैबिनेट में इसके लिए प्रस्ताव लाया जाएगा। केंद्रीय मानव संसाधन विकास मंत्री श्री @PrakashJavdekar जी से फोन पर इस संबंध में विस्तृत बातचीत की।

— त्रिवेंद्र सिंह रावत (@tsrawatbjp) November 14, 2018
On November 14, 2018, Uttarakhand Chief Minister T.S. Rawat gave a statement on Twitter that the campus of NIT Uttarakhand will not be shifted.
On November 15, Jasbir Singh, an alumnus of the college filed a petition in Uttarakhand High Court for a permanent campus of college. The High Court has given a time of three weeks to the state government to respond.
---
---
Haider Ali, final year student told Delhi Post that a strike of 55 days means that their career is getting affected but the issue needs to be solved. "Day-by-day, our hopes are decreasing and we are getting demotivated," he said.
Apart from the demand for shifting from the temporary campus, the students want the construction of a permanent campus and compensation for Neelam.
Abhishek Sharma, a final year student, said that other colleges started around the same time are now in better condition. While their buildings are being constructed, their college is yet to get land. NIT Sikkim has had similar geographical issues but they have started with the construction of a permanent building for the college.
Members of NSUI also joined them in the strike and said that for improving education quality, better college infrastructure is necessary. After all, students have the right to demand for a better environment for studying. "Demands of students of NIT Uttarakhand are valid and government should support them," said Anushek.
The situation is appalling considering this is a case with a national level government college. As the strike continues for an indefinite period, students said that they won't stop until their demands are fulfilled.