Vanakkam Beijing!
Meet the Ladies behind the Tamil broadcast of Chinese Radio International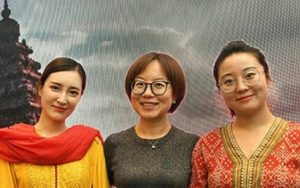 China and India's relation dates back to the 2nd century bce through Buddhism that went from India to China during the 1st century bce. Nilaani, Poongothai and Kalaimagal have now become household names who are part of the China Radio International (CRI) Tamil, which was recently on the media delegation when Chinese President Xi Jinping met Prime Minister Narendra Modi at Mamallapuram on Friday at an Informal Summit. The Tamil Broadcast is part of Chinese Radio International has around 25,000 listeners to it.
The love for the language and rich traditions interested Nilaani, Poongothai and Kalaimagal to take it up as a profession. 'I learned this language out of sheer curiosity. I know it's a difficult language with a tough grammar but I wanted to learn it. And, so I enrolled myself at a university, where my Tamil (Indian) teacher gave me my Tamil name. And, from there my journey began; Other languages do not have such a long history. It is as ancient as Chinese after learning Tamil, we have developed an attachment to the language', says Poongothai (Liao Lang) who changed her name in Tamil like Nilaani (He Liyuan) and Kalaimagal (Zhao Jiang). Kalaimagal first came to India in 2003 and hence has been a constant visitor to Chennai. She is heading the Tamil Department at the China Media Group. When asked about her favourite works in Tamil, she mentions Akilan's works to understand the social life in that era.
---
---
Nilaani, on the other hand, learnt Tamil at Bharathiar University Coimbatore. Her love for Tamil started when she picked up a book on yoga which created her interest in exploring the language. She finds a lot of parallel between Tamil and Chinese proverbs and attributes a verse from Thirukkural on importance of education as her favourite couplet.
'China gives importance to education, and therefore, their children are educated. This is why China has done well'.
Establishment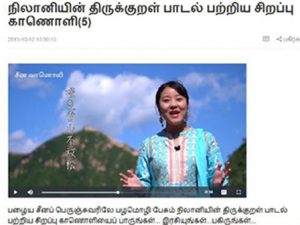 The China Radio International was established in1941 during the civil-war era, CRI pronounces in over 60 languages including Hindi, Urdu and Bengali from its multi-storey headquarters in west Beijing. On 3rd December, the network marked its 73rd delivery anniversary.
The Tamil provider that started out in 1963 has followers in Tamil Nadu, where it has established listeners' clubs. It has extensive listeners across the globe with responses in the form letters. Tamil Broadcast division has around 20 members of which majority are Chinese and a few native Tamil speakers.
Early Connection with Radio
Love for radio goes all the way back to the times of Erstwhile Ceylon Radio (Sri Lankan Broadcasting Corporation). During the 1950s and 1960s, all Indian households were glued to their radio sets to listen to their favourite numbers. Both S.P. Mayilvaganam and 'Radio Mama' Saravanamuttu (Tamil) were household names in Tamil Nadu during its heyday for its tasteful selection of classy entertainment and evergreen songs. Listeners preferred Radio Ceylon over the AIR (All India Radio) as the latter focused less on entertainment and more on the informative programme. Things slowly changed in the late 1960s when Ceylon was renamed as Sri Lanka and the start of an ethnic divide between Sinhala and Tamil caused unease in the functioning. Sri Lankan Professor and Radio Artist Sivathamby attributes the fears they had as largely due to Tamil service being used for airing Tamil political views during that time. Sivathamby is proud of the radio station's collection: 'The music division's collection is even better than that in Chennai'. A collection of the best recordings of Thyagaraja Baghavathar is one. 'The best humorous skit' by N.S. Krishnan, which was recorded for Radio Ceylon, is another. 'We have the recordings of almost all famous men'.
---
---
Later, at the start of the 21st century, private FM channels such as (Suryan FM) became quite popular among the masses because of its simple language contrary to the AIR, which focused more on infotainment shows.
Cutting Across Boundaries
RJ Manikandan, who is a popular host of the show called Uravupaalam (Bridge of Friendship), part of the Tamil division of CRI says that 'the radio waves are helping us break distance and language barriers and the delegation visit is about a friendly exchange between the two countries'. Kalaimagal has written two books in Tamil and 'CheenavilInba Ula', is probably the first Tamil book to be authored by a native of China. 'It is about tourist destinations in Beijing and Tibet. My idea was to introduce China to Tamil readers', she also authored Chinese–Tamil Dictionary that contains over 27,000 words. Poongothai says they are already in talks to launch FM stations in Tamil Nadu to reach out to a wider listener.
(The broadcast is available online everyday between 7:30 am to 7:30pm)