Mary Kom's Bronze Cornered Nikhat Zareen's Delight
The prevailing atmosphere gave Nizamabad's young flyweight division boxer Nikhat Zareen (51kg) a new ray of hope to keep her Asia/Oceania Olympics qualification tournament berth hope alive that is scheduled to take place from 3rd February to 14, 2020 in Wuhan, China.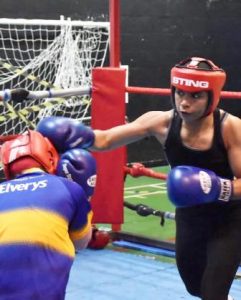 In a major breakout at the AIBA Women's World Boxing Championships, six-time gold medallist, MC Mary Kom was knocked out from 51kg category (Flyweight) by 23-year-old European champion Buse Naz Cakiroglu in the semi-finals at Ulan-Ude, Russia on Saturday. Second-seed Cakiroglu defeated 36-year-old Mary Kom, who was the third seed of the tournament, by a split 4–1 verdict.
In the aftermath of this defeat, Mary failed to confirm herself a direct spot in the flyweight category of Tokyo 2020 Olympics qualifier. As bronze medal didn't secure her direct entry to December's selection trials for Olympic qualifier, Mary Kom now has to join the national camp that will begin after the end of National Boxing Championship.
'She (Mary) has played in the World Championships and the boxers who participated in the World Championships are allowed to take rest from National Championships', Jay Kawli, Secretary-General of BFI said to Delhi Post over the phone from Dubai.
But the Manipuri boxer's bronze medal finish at the Worlds opened an array of opportunities to Nikhat Zareen, 23, who had to cope with harassment when she travelled to New Delhi on 7th August only to find that the 51kg (Flyweight) category bout scrapped from AIBA Women's World Boxing Championships qualification tournament at Indira Gandhi Indoor Stadium in September without any prior notice.
Way to Olympic Selection Trials
'See, after the National Championships, there will be a national camp. 40 fresh boxers will be selected from the championships. They will play with four boxers who participated in the World Championship. After that the Olympic selection trial will take place in December', he added.
'Since Mary Kom has not won a silver or gold at the World Championships, she will have to go through Olympic selection trials. Only Manju Rani will not be part of this Olympic trail as she secured silver at the Worlds and got direct entry to Asia/Oceania Olympic qualifier', Kawli further said.
---
---
The prevailing atmosphere gave Nizamabad's young flyweight division boxer Nikhat Zareen (51kg) a new ray of hope to keep her Asia/Oceania Olympics qualification tournament berth hope alive that is scheduled to take place from 3rd February to 14, 2020 in Wuhan, China. Now the Target Olympics Podium Finish (TOPS) enlisted boxer is ecstatic on getting a precious second chance to keep her maiden Olympics hope alive.
The young boxer is not in haste though as she wants to move ahead with one tournament in mind. For her, the Olympic Test event in Tokyo is the foremost priority now, and then comes the state selection trails that will be followed by National Boxing Championships and the most rigorous Asia/Oceania Olympics qualifier selection trails in December.
Following Mary's Semi-final Bout
'I saw the bout; I felt that the Turkey girl (Buse Naz Cakiroglu) is very fast on her feet movement. So I learned what I should have to do if I face Mary Kom in the trials. My focus will be on upcoming competitions, nationals and then I have to be fully prepared for the trials for Olympic qualifier', Nikhat observed.
It must be noted that Nikhat and Cakiroglu are both 23 now. In February 2019, when Nikhat stroke a gold medal at Strandja Memorial Boxing in Sofia, Bulgaria, Cakiroglu was still at her forming days and was learning a few or two about boxing. But her exceptional rise after 2019 European Championships and European Games gold-medal hauls shot her to international fame. Now, she is being dubbed as Turkey's best medal hope in the 2020 Tokyo Olympics in the flyweight division boxing.
When Nikhat was asked to analyse her contemporary's performance against Mary at the Women's Worlds semi-final, the youngster said, 'She was very, very cool. She was not nervous at all. She was playing with a lot of minds. Cakiroglu made good counter attacks when Mary Kom was throwing one–two punches and she was throwing more than her. She was very quick on her feet movement that enabled her to make a lot of counter punches. I think these things have impressed judges and the decision went in her favour'.
On the controversial verdict that left BFI and Mary fuming:
'It is written in the AIBA rule that even if you protest, the score line should have to be between 3–2 or 3–1; but, during the bout, Mary lost it 4–1, so they have rejected BFI's objection, it is simple'.
Eyes Glued to Tokyo Test Event
Before the National Boxing Championships scheduled to take place in Kerala from 1st–7th December, Nikhat, the 2011 Women's Junior and Youth World Boxing Championships gold medallist, will be in Tokyo for Olympics Test event on IOC's invitation which is slated to take place from 26th October 26 to 1st November. Nevertheless, the Tokyo voyage will provide her with an ideal platform before she returns to India for packed home itineraries. Hence, the 2019 Asian Championships bronze medallist (51kg category) wants to set one small goal at a time.
Being ardent Mary Kom follower Nikhat, who is currently at the national training camp in New Delhi, thoroughly monitored Mary's performances at the World Championships keeping in mind that she will be her prime opponent at the Olympic selection trials.
When she was asked to express her view on Mary's performance, she said, 'She was playing good, she was playing with experience. She has an advantage in every bout, but today's opponent was very sharp, I thought today Mary was not in her best shape because of that she lost and Cakiroglu won'.
On Strategy for National Championships and Olympic Selection Trails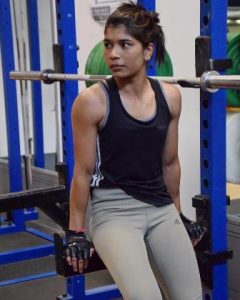 'Frankly speaking, I have not made any strategy yet for the nationals. Right now, I am focusing on Test event game. After that, I'll start preparing for nationals and selection trails. I am setting small goals, and going step by step. I am not directly on focusing on Olympic selection trials as of now', said Nikhat, adding that she is working hard to learn from her previous mistakes.
'Let me focus on this Test event game first, and then nationals and then trails will come into the picture. The thing is that I am working hard on my mistakes. I know my weakness and I am working tirelessly on them', Nikhat stated.
BFI's women's boxing coach Sanjay Gurung will accompany three-member Indian contingent in Tokyo Test event. Nikhat will fly for Tokyo on 24th October along with 2019 Bangkok Asian Championships gold medallist Puja Rani (75kg) and silver medallist Simranjit Kaur (64kg).
Light at the End of the Tunnel
Nikhat, an agile boxer, was left shell-shocked when she got to know that BFI removed 51kg category bouts only to relent to Mary's wish of not contesting in the selection trials for AIBA Women's World Boxing Championships.
Due to furore, BFI chief selector Rajesh Bhandari gave a lame excuse when he was asked about the alleged withdrawal of 51kg category bouts. He said that the BFI preferred 36-year-old Mary's wealth of experience over young Nikhat, who, according to him, is still young to play at senior tournaments.
'I spoke to him (Bhandari) many times regarding this. He asked me to speak to BFI president only. And mostly, the president will not be in India. He was so busy. I tried to contact him on WhatsApp also. I have sent him emails and messages. I didn't get any response from him. I know these people were just ignoring me. I was okay with that. What should I do else? 'Nikhat lamented.
It must be noted that before the 2016 Rio Olympics, same kind of situation prevailed when Mary was preferred over young boxer Pinki Jangra for 51kg category boxing. Mary, who usually plays in the non-Olympic 48kg category (light-flyweight), had eventually lost in the first round of AIBA World Women's Boxing Championships and India ended up losing their representation at the Olympics.
---
---
IOC–AIBA Tussle: A Blessing in Disguise for India
However, this time around, the scenario is a lot different. As IOC and AIBA tussle continue to affect their relationship, gold or silver at World Boxing Championships will not secure boxers direct Olympic berths. Hence, they have to play in continental events to acquire Olympic spot.
From India's point of view, the ongoing IOC–AIBA feud offers them to another valuable opportunity to make amendments to their 2016 Rio Olympics mistake when Mary ruined India's 51kg category hope by failing to qualify for world's biggest multidisciplinary sporting events.
Cut to October 2019, when talented Nikhat is around, BFI must show courage to look beyond veteran Mary's hegemony to safeguard the future of Indian women's boxing. The five-time Asian Championships gold medallist, Asian Games and Commonwealth Games gold medallist Manipuri boxing legend is not getting younger either. A smooth transition is important for inclusive growth of women's boxing in the country. BFI must relent to this demand of international boxing to ensure India a prosperous future so that talents like Nikhat Zareen don't go wasted.
For Nikhat, after hardships comes the smooth-riding. With six quota places will be up for grab in China, a medal will ensure her Olympic berth.
'If I win a medal, I'll directly qualify for the Tokyo Olympics. Whatever medal I win, I'll have the chance to qualify for the Olympics. There will be six quotas, so you have to win a medal to compulsory earn a Tokyo quota. Any medal will ensure me an Olympic berth', Nikhat signed off flaunting her wish to make India proud at the international stage.