Youth for India: Emerging future leaders
Aimed towards building future leaders and bridging the rural-urban gap, the SBI Youth for India Fellowship brought 27 people from diverse backgrounds to solve pressing issues in the rural countryside.
---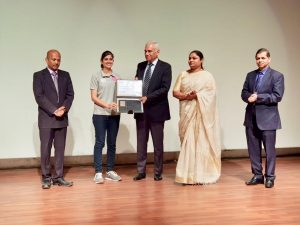 A 15-year-old girl lost her uterus due to unhealthy practices during menstruation, recalled Ankita Sharma, from the SBI Youth for India Fellowship 2017-18 October Cohort.
"Ash, sand, rug, dirty cloth etc were used by adolescent tribal girls and women in Rajasthan's Ghatol village in Banswara district. The condition was pathetic and I wanted to change that," stated Sharma.
That initial exposure to the ground reality of menstruation and the taboos surrounding it led her to mobilise the community along with NGO BAIF Development Research Foundation and promote menstrual hygiene management through community-created eco-friendly sanitary pads. Now, after about a year, 2,000 women are using such pads and there was also a Mahila Mahotsav in 10 villages organised by women groups. The women are also reaching out to doctors for any clarifications, which she said, "was never even thought of before".
"Sharma, a B.Tech Computer Science graduate, was one of the 27 SBI Youth for India fellows from across India who participated in the 13-month long fellowship in rural village communities of the country."
"Frustrated software engineer" Sai Samyuktha was inclined towards taking up a fellowship since her engineering days. "I have been lucky to have a supportive family which supported the transition from a high-paying job to a rural set-up. To start with, I didn't know the challenges that people in the villages face. This was my first time in a village. With all the orientation and the guidance, we were sensitised and helped further by the NGO officials," Samyuktha shared with Delhi Post.
Her project was to promote holistic development in schools through implementation of the RTE Act by strengthening of the School Management Committees in Madhya Pradesh's Burhanpur District's Daiyat Village in Khaknar Block.
Another fellow Prakhar Andlay who was previously working with Bank of America Merrill Lynch as Assistant Vice President, Payments Tech, went on to set up a digital education programme in a local high school in Adri, Thuamul Rampur in Odisha's Kalahandi for enabling "better content delivery" and "increasing students' familiarity with digital tools".
---
---
"As part of my work, I tried to get the students to run their own classes. But that initiative failed. So, to do history and science lessons, we started watching movies like Gandhi and Swades. The issue was that these movies were in English and Hindi. While the students did not understand what was being said, the visual imagery's impact was exceptional. That gave me the idea to scale it up into a digital set-up. I reached out to SELCO Foundation for the infrastructure and Shikhya provided Odia-language digital content. To digitise the school, we needed money. We crowdfunded Rs 1.8 lakhs," Andlay told the audience while presenting his experiences at the recently held Valediction Ceremony at SBILD, Noida Sector 62.
Now, the students are learning history in their own mother tongue. As of today, more than 30 students have run an entire class on their own and there is "significant reduction in the non-teaching hours" along with visible ease in understanding "concepts of science", said Andlay.
From as diverse backgrounds as Interior Designing, Psychology, B.Tech and Chartered Accountancy to Visual Communication and Social Sciences, the "highly-educated urban" fellows in the ages of 21-32 years left their high-paying jobs and urban comforts to work on diverse projects in 12 broad areas—education, environmental protection, health, food security, rural livelihoods, alternate energy, traditional craft, social entrepreneurship, self-governance, women empowerment, technology and water.
"As part of the fellowship, they lived with the community miles away from their homes, understood their issues and came up with plausible solutions which could be sustainable and community-driven."
Lekshmi M, a B.A Social Sciences graduate from TISS wanted to get some "field experience" and served as a fellow in Tamil Nadu's Sadayampatti village in Pudukottai district for water conservation and preservation of traditional water structures. "The natives there dependent on traditional drinking water ponds called 'oorani' which is a huge heritage that we often neglect. One of the major reasons for the 2015 Chennai Floods was the destruction of the wetlands. And all these traditional ponds have their catchment areas, which are wetlands. So, I worked on this and I renovated a pond along with the villagers," Lekshmi apprised Delhi Post.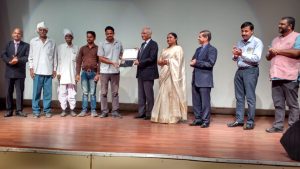 The region has seven tanks, in addition to two water holding structures and has more than 200 borewells. Initially, one borewell could go up to 120 feet but these days, they go up to 550 feet and yet water may not be found, she pointed out. "For one feet of machine digging, a farmer has to pay Rs 60. Farmers invest lakhs in one borewell but they still may not find water," contended Lekshmi.
The village which has 375 households also did water budgeting which is a water management tool to calculate the amount of water that a landscape like 'oorani' requires. With support from Madurai-based DHAN Foundation and leadership from Lekshmi, the community was able to revive the structures.
Asked about living in a rural setting, she said, "Initially, my parents were sceptic since it was a rural fellowship. But I can definitely say that I have never gone hungry even for a day or faced any amenity or safety issue. The villagers were more than happy to support me."
While elaborating on the programme's role in connecting empowered youth to develop the backward villages, Pushpendra Rai, Director, SBI and the chief guest on the occasion told Delhi Post, "The Youth for India programme is a very vibrant programme run by the SBI Foundation as part of its Corporate Social Responsibility. These are people who are very committed and are devoted to serving the community. Working towards the community gives these fellows a perspective of how rural India actually lives and survives. At the end of the 13-month period, they are either ready to go back to their professions or some of them even decide to work further with the NGO."
---
---
With a strong network of more than 254 alumni, the fellowship has more than 70 per cent of its alumni working in the developmental sector.
"Some of the other prominent NGOs working with the fellowship are namely Aga Khan Rural Support Programme (India), Seva Mandir and Barefoot College."
The flagship programme of SBI Foundation launched in 2011 in partnership with three reputed NGOs and 27 fellows of the first batch is recognised as one of the premier rural development fellowships, and offers Rs 15,000 per month as stipend to the fellows to meet their living expenses.
"SBI conceptualised such a programme because India lives in the villages and also because India has a young population. By this fellowship, SBI is investing in future leadership. All the scalable projects will be supported by SBI Foundation," Nixon Joseph, President and COO at SBI Foundation told Delhi Post.