Zero GST on Sanitary Pads: Campaigners to Continue Fighting
No GST on sanitary pads is a victory for activists and campaigners from across the country who initiated and spearheaded campaigns in this regard yet certain concerns remain.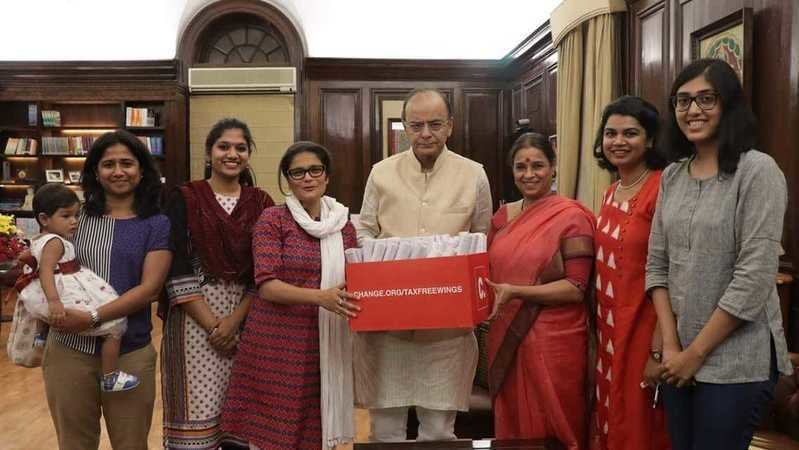 L
ast Saturday, Twitter was abuzz with a lot of activity with #TaxfreeWings #GSTFreeSanitaryNapkins, #GSTCouncilMeet as #SanitaryNapkins were made exempt from Goods and Services Tax (GST) after more than a year-long opposition from campaigners at the 28th meeting of the GST Council.
Previously taxed at 12 per cent GST, they will now be charged at zero per cent, which effectively means that they are exempt from GST. Recall that when GST, a consumption tax on every stage of value addition, was introduced last year on July 1, 2017, it faced a backlash from campaigners and activists who asked if "condoms could be tax-free", then why treat sanitary pads as "luxury"?
"Demanding a reduction in GST or total exemption, a campaign was launched by Member of Parliament and President of All India Mahila Congress, Sushmita Dev on Change.Org."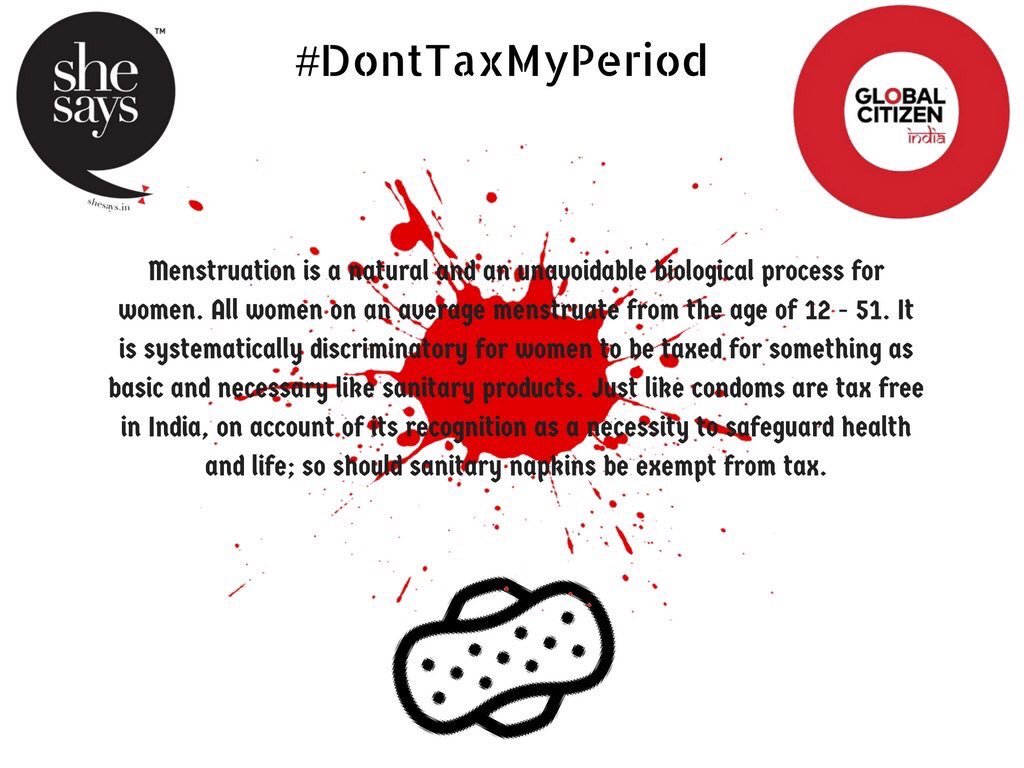 According to the petition, it was held that only about 12 per cent of the 355 million women use sanitary napkins, and in the rural areas, only two to 75 per cent of the target population use it. The petition also highlighted that "an estimated 70 per cent of women cannot afford such napkins".
Coming on the back of the 'revolutionary' announcement, the Silchar MP shared on Twitter, "This is monumental in the step towards improving the accessibility, availability and affordability of the product to millions of women. This victory is each one of ours and I am thrilled to have had the support of over four lakh citizens to achieve this feat."
However, that was not the only campaign. A group of school students from Gwalior launched a campaign by writing messages on sanitary napkins to Prime Minister Narendra Modi urging him to do away with GST and make pads free. Students' Federation of India's (Communist Party of India's student wing) #BleedWithoutTax campaign sent sanitary pads with the slogan 'bleed without fear, bleed without tax' to Finance Minister Arun Jaitley in 2017.
These campaigns come in the backdrop of women still using traditional means like sand, husk and leaves in remote areas of the country due to lack of information and thereby suffering from various communicable diseases. Activists state that such campaigns can go a long way in retaining girls in schools and women in the workforce as menstruation is a natural phenomenon, something they should not be discriminated against.
Studies, such as a recent report by charity organisations WaterAid and UNICEF, indicate that removal of tax on sanitary pads can help girls continue their education as most of them are forced to stay at home due to lack of clean toilets in schools or no access to clean hygiene products.
Gaurav Gupta, Charter President with Delhi Veg Lions Club, a part of Lions Club International, tells Delhi Post, "It is good that the Government has exempted sanitary napkins from GST. It is important to take care of women's hygiene. But what needs to be re-emphasised is that all sections of the society should be able to afford and buy such products."
Gupta's Delhi Chapter regularly promotes the use of pads, and earlier on World Menstrual Hygiene Day on May 28, it distributed free pads in slums and camps. He is looking forward to the launch of Nirmal Raksha Abhiyaan on July 28, a feminine hygiene project with Minister of Women and Child Development Ministry, Maneka Gandhi and Ministry of Science and Technology, Environment and Earth Sciences, Dr. Harsh Vardhan in attendance.
A lot many have held that "GST (cut) is just an illusion" as manufacturers will still have to pay GST on raw materials and now since GST is exempted on the end product, that is the pad, there would be no input tax credit.
Gupta asserts, "If the reduction in GST is just a symbolic gesture and in reality, does not amount to pads getting cheaper, we will again raise our voice with the Minister."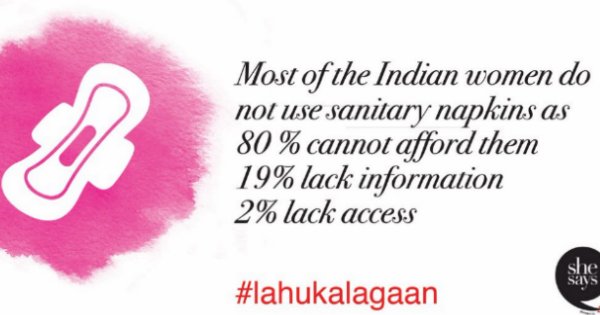 A youth-led movement to end gender-based discrimination, and women's rights, SheSays' Public Interest Litigation (PIL) is pending in the Supreme Court. Trisha B Shetty, founder @SheSaysIndia says that the "PIL covers many other prayers, which we will continue to fight for" and includes such concerns. She tells Delhi Post, "SheSaysIndia has been leading this fight since 2016. (We) filed representations with 13 Government bodies and launched #LahuKaLagaan, a global campaign for tax-free pads. But @SheSaysIndia's work does not end here."