A New Lease on Life: Street to School
For transforming a city full of street children sustaining themselves by begging, petty thefts and sleeping under flyovers, an NGO Project is taking the lead.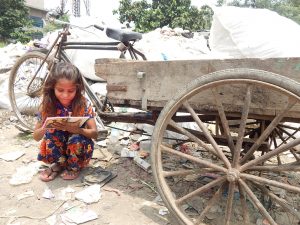 A ccording to the 2011 Census, 1 out of 4 children (those who are of school-going age) is out of school; 99 million children have dropped out of school.
This is a grim reality considering education is one of the prime avenues through which one can gain a sense of identity, can be independent and empowered. There is no age limit to learning, but it is always best to start young.
Children who are pushed to live on streets, under flyovers, whether it is because of familial or financial reasons, do not have the space and time to experience a childhood; a carefree, fun, happy childhood.
An article published by DNA India states that a staggering number of children are forced to beg and carry out petty thieving in order to survive. The 2016 article states that around 3 lakh children are drugged, abused, and pushed to beg.
These children have no sense of a childhood. They are forced to grow up much before they are supposed to. They do not have the 'luxury' of playing with toys, running carefree and what characterises childhood the most – education – is completely lacking.
"In an effort to combat these depressing circumstances and to bring back the colour and innocence of childhood in these children, Wishes and Blessings initiated the project 'Street to School'."
Wishes and Blessings is a Delhi-based NGO founded by academician Dr. Geetanjali Chopra in 2014. The organisation works to bring happiness and dignity into the lives that need it the most. Wishes and Blessings works as a platform to connect donors and beneficiaries. This way, those who are blessed can fulfil the wishes of the lesser privileged. What makes this organisation unique is that the NGO does not focus on one cause, but it works across age, gender, economic and social barriers and pays attention to nine pressing issues including skill development, infrastructure, SOS relief and education.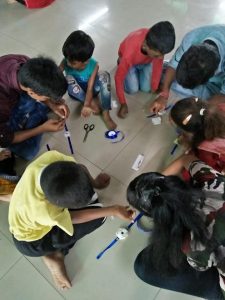 The NGO focuses on aiding the poor and the elderly of Delhi/NCR. As part of this, the NGO opened its first home for the elderly- "Mann Ka Tilak" in April 2018. This is part of a larger project to open a chain of old age homes across India.
Wishes and Blessings also focuses on children who are visually impaired, have special needs, and those who are forced to live on the streets.
After all, education is the best way to combat poverty, gender inequality, child marriage and other issues that plague our society.
While some children might worry about missing out on watching a TV show, many others very often have to worry about the possibility of not having the next meal. Children who learn to read and write, are educated and skilled, can provide a better future for themselves and their future families.
Started in 2015, the programme initially dealt with around 60 street children who were in the locality of the NGO's shelter in Nizamuddin, Delhi. The aim was to transform the children's lives – to groom them, to educate them, to help inculcate values that would help in successfully integrating them into mainstream society. The immediate goal was to enable them to experience the joys of childhood. The programme started with teaching the basics to the children – how to sit, read and write. What made the organisation even more committed to giving these children a new lease on life was their enthusiasm to learn. There was never a bored face, never even a murmur of protest.
"Since good and hygienic food is essential for the overall development of a child, the organisation provides three home-cooked nutritious meals a day to these children."
The joy of something as simple as enabling them to write their own names is a sight to see. Names give identities. The organisation believes that through the journey of learning how to hold a piece of chalk, learning the alphabet and to finally writing their names, they are able to gain a sense of identity and self-esteem.
Currently the programme works with 125 children, out of which 95 are now enrolled in the MCD and NDMC schools. According to Dr. Chopra, one of the reasons for it is the "unending and gracious support of our donors". "One step at a time and with unending support, we believe that the sky is the limit and we shall reach it," she says, adding that she and her team are excited to follow these young children on their journeys of becoming successful, independent adults who will be ready to grab life by the horns.