Analysing the Status of Human Trafficking in Andhra Pradesh
As the AP government sets up new anti-human trafficking units, a look at the key aspects behind the crime.
The state of Andhra Pradesh continues to be a hub of human trafficking; a destination for trafficked men and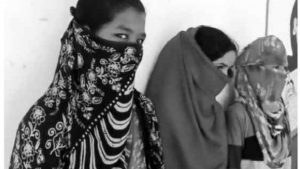 women to be used for labour purposes. Crime statistics state that a large majority (95%) of trafficking victims in the state continue to be adult women, the highest in the country. The state also saw an 8% increase in the victims of human trafficking in 2019, as per the National Crime Records Bureau. The Network against Trafficking & Sexual Exploitation (NATSAP), an AP-based human rights group, says that the major purpose of trafficking in the state is sexual exploitation, with domestic servitude and forced marriage being secondary reasons.
A recently published report by NATSAP further reveals the status of human trafficking in AP and the geographical settings in which the crime takes place.
As per NCRB data, 399 trafficked victims were identified in AP in 2019, showing an 8.7% increase compared to 2018. In terms of profile, Andhra Pradesh saw a predominantly adult female and female children (below 18) being trafficked. Additionally, in the case of missing persons in 2019, girl children constitute 70.2% of the total children. However, human trafficking cases (under IPC) have gone down by 2% from 2018 to 2019 with only 245 cases being reported in 2019.
---
---
In India, several key economic and social factors contribute to the burgeoning problem of trafficking, such as – poverty, regional inequality, economic compulsions, lack of economic development, ill-functioning protections of labour rights, the social practice of regressive caste system, limited performance of social security, weaknesses in law enforcement, natural disasters, and demand for labour in sectors like commercial sex work (CSW), brick kiln etc. While these reasons also stand true to human trafficking in Andhra Pradesh, its geographical setting also becomes a contributor. AP serves as a transit state for Telangana, of trafficked persons from Odisha (for brick kiln), Chhattisgarh, Bangladesh, Nepal (for bangle industry), Tamil Nadu (granite industry), Karnataka (spinning, jute, and cotton mills). It also acts as a source state for persons trafficked for sexual exploitation. Majorly 15-22 aged women and men are trafficked who are from a rural, economically poor background, having an average education of below class 10.
The major reasons for trafficking (in the state) are forced marriage, prostitution, domestic labour, and fish processing (for women), theft/beggary (minors of both genders) and labour in brick kilns, spinning mills (boys/men). The means of trafficking are deception (trafficked through false promises of love, "call money" – the minors are taken away and pushed into prostitution when families cannot repay their debts which have high interest). The groups at high risk of trafficking differ according to the area with tribes (from Rayalseema, Anantapur and Kadappa), fisherfolk children and Dalits being most vulnerable. The use of trafficked persons occurs in both "legal" and "illegal" industries – in the "legal industries", the contractor takes responsibility for the trafficked persons and provides piece-rate payment and there is no documentation available for such workers. Moreover, although 13-14 aged boys are being employed in brick kilns and spinning mills, they are being registered as 18+ and girls have to wear sarees to look more "aged".
The NATSAP further explains that while there was an interim relief compensation policy initiated in 2006, which was supposed to provide Rs 20,000 interim relief to victims (within one month of the crime), it is not operational. There is no nodal agency for trafficking – CID acts as the nodal agency for AHTUs and one-stop centres are looked after by the Women and Child Development Ministry. Although the state-level committee was supposed to act as the nodal agency, it has not been functional since 2014 (since the AP Telangana division).
Explaining the trends of trafficking and administrative capacity of the state, NATSAP Partner, Ram Mohan, explains that even though Andhra Pradesh was the first state to initiate a policy on trafficking in 2003, it has not seen many updates. A state-level committee was formed with the Chief Secretary and Secretary of Women and Child Development Ministry, but it only functioned for 4-5 years and is now defunct.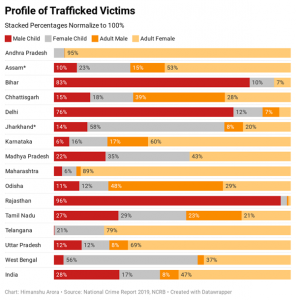 The report by NATSAP was released on Monday, after the YS Jagan Mohan Reddy-led government announced the setting up of 10 new Anti-Human Trafficking Units to curb the increasing levels of human trafficking. These AHTUs will work as 'police stations' to control and catch organized human trafficking channels. These units will gauge offences that involve wrongful restraint, wrongful confinement, selling and buying minors for the purpose of prostitution, begging, bonded labour, gang rape, subjecting women and children to commercial sexual exploitation etc. The government has allocated Rs 1.6 crores to the installation of these AHTUs at Chittoor, East Godavari, Kadapa, Kurnool, Krishna, Nellore, Prakasam, Srikakulam, Visakhapatnam, and Vizianagaram districts. Including three pre-existing AHTUs, the state will now have 13 centres to curb human trafficking.
---
---
However, the NATSAP reports also comments on the poor-functioning of the pre-existing AHTUs in Eluru, Guntur (Urban), and Ananthpur districts. As per Mr Ram Mohan, there is no designated staff for AHTUs, and the ones that work there have multiple roles to perform. They work in district crime records bureau, and special jurisdiction police units, due to which they cannot work dedicatedly for AHTU. There is also a lack of government prioritization and lacklustre police response. As the Nirbhaya fund can only be availed for establishment expenditure and not operational expenses, the AHTUs also face a funding crisis.
The report also highlights the shocking lack of compensation towards victims of trafficking. It states that of the 1115 girls rescued, only 2 have received compensation from the state. "Post the rescue process, the police do not concern themselves and does not submit the victim compensation applications to district authorities, which brings the onus of victim compensation onto the victim itself, and hence the applications and FIR copy are not filed to the requisite bodies. There is no cooperation between judiciary, police and women and child departments. Also, in very few cases, the IPC clauses for human trafficking are allocated which leads to victim compensation application not being filed on the cases," it reads.
The NATSAP offers the following recommendations to improve the condition of human trafficking:
Develop the functioning of AHTUs, increase rescue operations (including decoy operations), conviction rates, and improve witness protection programs.
Improve the functioning of state prosecution systems against traffickers (such as systematically filing charge-sheets, recording of CrPC 164 statement, as well as confession statements of the accused) through intensive capacity building sessions.
At the district level, the monthly crime review meeting needs to prioritise human trafficking.
Developing Traffickers Data
Assign dedicated staff who will be working at the AHTUs for at least 3 years, otherwise training given to AHTU staff will be of no use.
AHTU training modules and refresher courses should be carried out in police training.
Increasing funding for the AHTUs.
Improve cooperation between judiciary, police and women and child departments.
Develop post-rescue SOP for handling legal documents and rehabilitation of victims.