Andhra MPs reiterate demand for special status in Lok Sabha
Question Hour in Lok Sabha proceeds amid war of words between Telangana & Andhra MPs and Home Affairs MoS.
The demand for special status for the state of Andhra Pradesh was reiterated by members of the house in Lok Sabha on Tuesday, March 23rd. As part of the Question Hour, Srikakulam MP K. Ram Mohan Naidu, Telugu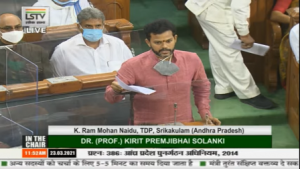 Desam Party (TDP), had inquired about the status of implementation of the provisions made to AP under the Andhra Pradesh Reorganisation Act, 2014. PV Midhun Reddy of the Yuvajana Sramika Rythu Congress Party (YSRCP) further inquired about the implementation of special status. A written reply submitted by the Home Minister said, "A large number of provisions of Andhra Pradesh Reorganisation (APR) Act, 2014 have been implemented and the remaining provisions of the APR Act, 2014 are at various stages of implementation. Some of the provisions relating to infrastructure projects and educational institutions have a long gestation period for which a time period of ten years has been prescribed in the Act."
However, Mr. Naidu commented that the answer was unsatisfactory as it did not detail the provisions that have already been implemented. "I was expecting a detailed answer but this is very insulting and irresponsible. 9 crore people of Telangana and Andhra have been looking forward to this answer, sir. All we see is a lack of interest and knowledge," he said, adding that while the document mentions 10 years for implementation of all provisions, 8 of them are already over. "Will the government publish a white paper on this?" he inquired.
---
---
MoS, Home Affairs, Nityanand Rai stated that all the pending provisions have to be discussed among the representatives of the two states. "The Home Minister has had several meetings with both state representatives, but whatever is pending, has to be discussed between the states of Telangana & Andhra Pradesh. Nothing is dependent on the Central Government now," he said.
Mr. Naidu responded to this by saying that during the passing of the Reorganisation Act, an assurance was given by former PM Manmohan Singh that Andhra Pradesh would be accorded with 'special status'. "This was promised to us at the floor of the house when the Act was being passed, primarily because AP was getting an unfair deal. It was also mentioned in the election manifesto of the NDA government," he added.
Mr. Rai responded that the 14th Finance Commission had debriefed that no state would be provided with special status category, and a special financial package had already been accorded to AP between 2015-20. "The financial package provided AP with Rs 22,000 crore for the development of its state. In 2020-21, the state was provided with Rs 5800 crore," Mr. Rai said. He further added that a list of 32 items was sent to the Central Government by AP State Government and that it was forwarded to Telangana State Government. "Whatever pending matters remain, have to be discussed among the two states. My suggestion is that they stop fighting amongst themselves and sit down calmly to discuss them," he said.
YSCRP's PV Midhun Reddy said that special status categorization was promised to Andhra Pradesh by the current PM Narendra Modi as well, during his speech in Tirupati. "We are not agreeing to any package. We want a direct answer to our demand for special status category," he said.
TRS MP Nama Nageshwar Rao also responded, angrily, that there was no "fighting" going on between the two states and that the Central Government should stand by what it has promised. He said, "We are not fighting. Chief Ministers of both the states have approached you to sort out some issues, as all the pending ones fall under the purview of the Central Government. For instance, Telangana's demand for a Kazipet Railway Coach factory has not been implemented by the central government."
The written reply by the Home Ministry also mentioned that 24 review meetings have been held with the Governments of Telangana and Andhra Pradesh over the implementation of provisions under the Reorganisation Act.
The Andhra Pradesh Reorganisation Act, 2014, provides for the bifurcation of Andhra Pradesh into the successor states of Andhra Pradesh and Telangana. Apart from other things, it also looks into the representation of the states in the Parliament, granting separate Legislative Assemblies and Councils to both states, role of the Governor, distribution of revenue, cash, credit balances, and management and development of water resources. It also looks at creating separate cadres for administrative, police, and forest services.