Are Hydropower Projects Sustainable in Uttarakhand?
There are a total of seven hydropower projects constructed within a short distance between Raini village and Nandprayag.
On February 07, 2021 (Sunday) at 10:30, a huge snow avalanche/glacier burst triggered massive debris flow/flash flood and devastated the valleys of the Rishi Ganga and the Dhauli Ganga. It has partially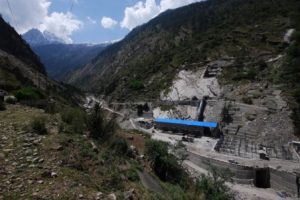 affected the Alaknanda River valley between Vishnuprayag and Nandprayag. The glacier burst was so violent, which brought down debris, boulders, pebbles, and gravels. It broke a 13.2 MW NTPC's hydropower project, lies on the right bank of the Rishi Ganga below Raini village. Further, the volume and velocity of debris accentuated after receiving the water from the Dhauli Ganga. As a result, a 520 MW under construction hydropower project at Tapovan-Vishnu Gad (right bank of the Dhauli Ganga) was fully devastated. Besides, the Vishnu Gad-Pipalkoti hydropower project (Alaknanda River) was partially damaged. Many villages were evacuated as floodwaters damaged homes. Meanwhile, an emergency alert was raised along the Ganga valley up to Uttar Pradesh. An eyewitness informed that at first the reservoir on the Dhauli Ganga was inundated and then debris flew inside the tunnel, where project workers were already working. The tunnel (1802 m altitude; 30o29'38" N and 79o37'39" E), which is under construction at the Tapovan-Vishnu Gad project, is 2.5 km long.
The water level of Rishi Ganga rose above 100 feet from its normal level. About 26 people died, 197 people went missing, 35 people were rescued, and 35 people are still lying under debris in the tunnel. The Raini village, which is world famous for the Chipko Movement of the 1970s, was washed away. Few men and women went upslope for rearing goats (150), horses (6), and cattle (26); however, all of them were flown with debris. A 100 m bridge, connecting to Malari highway (India–Tibet border) and four hanging bridges, connecting several villages: Lata, Raini, Fakti, and Suraithola were also washed away. A huge loss of property amounting to 20,000 million rupees took place due to this calamity. Army, ITBP, BRO, NDRF, SDRF, three helicopters, and two super herculean plains were deployed for the rescue operation. The hydropower administration managed to release the water of Srinagar hydropower and stop the water of Tehri high dam, which helped to reduce the volume and velocity of debris. About 1000 people living in the downstream areas were sent to the safe areas. Panic spread in the entire Ganges valley; the situation was similar to that of the 2013 Kedarnath calamity. Two villages of the Alaknanda valley—Devali Bagar and Alkapuri—were evacuated and the railway construction work got interrupted.
---
---
 The low-lying areas of Rishikesh and Haridwar were evacuated and alert was sounded in all Prayag.
The Rishi Ganga originates from the Nanda Devi glacier at 4132 m altitude (30o23'19" N and 79o45'02" E). It flows to the northwest up to 7 km, then to the north up to 6 km. It meets the Dhauli Ganga near Raini village at a 1951 m altitude. There are many perennial glacial-fed streams, which join the Rishi Ganga and increase its volume and velocity. The entire region comes under Nanda Devi Biosphere Reserve, which is a protected area and where even cutting a single tree is prevented. There are a total of seven hydropower projects constructed within a short distance between Raini village and Nandprayag. The Rishi Ganga catchment has three hydropower projects proposed and one was in functioning. The Supreme Court of India banned the construction of three projects in the Rishi Ganga valley.
Uttarakhand has about 30,000 MW hydroelectricity power generation capacities of which, the Tehri high dam has about 5,000 MW electricity generation capacities. Mushrooming of hydropower projects existed in Uttarakhand. Therefore, it is called "Urja (power) State." Every river and its tributaries have more than one hydropower project. About 32 new hydropower projects are being constructed. Recently, the Supreme Court of India has banned the construction of already planned 24 hydro projects in Uttarakhand. These projects are Bal Ganga, Jhala Koti, Bhairabghati, Jaldrigarh, Karmoli, Jadh Ganga, Rambada, Kotlibhel 2, Alaknanda, Khirav Ganga, Urgam 2, Lata Tapovan, Malari Jhelam, Jelamtamak, Tamak Lata, Bhayandar Ganga, Rishi Ganga 1, Rishi Ganga 2, Birahi Ganga, and Gohana Tal.
Uttarakhand possesses many glaciers such as Yamunotri, Gangotri, Dokriyani, Bandarpoonch, Dronagiri, Hipravamak, Badrinath, Satopanth, Bhagirathi, Chaurabari, Khatling, Kedar, Milam, Kali, Namik, Hiramani, Sona, Pinaura, Ralam, Ponting, Maiola, Sundardhunga, Pindari, Kapnani, Maikoti, and Shilasamundar. The Ganges and its numerous tributaries are glacial-fed and a lifeline for not only Uttarakhand but also to the entire northern India. However, the glaciers are highly vulnerable and devastating to the fragile ecosystem/landscape of Uttarakhand, mainly the alpine glaciers. Even, a small earthquake may be a potential danger for these glaciers. High climate variability and change were noticed in the Uttarakhand Himalaya during the past decades. An increase in temperature was noticed by the author. According to a report of the Wadia Institute of Himalayan Geology, five glacial-fed lakes took shape during 2012–2020 due to warming and snow melting. In 1976, a total of 39 glacial-fed lakes existed in Uttarakhand, which increased to 88 in 1990, 129 in 1999, and 217 in 2011. A report published by UNEP says that about 2,315 new glacial-fed lakes existed recently in mountain regions of the world.
Snow avalanches generally occur during the summers, when temperature increases in the highlands near the snow line, which manifests melting of glaciers and flows at a speed of 300–350 km. This glacier burst was unusual as it occurred in the first week of February and after heavy snowfall in the higher reaches. The exact cause of this glacier burst is not known so far. According to the scientists of the Wadia Institute of Himalayan Geology, a few days before the Dhauli Ganga basin received heavy snowfall, mainly in the higher reaches of Niti valley, followed by heavy frost. As a result, the snow became hard, got the shape of a glacier; when temperature increased and moisture decreased, the glacier was out-broke. The scientists of India's Space Centre, Dehradun, opined that the heavy snow slipped down and after melting, it got a massive flash flood. A study conducted by DRDO scientists depicted that a hanging glacier broke away from the main glacier and fell in the narrow valley, which led to the formation of an artificial lake. Further, this artificial lake was an outburst that triggered massive debris flow/flash flood. However, it is confirmed that the two downstream dam reservoirs accentuated the volume and velocity of debris/flood.
---
---
A unanimous opinion of the climate scientists on this catastrophe was early warning.
Further, the drivers, which accelerating the intensity, were the construction of infrastructural facilities including hydroelectric power projects, quarrying, and mining.
Uttarakhand has already received several snow avalanches during the recent past such as Kedar Kharak Uttarkashi (2013), Chamoli (2010), Kalindi-Badrinath trek (2008), and Gaumukh glacier (2008). It has received two major earthquakes in the 1990s: Uttarkashi (1991) and Chamoli (1999). Similarly, cloudbursts are very common and catastrophic in this region. Some catastrophic cloudbursts during the recent past were Ghat (2019), Deval (2019), Rudraprayag (2012), Kapkot (2010), Munsiyari (2009), and Pithoragarh (2008). Among the flash floods, Kedarnath (2013), Asi Ganga Uttarkashi (2012), and Bageshwar (2010) were prominent.
The Himalaya is one of the highly fragile ecosystems in the world. The landscape is vulnerable, geology is sensitive, and tectonically and seismically, it is very active. Our past experiences depict that human-induced activities have already damaged the Himalayan ecosystem. The Himalaya is our necessity: cultural, spiritual, natural, and economic. It is our responsibility to conserve all these important aspects of the Himalaya. Overexploitation of the Himalaya and its resources will lead to severe catastrophes. Cloudburst, glacial lake outflow (GLOF), and glacial burst/snow avalanches triggered debris flow and flash floods are natural and very common phenomena in the entire Himalaya. Often, these catastrophes are beyond our capacity in terms of controlling them. Meanwhile, human interferences in terms of mushrooming of infrastructural facilities, mainly construction of hydropower projects, along the highly fragile and vulnerable landscape/river valleys are catastrophic, which need immediate measures. Otherwise, the future consequences will be horrible. Let us work together on the reduction of anthropogenic activities and for the natural-based restoration of the fragile Himalayan ecosystem. Now, it is high time to revisit our developmental policies, mainly the construction of hydropower projects sustainably without harming the Himalaya and nourishing its people.