Where Folk Dances with Nature's Rhythm
All the fairs and festivals co-existed with nature and people go neck and neck with nature and dance with nature's rhythm.
The Uttarakhand Himalaya is bestowed with numerous highland and valley sacred locals where numerous fairs and festivals are celebrated. It is a land of gods, goddesses, folk deities, fairies,and witches.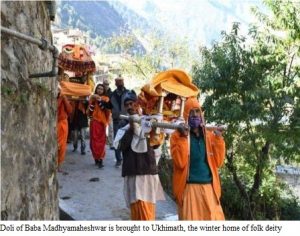 It has three cultural realms – Kumaon, Garhwal, and Jaunsar–Bawar—with high culturalsignificance. The Himalaya itself is an embodiment of adorable deitiesLord Shiva and Shakti (female deity). The other deities are Bhairav, an incarnation of Lord Shiva, Garul, an incarnation of Vishnu, Latu, and Kaluwa. Among female deities, Gaura (also known as Sati or Parvati)and Bhagawati are prominent. Devotees worshipall folk deities, mountains, trees, natural springs, rivers, and newly harvested crops.
The name given to all-natural entities isafter the folk deities and they are believed as divine powers. In every occasion, from birth ceremony to name-giving ceremony, Yagyopaweet ceremony, marriage ceremony, and final departure from the unstable earth, people worship all of them. Culture and custom vary according to climate and landscape. All three geographical and cultural entities celebrate fairs and festivals in different fabrics and bends. Their adorable folk deities are also different. On the one hand, devotees of the Garhwal region worship Lord Shiva and Shakti, ghost, and veers (brave people) are worshiped in the Kumaon region, and Mahasu Devta, the manifestation of Lord Shiva is worshiped in Jaunsar and Bawar cultural realm.
Language, food habits and clothing are different in different geo-climatic regions and cultural realms. However,the folk lives and dies with nature and dance with its rhythm.
---
---
Fairs and festivals are celebrated almost every month of the year. They are celebrated according to changes in seasons and related to human life and nature. According to the Hindu calendar, the New Year starts on the first day of Chaitra, which falls in the mid of March. Every first day of the month is known as Sankranti. Chaitra Sankranti starts with Chaitra Navratra, which continues for nine days. In the rural areas, 'Dev Naach' is organised in the day time and at night, in which, Gods and Goddesses appear in the human body – male and female. It is also called 'Dev Avataran'. The second Sankranti falls on the first day of Baishakh, in the mid of April month. Baishakhi is celebrated in several locales, mainly along the river valleys. It starts from the first day of Baishakh and goes continues for five days.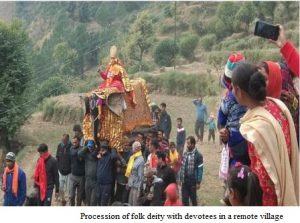 At Karnprayag, Baishakhi is known as 'Bikhoti' and at Panti, close to Narainbagar, it is known as 'Daidan Dhaul'.  In the Pindar River basin, Doli (idol) of Lord Shiva along with several folk deities such as Kobeshwar Mahadev of Kaub, Malmuth of Mal, and Mahadev of Ashed-Simli are brought to the Pindar Riverbank at Panti by the devotees. They take a holy dip in the Pindar River and then dance. Akshaya Tritiya is celebrated on the first day of Jyesta (mid of May month). It is celebrated on the mark of shifting on Doli of Goddess Ganga from Mukhawa, her winter home, to Gangotri, the summer seat of the Goddess Ganga. On this occasion, fairs are celebrated all along the Ganga River from Gangotri to Haridwar. Ganga Dussehra is celebrated on the first day of Ashad (mid of June month) in all the towns and cities lie along the Ganga River. It is believed that on Ganga Dussehra, the Goddess Ganga Descent on the Earth from heaven through the matted hair of Lord Shiva. Harela a peculiar month-long festival, startsfrom the first day of Shravan (Rai Sankranti), which falls in the middle of July. The farmer plants trees on the edge of agricultural fields and other places. This festival is directly associated with nature and conserving it. 'Ghee Sankranti' is celebrated on the first day of Bhadrapad (mid of August month). Ghee is a milk product. Substantial milk is produced this month because of enough green fodder. The farmers cook delicious food with Ghee and offer it to folk deities. In the Uttarkashi District, this festival is called the milk-butter festival.In the month of Bhadrapad, Goddess Gaura, daughter of the Himalaya and wife of Lord Shiva, is sent to Kailash from Nauti village. A cultural procession goes to Roopkund through Vedni Bugyal along with Doli of Goddess Gaura.
It is the longest cultural procession, in which the local people sing Jagar (song to appease Goddess Gaura). Besides celebrating every year, Nanda Devi Raj Jaat is celebrated once in 12 years with the same process.
---
---
The month of Ashwin is pious. Nine days Ashwin Navratra is celebrated, which begins with Ashwin Sankranti. 'Dev Naach' is performed and men and women dance around the fire, which is called 'Dhuni'. Pandav Nritya is performed in the month of Posh (Nov–Dec) in various places. It is a month-long festival, in which the story related to Pandavas is performed by a group of people. They are called 'Dankariya'. They move from village to village and show the lifestyle of Pandavas through dancing.  Makar Sankranti is celebrated on the first day of Magh (mid-January). Along with it, Magh Mela, a 20-day celebration, is celebrated in Uttarkashi, Devprayag, Rishikesh, Haridwar, and Bageshwar. The devotees take a holy dip in the Ganga and its tributaries. It is also called 'Uttarayani Mela'. 'Basant Panchami' is a unique festival. Mather Saraswati, the goddess of knowledge' is worshiped on this occasion. The children wear yellow cloth and Yagyopaweet ceremony is performed. This is the time when the spring season starts.
Besides these, several other fairs and festivals are celebrated uniquely. Temples are called 'Devalaya' and 'Shivalaya'. Devalaya means the abode of 'Lord Vishnu' and Shivalaya means the abode of 'Lord Shiva'. Other folk deities have an abode in both temples. Devalayas are very few whereas Shivalayasare outnumbered. Most of the fairs and festivals are celebrated in these temples among them Maha Shiva Ratri and Krishna Janmasthami are prominent. It has been noticed that every village has a Shivalaya or Shakti temple. People mainly follow the Shaiv cult (Shaivism). Only a few people follow the Vaishnav cult (Vaishnavism). During the past decades, sacrifice custom prevailed and people offered goats to folk deities. Inthe winter season, 'Dev Naach' was organized and goats are sacrificed to appease folk deities. In due course of time, the sacrifice custom has been abolished. Now, all the festivals are celebrated with new norms, bends, and colors. People adjust to nature and adapt to it. Nature's conservation is away of life. As all natures' entities are believed to be the forms of Gods and Goddesses, therefore, people worship them. All the fairs and festivals co-existed with nature and people go neck and neck with nature and dance with nature's rhythm.