ASHAs, MLPs and betterment of primary healthcare
The role of ASHAs and MLPs should be expanded and they should be given better remuneration to facilitate Comprehensive Primary Health Care. This will not just encourage them to work with absolute efficiency but they will also motivate other women to take part in the "noble deed".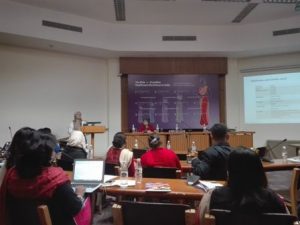 Primary health care, which has been an area of concern for several decades have started to receive the attention it deserved from the government and other social service organisations.
Government schemes such as Ayushman Bharat aim to address health at primary, secondary and tertiary level. Adopting a continuum of care approach, comprising two inter-related components, the programme intends the creation of 1,50,000 Health and Wellness Centres. These centres are aimed to provide Comprehensive Primary Health Care (CPHC), covering both maternal and child health services and Non-Communicable Diseases, including free essential drugs and diagnostic services. Note that NCDs contribute to 55 per cent of premature mortality in India.
The second component is the Pradhan Mantri Jan Arogya Yojana (PM-JAY) which provides health protection cover to poor and vulnerable families.
---
---
The CPHC programme aims to provide access to essential health care at community level. In order to address this important issue, The George Institute of Global Health, India organised a round table conference recently.
"The aim of this round table was to bring the frontline health workers to the forefront of the conversation on primary health care, especially in the context of epidemiological transition and focus on life-course approach to health."
Another major focus was to understand how the workforce is trained, remunerated, motivated and retained to deliver CPHC. The conference also discussed and explored the challenges mostly related to the recruitment of Mid Level Practitioners (MLP) and difficulties faced by frontline health workforce team while delivering CPHC.
Prof Vivekanand Jha who is the Executive director of The George Institute of Global Health described about the previous community health works while mentioning the importance of the frontline health workers.
"More than the health system created a demand for the ASHAs, the ASHAs have self-created a demand for themselves."
Explaining the role of ASHA workers, Dr. Rajani Ved, Director, National Health Systems Resources Centre (NHSRC) discussed various policy issues based on primary health care.
The community health workers need to have 12 packages starting from promotions to rehabilitation and they need to have a primary healthcare team based care in order to ensure proper facilitation of these packages, pointed out Dr. Ved.
She addressed in detail about several important research agendas which can improve the working efficiency of ASHAs and MLPs.
"Some of the agendas are providing the required motivation to perform to the best of their ability; providing the ASHAs and MLPs with accurate supervisory system; providing more efficient incentives and making the community involved personally and improving productivity of their work which will help them in assessing and contextualising data properly."
She said, "While a lot of attention is given to the coverage of services, the quality is very essential as well. Many a times, the service provision is sub-optimal. To make the service equity and quality, we need to see the how we can improve the incentives for the ASHA (these are the only health care workers who work with incentives) and team-based approach is needed to deliver CPHC."
The conference also witnessed actual field workers from across India who described their experiences and difficulties.
---
---
ASHA Kiran Devi from Haryana highlighted the barriers in providing care which included the social and cultural gaps. Being part of the SmartHealth Study, the ASHA was motivated to measure BP and blood glucose. The practical training uplifted her position in the society and she expressed that she had sufficient training for both infectious diseases and NCDs.
"Midwife Anganwadi worker Chandra Kala from Sikkim spoke about challenges of the daily job and the additional responsibilities that they are given by the government which take away time from their jobs such as election duty."
Several research approaches to understand the perspective and aspiration of frontline health workers in India was highlighted by Dr. Devaki Nambiar. She came up with two innovative research methods namely Lot Quality Assurance Sampling (LQAS) and Time in Motion Study (TMS).
While the process of LQAS requires the understanding the concept of a "lot", supervision area, etc and requires great support from the state collaborators to set it up, Time in Motion Study is used to research and track the efficiency and quality of health care workers.
In the case of nurses, numerous programs have been initiated to increase the per cent of a shift nurse who provides direct care to patients. Prior to interventions nurses were found to spend 20 per cent of their time doing direct care. After focused intervention, some hospitals doubled that number, with some even exceeding 70 per cent of shift time with patients, resulting in reduced errors, codes, and falls.
"Several suggestions in order to improve collaboration were given such as continuous learning and sharing between medical practitioners or program managers; Engagement with policy makers, researchers or think tanks; Taking the help of consultants and experts among others."
Prof. Jha also added that it is essential for a developing country like India to take help and form associations with foreign nations and organisations for "joint community development and for the betterment of the society".