Behind the sobriquet 'Kalaignar'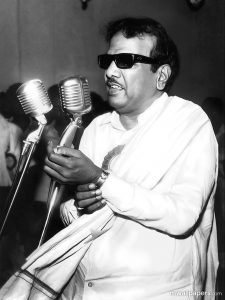 H ow the writer M Karunanidhi earned the status of 'Kalaignar'?
The demise of Tamil political stalwart Muthuvel Karunanidhi has signified the end of an era in politics. Possibly the longest surviving politician in Indian history, Karunanidhi has been involved in politics since pre-independent times. Some sources cite his involvement since the age of 14, inspired by a speech from Justice Party speaker Alagarswami. His participation in anti-hindi agitations and Dravidan ideology movements earned him a place amongst the Justice Party ranks. And since then, he has been in the realm for over 50 years with five tenures as the Chief Minister and party leader of the DMK till his death.
Although he is known for his political portfolio, the platform to get there was provided by his writing. With joining activism, young Karunanidhi wanted his voice to be heard not only as a party cadre, but as a respect worthy intellectual. His writing and his oratorical skills drew people towards him. He was a pioneer in running a newspaper that would later become 'Murasoli', writing stirring articles and poems that would seed the Dravidian ideology amongst people. This won him the trust and affection of CN Annadurai and Periyar, with the latter taming the young Karunanidhi as his protégé as the party transformed into the DMK that it is today.
Karunanidhi wrote with ferocity. Every word was meant to send a message about anti-superstition, equality, social justice and rationalism all of which were the Justice Party's, and it's off springs', pillars. A strong advocate against religious hegemony, his writing earned him the ire of the orthodoxy and the elite that existed then.
He left no medium unturned when it came to writing and showing his prowess as a writer. He wrote stage plays that were enacted during party meetings. And with the advent of cinema, he made a strong mark there too. His screenplays go back to 1947, with fellow and later competitor MG Ramachandran acting in as many as four of them. And Parasakthi was the epoch. It was proof that Muthuvel Karunanidhi was truly an artist when it came to the word.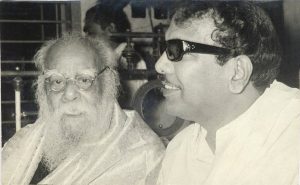 Parasakthi was a first in many of its kinds. It introduced veteran actor Sivaji Ganesan in to the industry. It was a first for a work of art to be controversial at an administrative level, stirring the state government to censor the film. But what really was a first was its graphically real representation of a society plagued with poverty and prejudice. The movie discussed widow remarriage, abolition of untouchability, self-respect marriages, abolition of zamindars and abolition of religious hypocrisy, erstwhile taboo topics, openly. It belonged to a class of film like Bicycle Thieves when the industry was retelling historic epics. It turned cinematic tropes upside down, when it came to telling a story that could move the masses.
The film was a simple story, the tragedy of a family that fell victim to the tropes of society and life at large. Technically this could be any story. But Karunanidhi's screenwriting and dialogues moved the audience. It gained cult status to being recognized fifty years after for its performances and writing in top lists in the country.
People began enacting the scenes, especially the monologue at the court, at public events and other places. Most of the common folk, who watched the movie in a tent with a screen in villages, could relate to what was happening on screen. That masterstroke paved way for the DMK to rule in Tamil Nadu. And cinema stars to enter politics.
Since Parasakthi, Karunanidhi has authored many articles, essays, poems, books and screenplays. He has been awarded numerous doctorates and accolades from around the country. He has been the head of state five times, but also a part of numerous controversies, scandals and scams at the same time. But he will be remembered for his writing of Parasakthi.
He was a master at writing then and for times to come. At a time when only actors and stars enjoyed the applause and the whistles, he won them as a writer. A feat that many directors still haven't achieved. His moniker 'Kalaignar', translating to artist is one that he earned, rightfully.