Bengali Web Series Odd-Bhuturey Is Set To Strike Again
Mrityunjoy Saha's directorial debut in HoiChoi is set to release on the end of this month. Ahead of the release, cast members Sreelekha Mitra, Saurav Das, Mishmee Das and Partha Saratha engaged in a candid chat with Delhi Post.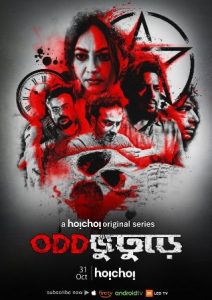 After some highly successful string of web-series, HoiChoi is once again ready to win over more Bengali hearts with their forthcoming Originals series, Odd-Bhuturey. Directed by Mrityunjoy Saha, Odd-Bhuturey is an anthology series of 7 episodes. It deals with themes related to paranormal and the supernatural blended with flavours of a sci-fi thriller.
Consisting of 7 standalone episodes, the web-series weaves together 6 different stories that are showcased through the first 5 episodes. However, the ultimate string of connection between the stories is established in the final 2 episodes. The ending is reportedly unexpectedly leading to the Second Season (Yes! It's happening).
Mrityunjoy Saha teamed up with an ensemble cast for the series. Tuhin Saha appears as the cinematographer, Rangon Chatterjee as the music director and Mandar Banerjee as the editor. Sukriti Kakar has lent her voice to the title track. The series stars Anindya Pulak Banerjee, Sreelekha Mitra, Partha Sarathi, Sayan Ghosh, Kousik Goswami, Sidhu, Payel Dutta, Saurav Das and Mishmee Dasin key roles among others.
Ahead of the release of the series, Delhi Post had a candid conversation with a few of the senior cast members about their filming experience, characterizations and working with Mrityunjoy Saha on his HoiChoi debut. Excerpts:
Delhi Post: Most of you have been busy with quite a lot of projects this year. What made you take up this particular series and your respective roles?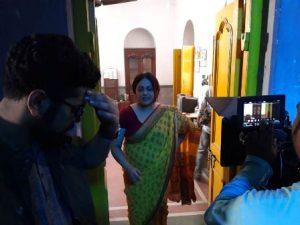 Mishmee: When I heard the story and concept of Odd-Bhuturey, I realized how unique it is. I feel it is a concept that has never been made in Bengal and that really intrigued me to do it. Also, how each episode is connected is extremely interesting. The way we shot and the way the entire thing has been conceptualized as a very international vibe to it.
Sreelekha: I am someone who takes a lot of interest in the supernatural and things which possibly cannot be explained. I believe in parallel universe, life after death and similar conspiracy theories. Therefore, I was immediately attracted to the storyline. And I also enjoy working with young and independent directors because they are always so fresh with their ideas. Both put together, I gave my nod to the project.
Sourav: The kind of work involved in this was really tough. I am a person who usually visualizes the character after reading a particular script but this was the very first time in my life when I could not. I read science fiction as a kid but I never imagined playing a role in the genre. But just the idea of playing one single character on different timelines was a challenging thought from the very beginning. Ever since my theatre days, I have had a knack towards taking up complex roles. Rather, I believe every actor looks forward to play challenging characters; hence, the moment I understood my part, I decided to take this up.
Partha: I have previously worked with Mrityunjoy for a film. I have always believed that whenever he works independently, he will create something great. I have been quite choosy about roles off late but when I heard the script and the character, I realized I have never done something even remotely similar earlier. I found it very interesting and couldn't say no!
Delhi Post: Share something about your individual characters?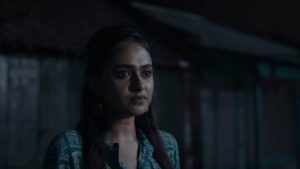 Partha: I play a character who is involved with paranormal studies and activities. The character has a very psychological angle to him and deals with souls, demons and ghosts. Neither did I work on anything like that before nor did I have much idea about the same. I studied those aspects a lot and researched well to make such a complex character believable.
Mishmee: The way the story is, I might end up giving out a lot if I talk about my character. All I can say is I am playing Saurav's love interest and it'll be an interesting character for the viewers to watch.
Saurav: It is just so true that you cannot say much about this story. Talking about the characters might actually give away a lot. I would just say, a lot of research went into this. I sat down with Mrityunjoy as well as did my own research on time travel, something which my character deals with. I thoroughly enjoyed the entire process of bringing the character to life.
Sreelekha: The story that I am a part of involves two characters. And though I have essayed the role of a mother before, I have never done something like this. Without giving away much, I can just say that I play a mother with a twist! That speaks for itself.
---
---
Delhi Post: Partha, people have been talking about your look in Odd-Bhuturey quite a lot. It certainly looks interesting. How did it come along? Did you have some insights of your own?
Partha: I have two different looks in the series with a 13 years gap between the two. My character demanded a bearded look but I was also working on another project for which I had to shave it off. Therefore, I had a discussion with Mrityunjoy about the look and we did a few adjustments. When it finally came along successfully on the final days of shooting, I think we were all very satisfied.
Delhi Post: Saurav, you have worked quite a lot in the digital platform besides television and films of course. What do you think is the biggest advantage of being a part of a project like this one?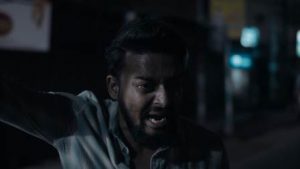 Saurav: Today, we are standing at a time when Netflix culture is on the rise. It feels nice to see how the Bangla industry has also slowly warmed up to the concept of establishing its ground on digital media. I strongly believe digital media is the future and there is a lot of scope in the same. The greatest part of being in shows like this is that it provides a very compact, individual and personal viewing experience. Many of these digital platforms strongly believe in the concept of 'Originals' which is providing a huge scope for emerging directors and actors to showcase their talents. Personally, performing on web-series' has been the best working experience for me.
Delhi Post: On the other hand, Sreelekha, you have had years of experience in the industry, both in television as well as the big screen. Now that you are also stepping into the digital space, what do you think is different? What are the pros and the cons?
Sreelekha: Technology has evolved over time to a great extent and like every other great innovation it has its own pros and cons. After the advent of the digital sphere and venturing into this part of the industry, we got to know about so many things we did not know before. Digital space provides a platform to share thoughts, opinions and user-generated content. It also helps people to connect with one other. But, we are also aware of the various instances when it is also misused. Content-wise digital provides a scope to garner massive viewers and holds the power to make things viral overnight.
Delhi Post: Despite being really old friends, this is the first time Mishmee and Saurav is sharing the screen together. How has the experience been working as co-stars?
Mishmee: Me and Saurav have emceed for a lot of shows together before and we have been really good friends from almost the beginning of our careers. However, when we were cast for the series, makers did not have any idea about the same. But, during the shoot, we have been pulling each other's legs and constantly having fun which was great. Everyone else in the team also enjoyed the camaraderie we shared.
Saurav: If you have a co-actor who is good, your own performance turns good in return. I believe the stronger your co-actor or female lead is, the stronger you emerge as a male lead. We used to discuss a lot about our scenes even when we were travelling to the shoot location. The dynamics of our character are really complex and Mishmee being an old friend of mine certainly helped in the process. It was lovely to work with her and I would definitely love to do it again.
---
---
Delhi Post: Lastly, how has been the overall shooting experience?
Sreelekha: There is a lot to learn and people do that through trials and errors. Given the challenges and constraints we have in the Bengali industry, there is always a scope to go a notch higher, provided the perfect conditions. But given the trajectory, I must say, he did a pretty good job.
Mishmee: The entire shooting process was pretty quick. The shoot was also stalled for day due to bad weather conditions but otherwise it was very well managed and organized and properly executed. Mrityunjoy and his team did a great job.
Saurav: I did work with Mrityunjoy before but this was the first time I worked under his direction. Our wavelengths matched to a great extent. Moreover, as a director, he completely trusts an actor which is a great quality and something every director should do. I feel really comfortable to work with young directors because they bring along a great palette for the project and he was no different.
Partha: We don't often work with the kind of content Odd-Bhuturey will provide. I am sure the audience will find it interesting when they start watching. And working with Mrityunjoy was a great experience. He is well aware and educated about his work with a team that is equally nice. He is also disciplined and very clear in his mind about what he wants to achieve. It has been a flexible and fun working experience and I surely look forward to work with him again in future.
Mrityunjoy Saha's directorial debut in HoiChoi Originals Odd-Bhuturey is slated to release on the 31 October 2019 and will be available for streaming on the biggest Bengali online platform HoiChoi.