My journey has been more like a walk on a minefield: Rini Ghosh
Independent movies are gradually making its way up the silverscreen. Despite the nepotism and ever-increasing aspirants, the struggle remains indispensable.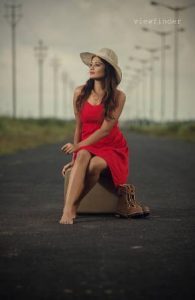 Rini Ghosh, a talented writer and an emerging actor of the Bengali film industry, gives us a sneak peek into the cinematic world through an artist's lens.
Rini has pursued her Bachelor's degree from Calcutta University. She further learned acting from Kolkata Film and Television Institute (KFTI).
Rini has done a couple of small roles in a few Bengali Daily Soaps at the beginning of her career. Rini's first movie happened around 2014 in a Bengali Commercial Potboiler movie, Vinash. Later, she did a small cameo in a multi-starrer Bengali thriller called Sesh Anka.
In 2016, Rini launched her own website Love, Sex, and Fashion, which was graced by Parno Mittra as a chief guest. Rini has successfully worked in collaboration with major brands like Lavie, Lakme, Cadburry, Myntra, Missa More, Mac and others.
Delhi Post: Share with the world a little bit about yourself?
Rini: I guess I would call myself an absolutely incorrigible and rambunctious girl with a crazy perception of an already crazier world. I write thrillers but desperately want my life to be a romantic comedy. Cancerian! And yes, I take pride in being overly ambitious and emotional. I love writing, sketching doodles and dancing in my leisure time.
Delhi Post: How does it feel to be a part of the movie Network?
Rini: Well… Network didn't happen in a day. Quite like Rome, I must say! It took years to build a story as complex as this. There are such strong characters in the film that it took a lot of time, energy and an unstoppable will for Director Saptaswa Basu and myself to pursuit this relentlessly, inspite of endless hurdles and obstacles hurled at us at every turn. I am really fortunate to be a part of this project. I have been there right from the very beginning.Although we have had a crazy, tough and sometimes even a cruel journey, I would eagerly walk through the whole thing again and again as long as we are making movies as honest and stories as earnest as Network. I am really thankful to the whole team for creating
a spectacular dream come true movie.
Delhi Post: Your journey to becoming an actor, I heard, has been no cake walk. Share your experiences about it?
Rini: Absolutely, it wasn't! My journey has been more like a walk on a minefield. But looking back on the bygone days, I feel somewhere deep down that the constant rejection and failure helped me become the person I am today. I'm not saying I'm full of wisdom or anything; it's the heartbreak that helped me co-write the story. Every character in the film is angry and full of rage. They are constantly struggling and happiness seems to evade their grasp no matter what. The director and I have been through so many disappointments to get some work in this industry that while penning down Network, we made sure our story was heard. All the characters, big or small, is actually telling this very sad story of how you can dream and be talented even, but that doesn't mean you'll be chosen. There is no denial that nepotism, lobbies, good contacts ae the only things that help in the real world. Hence, Network happened! A story of wish fulfillment by a bunch of crazy, albeit talented dreamers.
Delhi Post: What is Network all about?
---
---
Rini: Network is a Bengali Thriller. It is about Abhijit Ganguly, played by Saswata Chatterjee, who after getting betrayed by his close associates, Raj and Shreya, and his arch-nemesis, Arindam Chakraborty, played by Sabyasachi Chakrabarty, decides to avenge this whole betrayal by designing a reality show on the very people who stole his last shot at fame. But on a deeper sense, how narcissism is actually the mother of nihilism, and how our self-obsessed selves are too ignorant to see the reality is, I believe, the
crux of the story.
Delhi Post: How was your experience working with veteran actors like Saswata Chatterjee and Sabyasachi Chakrabarty?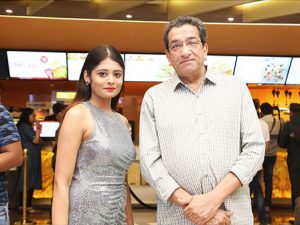 Rini: Undoubtedly some of the best days of my life. I wish the shooting went on and on just so we could spend more time with these two spectacular legends. Saswata da and Sabyasachi da are the two pillars of Network and their casting hem together as arch-nemesis is the most amazing factor of our movie. We have often seen them together on and off screen, but never have we seen them engaged in an epic battle of wits and power that doesn't use any weapon. Not even a slap! But it is equally mind-blowing. Acting with them in a same scene is a dream comes true for any person who wants to be an actor. However, hearing them enact the lines that I had co-written with the Director long, long back is the best feeling ever. I would happily go on writing for Apu and Benu da as many times I can just to be in their presence and learn.
 Delhi Post: This was your first time co-writing a movie script. Which one of the two has been the most memorable experience: Scriptwriting or Acting?
Rini: Although Acting is and will always be my First Love. Writing a complex script like Network has definitely opened up a lot of avenues and my love for dialogues and screenplay even more. Everybody right from our cast members to the media, people gave me so much love and respect because this was new here. Actors writing and acting simultaneously is quite common in Hollywood and in Hindi movies but here it's still relatively new, and I received a lot of attention because of this. Acting with Saswata da or Sabyasachi da was incredible beyond doubt. But watching them rehearse the lines I once wrote knowing nothing about the future that feeling is beyond words. Quite the irony, I know.
Delhi Post: Any good and bad moments you would love to share that took place in the sets?
Rini:
Every moment during the shooting goes by so fast, it literally feels like a happy blur. Every shot is new. Every costume is fresh. I was finally getting to play the character that I wrote and nurtured for years. Saswata da was dressing up like Abhijit Ganguly. The character that was on paper for all this while was transforming into reality. The whole set up was so new and amazing. I have tons and tons of great memories with not just the legendary actors but also the crew members. We shot over a year in various parts of Kolkata and became like this weird work family that loves each other. The whole team had each
other's back. Hence, every moment has been amazing.
Delhi Post: When did you decide to become an actor? If not an actor, what carrier path would u choose? 
Rini: Honestly, I can't remember of that one moment when the bulb around my head just lit up and I decided to be an actor. As far as I can remember, I have always been really intrigued by strong, empowering women making it big and women like Priyanka Chopra, Bipasha Basu (who happens to be from our college Bhawanipore Education Society) and Vidya Balan inspired me so much through their works, interviews and performances…I just had to be a part of the industry. I didn't know when or how. Considering my absolute lack of ties to the field, I just knew. If not an actor, a choreographer or an assistant director or a stylist. Who knows? But I would always choose working in this field. That was and
will always be myreal dream.
Delhi Post:Which actor and actress is your ideal?
 Rini: Too many to count. Starting from Amitabh Bachchan, Shah Rukh Khan, Madhuri Dixit, Johnny Depp, Julia Roberts, Jennifer Aniston to Priyanka Chopra, Beyonce, Vidya Balan and Konokana Sen Sharma. I
just enjoy watching any person justifying the script, and honing their potential to keep growing.
Delhi Post: The audience is eager to know about Network's worldwide release? Will it happen anytime soon?
Rini: We are trying our best to spread this story to every movie lover of the world but it is easier said than done. Our director is focusing on a lot of National and International Film Festivals. Let's see how far we can 'Network' our film throughout the hearts of millions of cine-lovers.
---
---
Delhi Post: What are the upcoming roles we might see you leading in?
Rini: Network has given me the opportunity to really delve deep into the formation of characters and then executing them. I am seriously glued to the whole writing aspect now. Hence, we are working on two screenplays at the moment. One is for a digital format. It'll be a Sci-fi/Horror/Thriller—Edgy and a bit disturbing to be honest. And another one might be a full-length feature. It's quite at the beginning stage this moment. But hopefully, we'll be able to churn out even more real and amazing characters for others and myself. But whatever they are. My aim is to make them stand out and look as real as possible. After Shreya, I am hoping my next one to be someone who is completely different than what she was. That is the whole purpose. Making characters beautifully flawed but most importantly, they should be honest and different.
 Delhi Post: What tips would you like to give to all struggling actors like you?
 Rini: Three words. Don't. Give. Up.