Child Pornography: Are Statutory Frameworks Apposite in India?
In the contemporary digital age, children have access to all types of devices and one cannot monitor them throughout, which makes them prone to cyber stalkers or predators.
There has been an increase in the use of internet by both adults and children due to the COVID-19 lockdown, which has resulted in increment of child pornography. The report titled 'Child Sexual Abuse Material in India' by India Child Protection Fund (ICPF) highlights the 95 per cent rise in consumption of content pertaining to child pornography. It studied the trends from 100 cities including New Delhi, Kolkata, Mumbai, Chennai and Indore. It spells that in December 2019, the average demand of the child porn was 5 million per month in the cities covered. The counting has now gone beyond this. The report cites data from 'Pornhub', which is the largest pornography website across globe. The website has witnessed increase of traffic from pre- lockdown to present times. The increased demand has been reflected by the frequent use of words like 'child porn', 'teen sex videos' and 'sexy child'. The harsh reality is that such perpetrators, paedophiles and child rapists have haphazard impact on children. The Childline India Helpline reflects how prone children are to such sexual abuse. The helpline received more than 92,000 SOS calls for protection of children.
The unorganised sector is worst hit due to pandemic. Poverty has affected women and child the most. The sexual abuse, trafficking and exploitation due to cheap labour for plummeting economy has increased. India has the largest population of children across globe, but not all 472 million are safe and secure. The homeless and rag pickers, who are abused and forced to beg on streets, are the worst affected.
UNICEF in its study highlighted that one out of every five boys and one out of three girls are likely to be sexually assaulted before they attain age of 18 and also, that 90 per cent of these children are aware of their offenders.
With about 3000 cases in 1998 against the website containing child pornography, the toll has reached 18.4 million in 2019 across the globe. The statistics from National Centre for Sexual Abuse suggests that child pornography is the growing online business in India. Data reveal a pornographic video is made every 40 seconds, about which 38 per cent is linked to sexual abuse of child. Indian Cyber Army sheds light on the fact that 25 per cent of all search engine query pertains to child pornography. A study recently conducted by the National Crime Records Bureau (NCRB) and the US National Centre for Missing and Exploited Children reflects that more than 25,000 videos having content of child sexual abuse have been uploaded in different social media platforms during the last five months in India.
The closure of school earlier because of lockdown and now because of emphasis on online learning have forced children to stay at home. In the contemporary digital age, children have access to all types of devices and one cannot monitor them throughout. This makes them prone to the cyber stalkers or predators and make them vulnerable. Such people find means in order to exploit and abuse children. Increased use of smartphones for internet, gaming, online classes, etc. have opened more doors for such stalkers. They end up becoming victim of sextortion, cyber trafficking, sexting, etc.
---
---
The increase in such cases have far reaching consequences as predators may record as well as store material of child sex abuse and distribute and circulate it further. The offenders may further exploit and abuse them by blackmailing through stored materials. The US Department of Justice (Criminal Division) highlights the demand for more pictures increase, molestation of victims continues and abuse of new children starts taking place with continuous production and distribution of the content. This in turn has a deep psychological impact on the victims. It also results in hindrance in sexual development and trustworthy relations with others along with self-personal image and development. Children become more vulnerable with the increased consumption of such materials. The study reflects that men charged with offenses pertaining to internet child pornography are not others, but the ones who commits such offences in reality.
Child pornography is not a new problem and the same is evident from the statistics. The NCRB accentuated 21,605 child rapes recorded in 2018. It underscored that there has been an overall increase of six times in the overall crimes against children from 2008 to 2018, with22,500 cases recorded in 2008 as against 141,764 in 2018. There is definitely a link between child abuse and pornography. Hence, tracing the online trends also imply such harmful effect even in real life.
---
---
Recently the Supreme Court of India has taken suo moto cognizance [Suo Moto Writ Petition (Criminal) No.3 of 15] of the growing content of child pornography, images, videos, etc. in order to investigate. The Expert Committee recommended and Supreme Court has directed the Union Government to frame requisite guidelines and implement the same to eliminate rape, gang rape, child pornography, distribution of videos, etc. However, the petition is still pending in the court for further orders.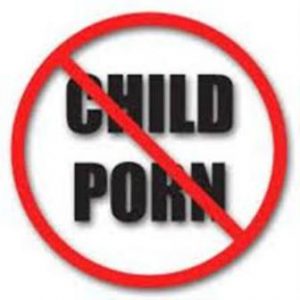 Porn has been banned in India. However, individuals use virtual private network to hide their location and get access to criminal acts and material of child sex abuse. Section 293 of IPC, 1860 considers it to be a cognisable offence and criminalises the sale, distribution, exhibition, circulation, etc. of any obscene material to a person below 20years.
The IT Act, 2000 was amended in 2008 on the recommendations of Standing and Expert Committee. Its recommendations suggested insertion of Section 67B to the IT Act, 2000, which criminalised child pornography. It provided for imprisonment of five years and a fine of Rs10 lakh for first time offenders and seven years' imprisonment and fine of Rs 10 lakh in case of subsequent offenders. It should be highlighted here that storage and consumption of child porn is criminalized, but not adult porn. Furthermore, Sections 7 and9 of IT (Intermediary Guidelines) Rules, 2011 provide for due diligence to be observed while discharging of duties by the intermediaries and also inform users to act in accordance with it.
Protection of Children from Sexual Offences Act, 2012 in its Section 14 criminalises the use of children for pornographic purposes, be this in any form and includes characterization of any child's sexual organ, participation in real sexual activity along with indecent or inappropriate depiction of any child.
The Act merely criminalises the storage of child pornography material for commercial purposes and fails to do so for non-commercial activities.
Also, the consent of the child in all circumstances is considered irrelevant as the law considers child to be incapable of giving consent.
At the international level, the United Nations Convention on the Rights of the Child, 1989, Optional Protocol adopted in UN General Assembly of 2000, Budapest Convention or Council of Europe Convention on Cybercrime 2001 and Convention on the Protection of Children2007 have been formulated to fight against child pornography and related crimes. There is an immense need to take action against intermediaries and trace the perpetrators along with awareness and solution for the growing societal pressure either through physical or digital means. Although the Ministry of Home Affairs (MoHA) has established the National Cyber Crime Reporting Portal, stricter accountability is yet to be imposed on Internet Service Providers(ISPs) on periodical reporting requirements. The Ministry of Human Resources Development (MHRD) must make it compulsory for institutions to run awareness programmes. The growing crime calls for intervention and monitoring of children by their parents. They should check their browser, search history, create comfortable environment for their kids, and report in case of any adverse instances. All that is required in this revolutionary age is hope and efforts along with awareness to cater to the dire need of protection.