Circumambulation of Shaktipeethas
It is believed that circumambulation of the Shaktipeethas (pilgrim circuit) liberates from the cycle of birth and death.
Uttarakhand, a sacred place, is an abode of Gods, Goddesses, and folk deities. It is a land of highland and valley pilgrimages, holy rivers, Shaktipeethas, and Jyotirlingas. It has Panch Badri,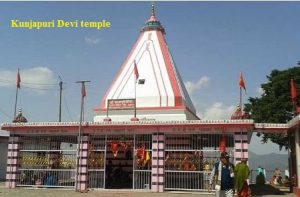 Panch Kedar, and Panch Prayag, which are unique and situated only in Uttarakhand. Whereas Jyotirlingas are the manifestation of Lord Shiva, Shaktipeethas are related to Goddess Sati, daughter of King Daksha and wife of Lord Shiva. There are 64 Jyotirlingas in India, out of which, 12 are famous. Kedarnath and Jageshwar are the two famous Jyotirlingas of Uttarakhand. Similarly, India has 51 Shaktipeethas and many of them are situated in Uttarakhand. The legend says that Goddess Sati committed self-immolation, because, she was not given due respect in the Yagna, performed by her father. Lord Shiva was very angryand he performed Tandava (dance of cosmic destruction). Keeping this situation in view, Lord Vishnu cut the burnt body of Sati into 51 parts and wherever these parts fell on the earth became sacred sites—Shaktipeethas.
Three Shaktipeethas—Kunjapuri, Surkanda, and Chandrabadni—Uttarakhand make a pilgrim circuit. All the Shaktipeethas are located in the Tehri District.The state government of Uttarakhand has also declared these Shaktipeethas as pilgrim circuit. I started a cultural journey to Kunjapuri from Rishikesh, a valley pilgrimage, situated on the bank of the Ganga River on 5 January 2020 early morning. Rishikesh is well connected by road, rail, and airways from all parts of India. It is situated 44 km from Dehradun and 24 km from Haridwar. It is called the 'Gateway to the Himalaya'.
A road bifurcates from Rishikesh, one goes to Badrinath through Dev Prayag and the other goes to Gangotri and Yamunotri through Narendra Nagar. Narendra Nagar lies about 25 km from Rishikesh. I spent about one hour to reach Narendra Nagar. An undulating and precipitous trek of eight km goes to the top of the hill, where a famous temple of Shakti, 'Kunjapuri', a Shaktipeeth, is situated. It took two hours to reach the top of the hill. The Kunjapuri temple has an altitude of about 1625 m and it has a spectacular landscape. The snow-clad mountain ranges of the mighty Himalaya can be seen from the temple. On the slope, mixed-oak and coniferous forests are found, which make the landscape panoramic. In the southward, the Ganges valley at Rishikesh can be seen.
As per the legend, when Lord Shiva was carrying the burnt body of Goddess Sati to Kailash Mountain (the abode of Lord Shiva), the burnt chest of Goddess fell in the place where Kunjapuri temple lies today.
---
---
After spending a few hours at the temple premises, I came back. The road continues to go to Chamba, about 45 km from Narendra Nagar. As it was 1:00 pm, I halt at Agra Khal and took lunch, and further moved to Chamba. A road bifurcates from Chamba to Dhanaulty. About 20 km from Chamba, a small service center 'Kaddu Khal' is situated. Froma trek of about 1 km goes to Goddess Surkanda temple. The Surkanda temple is situated at an altitude of about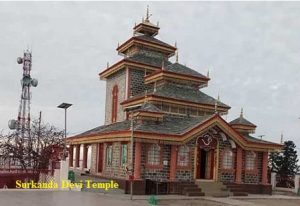 2700 m on a serene environment of the hilltop. A long chain of the Himalaya Mountain can be seen from the temple. The burnt head of Goddess Sati fell on the place where the temple of Goddess Surkanda lies today. I stayed in the temple premisesfor about an hour and worshiped Goddess. It was almost 5 pm. I came back to Chamba and continued my journey. From Chamba, a road bifurcates to New Tehri via Badshahithaul, which is about 15 km.
New Tehri is the world's first highly elevated master plan town, which is situated at an altitude of 2200 m. I stayed at New Tehri for a night. The next morning, the cultural journey started to Chandrabadni. The road goes via Asia's highest Tehri dam and Kandi Khal. It is about a 45 km long road. From Kandi Khal, a 10 km trek goes to Chandrabadni temple, which is situated on a hilltop at an altitude of 2227 m. It is believed that the torso (a part of the body) of Goddess Sati fell in the place where Chandrabadni temple lies today.
The trek is narrow on the top. A long-range of Himalaya Mountain can be seen from Chandrabadni temple.
---
---
After spending about four hours in the temple premises, I came back to Kirtinagar, a service center of Tehri District. It is about a 30 km distance from Kandi Khal. Kirtinagar is situated on the bank of the Alaknanda River, close to Srinagar Garhwal on the way between Badrinath and Rishikesh. Ranges of hotels are available tonight stay both in Kirtinagar and Srinagar.A did a night halt at Srinagar.
The next morning, I proceeded to Rishikesh. On the way, about 30 km from Srinagar, Devprayag, a cultural town, lies. I stayed about two hours at Devprayag, visited the Sangam, where the Bhagirathi River meets the Alaknanda River, and then it is called the Ganga River, the Mother Ganga. I took a holy dip and worship Goddess Ganga. While coming back to Rishikesh, I took lunch at Sakinidhar, situated at 2000 m altitude. Vyasi is a place, situated on the right bank of the Ganga about 50 km from Sakinidhar. Finally, I reached Rishikesh, which is about 30 km from Vyasi.This is a holy circuit, which total circumference is about 335 km. It is believed that circumambulationof the Shaktipeethas (pilgrim circuit) liberates from the cycle of birth and death.