COVID-19: Life in Lockdown for Delhi's Women Workers
The increasing number of COVID-19 cases in Delhi has raised the fear and stigma surrounding the COVID-19 virus. Many of the informal sector workers find it physically and mentally difficult to go back to their livelihoods.
The COVID-19 pandemic and the resulting stringent lockdown in India have magnified the existing structural inequalities in the country. The brunt of the situation has been hardest felt by the informal sector workers, especially women. Women workers' woes increase manifold because of their invisibilisation and undervaluation of both their paid and unpaid work. Lack of social protection and legislative measures, along with existing cultural norms and misogyny will further push back women workers into depravation during crisis.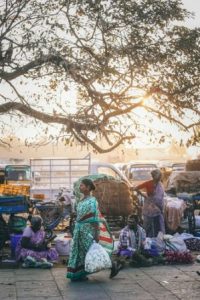 In order to capture the informal sector women workers' gendered experiences, the Institute of Social Studies Trust (ISST) undertook a series of sector-wise Rapid Assessment Studies on the impact of COVID-19 and national lockdown. Impact of the COVID-19 crisis on women workers in five informal work sectors – domestic work, street vending, construction work, home-based work and waste picking – were analysed under the study. ISST partnered with organisations working closely with workers from each sector. The study employed mixed methodology to capture the numbers as well as the lived experiences of the women respondents. It is important to note that the study was conducted during the second phase of lockdown.
Around 176 women workers were included in the study from all the five sectors highlighting the daily life challenges amidst the lockdown, and their stories of coping in such a situation. The study found that around 83 per cent women respondents were severely impacted by the lockdown. Women workers in construction work sector are the most severely hit with all the respondents experiencing severe financial shortages due to loss of paid work.
A cardinal factor for the reduction in work is the mobility restrictions put by the government under lockdown. It has been found that 68 per cent respondents were unable to continue their paid work because of heavy police patrolling, and almost half of the respondents expressed fear of contracting the disease. Women, especially in case of domestic workers, were also asked to continue working even though lockdown was announced. One of the respondents thus said:
"My employer asked me to continue working in her house. I told her that am I not a citizen of the country; when the Prime Minister has asked everyone to stop going to work then why should you ask me to come to work?"
With the sudden drop in income and no employment, the workers in informal sector have been facing a bigger challenge of sustenance. The study found that 71 per cent women workers from the sample are depending on their personal or household savings for managing their daily expenses.
Farida, a street vendor, said that she is using the savings kept aside for her daughter's wedding, since there is no other way to sustain and bring food to the table.
Access to Resources: Food and other Essentials
More than half of the respondents have been facing shortages of food, and adding to this, 69 per cent respondents have seen an increase in the price of essential items. Notably, all respondents from construction work and waste picking have faced shortages in food supplies. It was noted that workers in informal sector found it more and more difficult to provide food for their families. The extent of income loss and impact on their daily lives are unimaginable.
Lakshmi is a construction worker who mentioned that "we are roasting tomatoes and potatoes on stove and eating it".
With regards to the source and procurement of food, 49 per cent respondents reported that they were dependent on Public Distribution System (PDS), while 31 per cent accessed cooked food distributed at government schools/shelters.
Through the surveys and interviews, the study also highlighted that apart from food, accessing other essential services was also difficult during the lockdown. While 31 per cent respondents mentioned the inability of accessing essential medicines or health services, 32 per cent felt the lack of transport was a major challenge.
Direct cash transfers to the workers reflected to be very minimal in the study. Out of the total respondents, less than 10 per cent women workers have received benefit of Rs 500 in their Jan Dhan accounts.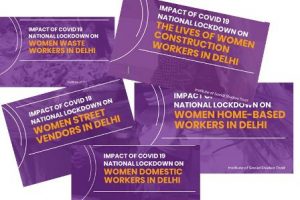 Impact of Lockdown on Unpaid Care Burden
The gendered distribution of household chores and care burden has become more visible in the wake of COVID-19 in India. While 66 per cent of the respondents from the survey mentioned an increase in their domestic chores inside the house after the lockdown, 36 per cent experienced an increased child and elderly care burden. Increased harassment of men going out during the lockdown by the police, meant many women also had to arrange for essential items, in addition to household chores.
Promila, one of the street vendors reflected during her interview – "There is no lockdown for a woman. Earlier we used to make tea two times, now it has become four times a day".
It was noted in the study that apart from the already existing household and care burden on women, an additional task of procuring food was observed with 30 per cent respondents. In the sample, 54 per cent respondents did not receive any help in sharing the household burden while it is also to be noted that 26 per cent respondents received help from their spouse.
Madhu, a domestic worker, mentioned in the interview that in spite of enormous increase in the household chores after the lockdown, she receives no help from other family members. Taking care of her child becomes difficult especially during roza (fasting). Since the male members are also at home during this period, there is more demand for tea and other needs.
---
Also read:  Gender-based Violence at Work in South Asia
---
 Privilege of Social Distancing and Hand Washing
While the strict guidelines on social distancing looks like an applaudable measure, many of the respondents living in poor households were unable to practice preventive measures against the virus. One-third of the respondents did not have hand sanitizers or soap as basic preventive measures. While for one-fourth of them supply of water for regular hand washing was cited as an issue, crowded living quarters was cited as a major hindrance in maintaining any kind of social distancing. Further, some respondents in the study expressed anxiety and fear of contracting the virus because of over-crowding during distribution of food or rations kits.
---
Also read: Domestic Workers: A Community Disregarded For Too Long
---
Ruby, a home-based worker, expressed that because of the food shortage she only eats after feeding her six children. She fears of getting contacted with virus and avoids standing in queues for cooked food distributed by the government. She and her husband managed by eating less or not eating at all if needed.
Another respondent, who is working as a waste picker, shared – "if you come here…you won't think any lockdown is going on. People are constantly moving from here to there looking for food".
 What after Lockdown?
The increasing number of COVID-19 cases in Delhi has simultaneously raised the fear and stigma surrounding the virus. Many of the informal sector workers find it physically and mentally difficult to go back to their livelihoods. The precariousness of the situation has paved way for anxieties about daily life post lockdown. In this study, respondents expressed their concerns regarding continued loss of income (60 per cent) and payment of house rent accrued during lockdown (32 per cent) even after the lockdown. Apart from these, there were also concerns regarding continuation of   children's education, access to healthcare services, job retrenchment and disruption in food supplies. The non-recognition of women's work by the state and the market further complicates the precariousness of women workers' situation.
(Risha Ramachandran is a Research Consultant at the Institute of Social Studies Trust (ISST). Her primary interest lies in mental health, gender and informal economy. Anweshaa Ghosh is a feminist researcher currently working as a Research Analyst at the ISST. She has been working on gender and women's livelihood issues for a decade now.)